This is a syndicated repost courtesy of True Economics. To view original, click here. Reposted with permission.
Emerging markets are at the point of risk contagion these days, with a potential spillover into advanced economies. This brings us back to the memories of the past EM crises, such as the currencies crises of the late 1990s in the year (and month) that marks the 20th anniversary of Russian Sovereign Default.
Here is an interesting chart that shows just how far Russia has traveled from the past in terms of its macroeconomic management: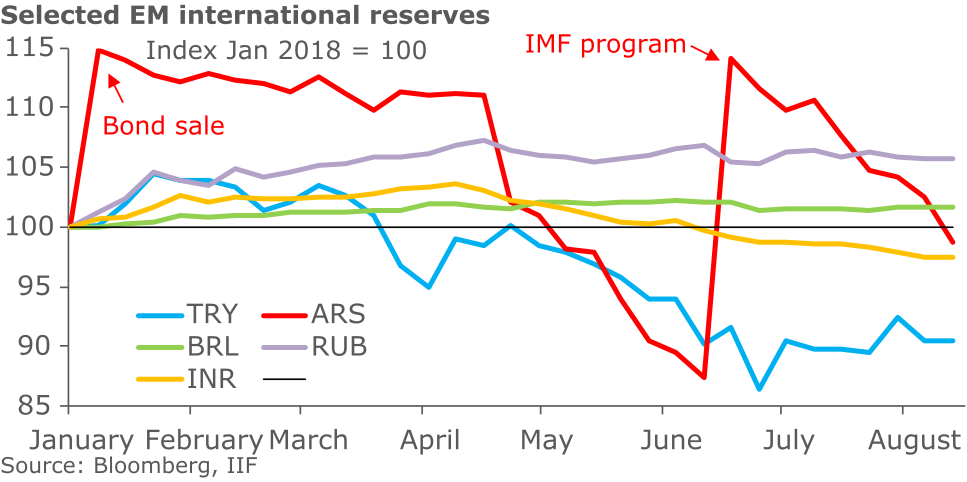 What the chart omits, of course, is a simple fact: of all these economies, Russia is the only one that (rightly or wrongly or both) is trading under severe financial and economic sanctions imposed by its major trading and investment partners. Which makes this performance even more impressive.
When it comes to a 'higher altitude' view of the Russian economy within historical and current geopolitical perspective, which is discussed here: http://trueeconomics.blogspot.com/2018/01/6118-spent-putins-call-means-growing.html.
Wall Street Examiner Disclosure:Lee Adler, The Wall Street Examiner reposts third party content with the permission of the publisher. I am a contractor for Money Map Press, publisher of Money Morning, Sure Money, and other information products. I curate posts here on the basis of whether they represent an interesting and logical point of view, that may or may not agree with my own views. Some of the content includes the original publisher's promotional messages. In some cases I receive promotional consideration on a contingent basis, when paid subscriptions result. The opinions expressed in these reposts are not those of the Wall Street Examiner or Lee Adler, unless authored by me, under my byline. No endorsement of third party content is either expressed or implied by posting the content. Do your own due diligence when considering the offerings of information providers.