This is a syndicated repost courtesy of True Economics. To view original, click here. Reposted with permission.
Bank for International Settlements Annual Report for 2018 has a very interesting set of charts covering the growing global debt bubble, one of the key risks to the global economy highlighted in the report.
First, levels:
Global debt rose from 179% of GDP at the end of 2007 to 217% at the end of 2017 – adding 38 percentage points to the overall leverage carried by the global economy.
The rise has been more dramatic for the Emerging Economies, with debt levels rising from 113% of GDP to 176% between the end of 2007 and the end of 2017, a net addition of 63 percentage points.
Advanced economies faired somewhat better, posting an increase from 233% of GDP to 269%, a net rise of 36 percentage points.
As it stood at the end of 2017, Global Debt was well in excess of x3 the Global GDP – a degree of leverage not seen in the modern history.
As noted by BIS: "…financial markets are overstretched, as noted above, and we have seen a continuous rise in the global stock of debt, private plus public, in relation to GDP. This has extended a trend that goes back to well before the crisis and that has coincided with a long-term decline in interest rates".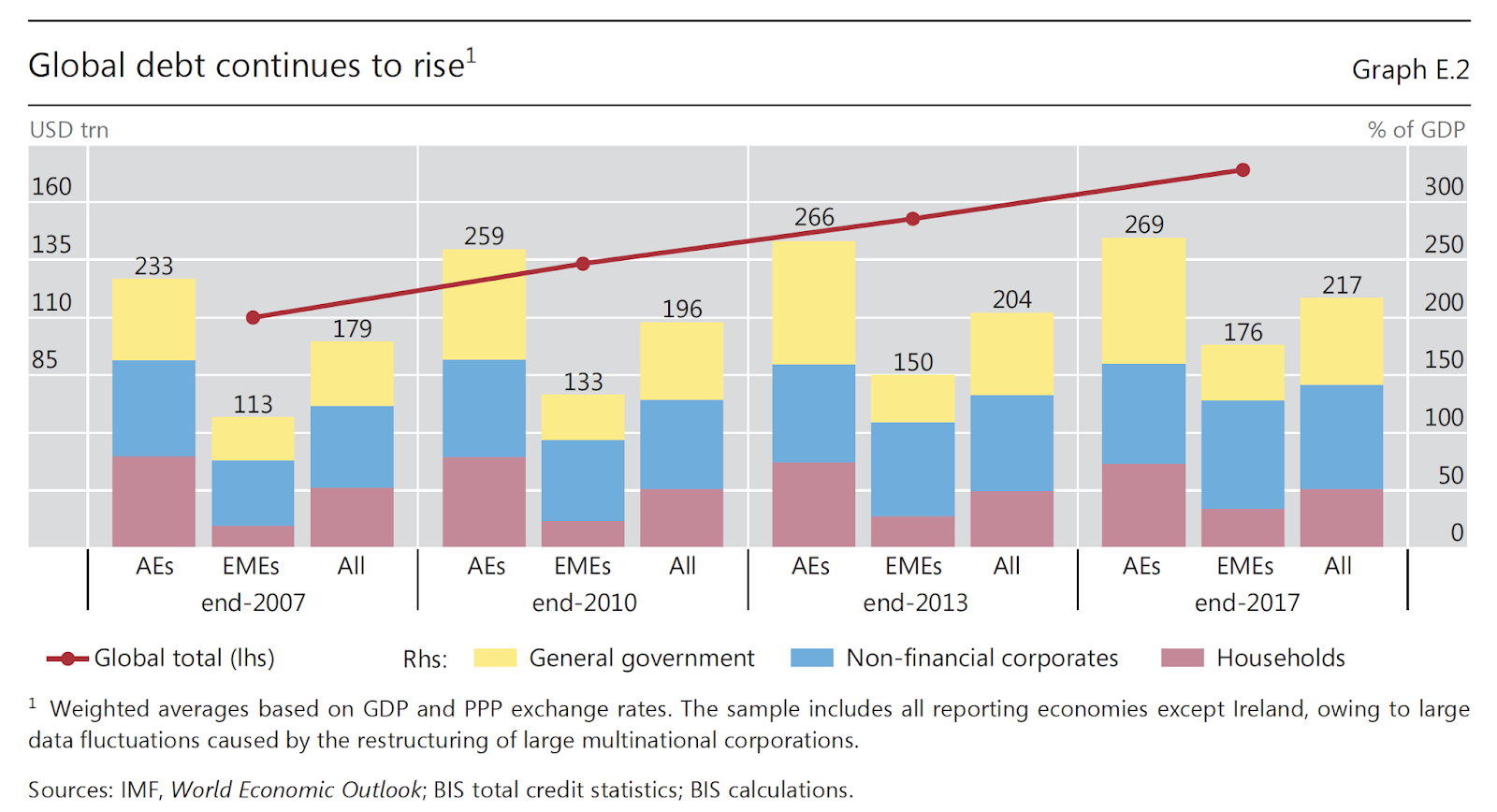 Next, impacts of monetary policy normalization: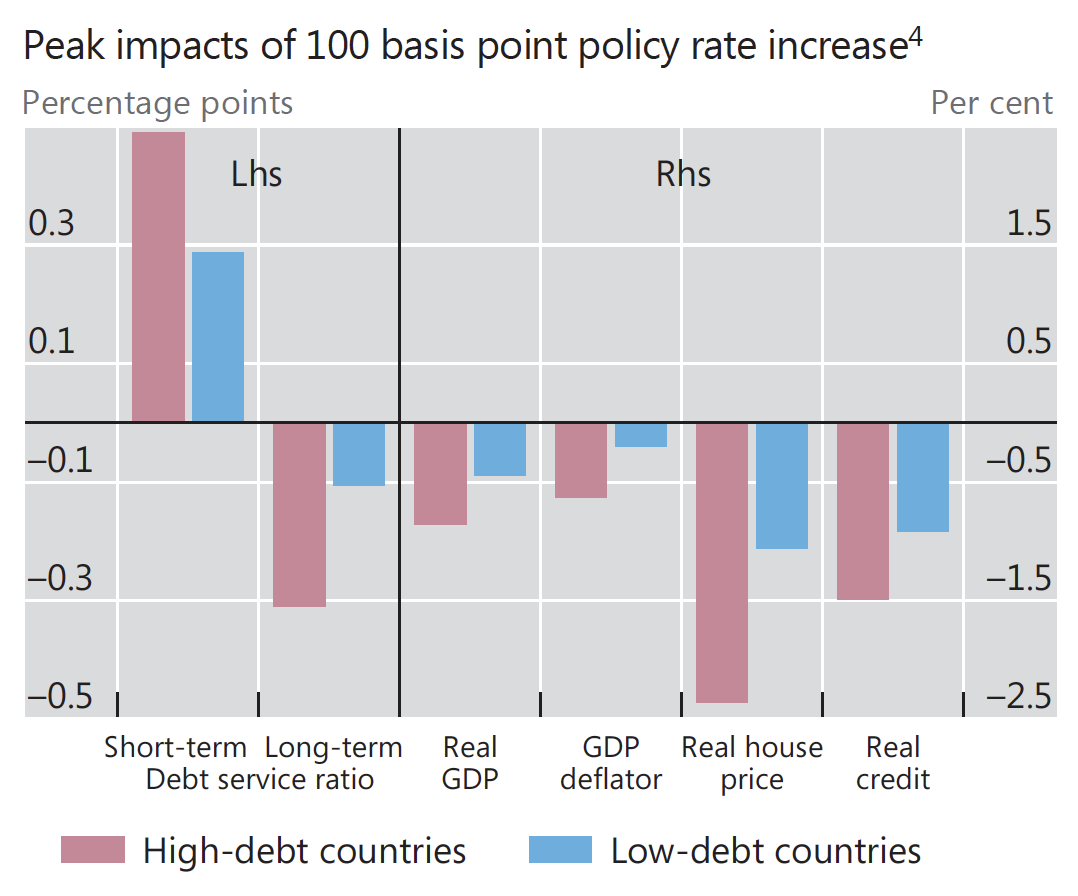 As the Central Banks embark on gradual, well-flagged in advance and 'orderly' overall rates and asset purchases 'normalization', the global economy is likely to bifurcate, based on individual countries debt exposures. As the chart above shows, impact from a modest, 100bps hike in rates, will be relatively significant for all economies, with greater impact on highly indebted countries.
Per BIS: "Since the mid-1980s, unsustainable economic expansions appear to have manifested themselves mainly in the shape of unsustainable increases in debt and asset prices. Thus, even in the absence of any near-term market disruptions, keeping interest rates too low for too long could raise financial and macroeconomic risks further down the road. In particular, there are reasons to believe that the downward trend in real rates and the upward trend in debt over the past two decades are related and even mutually reinforcing. True, lower equilibrium interest rates may have increased the sustainable level of debt. But, by reducing the cost of credit, they also actively encourage debt accumulation. In turn, high debt levels make it harder to raise interest rates, as asset markets and the economy become more interest rate-sensitive – a kind of "debt trap"."
Thus, the impetus for rates and monetary policies normalisation is the threat of continued debt bubble inflation, but the cost of such normalisation is the deflation of the debt bubble already present. In other words, there's an elephant and here's the china shop.
"A further complication in calibrating normalisation relates to the need to build policy buffers for the next downturn. Indeed, the room for policy manoeuvre is much narrower than it was before the crisis: policy rates are substantially lower and balance sheets much larger". And here's the mouse: cyclically, we are nearing the turning point in the current expansion. And despite all the PR releases about the 'robust recovery' current up-cycle in the global economy has been associated with lower growth rates, lower productivity growth, lower real investment (as opposed to financial flows), and more debt than equity (see http://trueeconomics.blogspot.com/2018/07/14718-second-longest-recovery.html).
In other words, things are risky, but also fragile. Elephants in a china shop. Enters a mouse…
Wall Street Examiner Disclosure:Lee Adler, The Wall Street Examiner reposts third party content with the permission of the publisher. I am a contractor for Money Map Press, publisher of Money Morning, Sure Money, and other information products. I curate posts here on the basis of whether they represent an interesting and logical point of view, that may or may not agree with my own views. Some of the content includes the original publisher's promotional messages. In some cases I receive promotional consideration on a contingent basis, when paid subscriptions result. The opinions expressed in these reposts are not those of the Wall Street Examiner or Lee Adler, unless authored by me, under my byline. No endorsement of third party content is either expressed or implied by posting the content. Do your own due diligence when considering the offerings of information providers.