This is a syndicated repost courtesy of True Economics. To view original, click here. Reposted with permission.
In three and a half years, the world debt has gone from being a worry to a bubble. At the end of 2014, there were just under $44 trillion worth of corporate and government debt on issue with roughly 1.4 percent of these yielding negative rates. As of June 2018, there are now more than $49 trillion worth of corporate and public sector bonds in the markets, with ca $8 trillion of these (or 16 percent) trading at negative yields.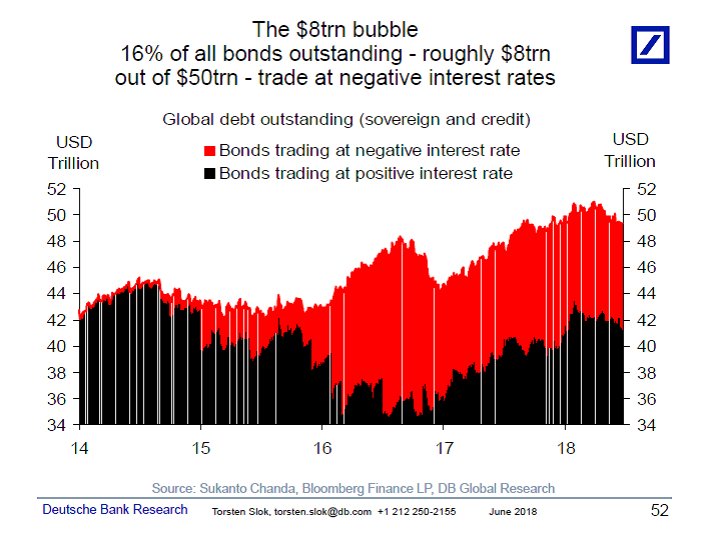 And this is just a part of the overall debt bubble picture. In April this year, the IMF report noted that non-bank funding for households and wholesale lending "is on the rise since the Lehman-crisis, and constitutes a major source of bank credit to the economy" (see https://www.imf.org/en/Publications/WP/Issues/2018/03/19/Leverage-A-Broader-View-45720). IMF estimates for non-bank funding for the U.S. banks alone, shown below, add $11.7 trillion to the debt system in 2016, against $10 trillion in 2008. Meanwhile, another roughly $8 trillion worth of non-bank debt is sitting in the dealer funds and hedge funds' pledged collateral exposures.
Meanwhile, in the U.S. alone, $6.3 trillion corporate debt bubble is now at a risk of rising interest rates. U.S. speculative-grade corporate borrowers are now at a new record-low cash-to-debt ratio of just 12 percent, below the 14 percent in 2008. Worse, per S&P report, more than 450 investment-grade companies that are not in the top 1 percent of cash-rich debt issuers, have highly risky cash-to-debt ratios of around 21 percent.
Wall Street Examiner Disclosure:Lee Adler, The Wall Street Examiner reposts third party content with the permission of the publisher. I am a contractor for Money Map Press, publisher of Money Morning, Sure Money, and other information products. I curate posts here on the basis of whether they represent an interesting and logical point of view, that may or may not agree with my own views. Some of the content includes the original publisher's promotional messages. In some cases I receive promotional consideration on a contingent basis, when paid subscriptions result. The opinions expressed in these reposts are not those of the Wall Street Examiner or Lee Adler, unless authored by me, under my byline. No endorsement of third party content is either expressed or implied by posting the content. Do your own due diligence when considering the offerings of information providers.