This is a syndicated repost courtesy of oftwominds-Charles Hugh Smith. To view original, click here. Reposted with permission.
Welcome to debt-serfdom, the only possible output of the soaring cost of living.
Long-time readers may recall the Burrito Index, my real-world measure of inflation.
The Burrito Index: Consumer Prices Have Soared 160% Since 2001
 (August 1, 2016). 
The Burrito Index
 tracks the cost of a regular burrito since 2001. Since we keep detailed records of expenses (a necessity if you're a self-employed free-lance writer), I can track the cost of a regular burrito at our favorite taco truck with great accuracy: the cost of a regular burrito has gone up from $2.50 in 2001 to $5 in 2010 to $6.50 in 2016.
It's time for an update: the cost of a regular burrito has now reached $7.50, triple the 2001 cost.
 That's a 200% increase in 17 years. According to the federal government, inflation since 2001 has risen about 40%: what $1 bought in 2001 now costs $1.43, according to the 
BLS Inflation calculator
.
Lest you reckon only burritos have tripled in cost since 2001–have you checked out college tuition or rents lately? Consider a typical public university:
University of California at Davis:
2004 in-state tuition $5,684
2018 in state tuition $14,463
So tuition at a state university soared 2.5 times while official inflation rose by a mere 35% since 2004. If UCD tuition had only risen by 35%, it would total $7,673, not $14,463. The cost above and beyond what we would expect had tuition tracked official inflation adds up to $27,000 per four-year bachelor's degree per student. Now multiply that by millions of college students, and you get a sense of the enormity of the gulf between real-world inflation and the official inflation rate of 2.5% annually.
In regions with hot job markets, rents have doubled since 2001. As for the unsubsidized costs of healthcare insurance: many of those paying the unsubsidized costs would be happy if their premiums had only doubled since 2001: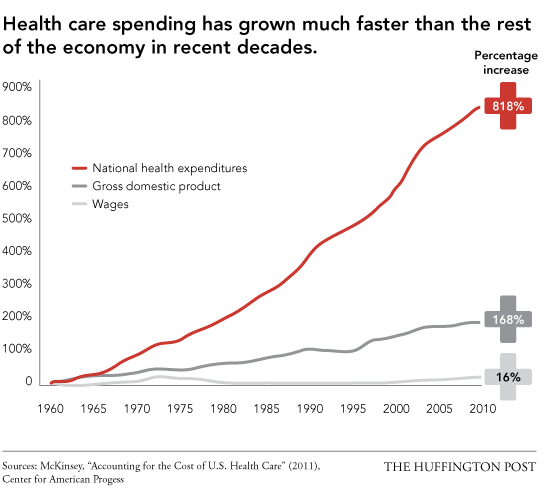 But the cost of health care is a growing burden for MCS and its 170 employees. A decade ago, Master said, an MCS family policy cost $1,000 a month with no deductible. Now it's more than $2,000 a month with a $6,000 deductible. MCS covers 75 percent of the premium and the entire deductible. Those rising costs eat into every employee's take-home pay.
And here's how the bottom 95% of American households pay for soaring tuition/fees: with borrowed money: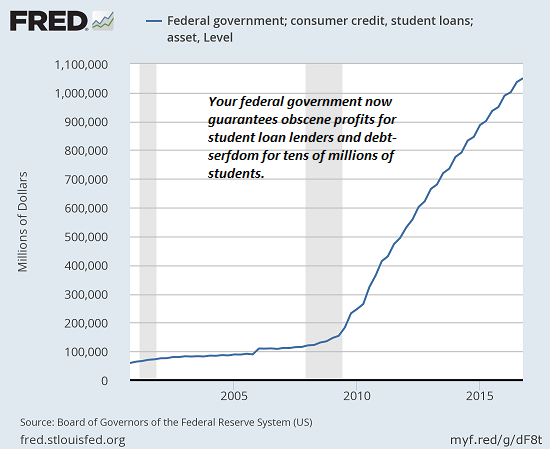 Welcome to debt-serfdom, the only possible output of the soaring cost of living for the unprotected who are ruled by a hubris-soaked, Protected Elite. Our job is to shoulder the higher prices by taking on more debt–debt which is immensely profitable for the Protected Elite.
Here's what you're supposed to swallow: big-ticket expenses such as rent, healthcare and higher education cost tens of thousands of dollars more, but TVs cost a few bucks less, and as a result, official inflation is 2.1% annually.
As long as we accept this travesty of a mockery of a sham, we deserve what we get.
My new book Money and Work Unchained is $9.95 for the Kindle ebook and $20 for the print edition.
Wall Street Examiner Disclosure:Lee Adler, The Wall Street Examiner reposts third party content with the permission of the publisher. I am a contractor for Money Map Press, publisher of Money Morning, Sure Money, and other information products. I curate posts here on the basis of whether they represent an interesting and logical point of view, that may or may not agree with my own views. Some of the content includes the original publisher's promotional messages. In some cases I receive promotional consideration on a contingent basis, when paid subscriptions result. The opinions expressed in these reposts are not those of the Wall Street Examiner or Lee Adler, unless authored by me, under my byline. No endorsement of third party content is either expressed or implied by posting the content. Do your own due diligence when considering the offerings of information providers.