This is a syndicated repost courtesy of Confounded Interest. To view original, click here. Reposted with permission.
Combine Vlad "The Impaler" Putin, Syria, Brexit, trade jitters and the European banking continuing woes and you get … a catering of Europe's economic surprise index.
The dimming data — with Russian sanctions and a potential trade war adding to market fears — have also turned Europe into ground zero for a question increasingly bedeviling investors: Has the global synchronized growth story that powered the bull market peaked? It also leaves them with a dilemma: jump back in on the prospect of juicing more gains from an increasingly mature business cycle, or assume the best is now behind them.
The answer will likely hinge on where data goes from here. Even before trade tensions broke out, growth momentum had cooled from lofty levels, with Purchasing Manager Indexes starting to roll over worldwide. The decline in Europe was particularly sharp, and sent the region's economic surprise index to the lowest since 2012.
"The tone of domestic Europe is weaker than had been anticipated and clearly the trade worries are a compounding factor," James Bevan, chief investment officer at CCLA Investment Management, told Bloomberg TV.
Once Hot, Now Not
The risk to bulls is that great expectations are already baked into corporate earnings, lowering the bar for disappointments just as cracks emerge in the data.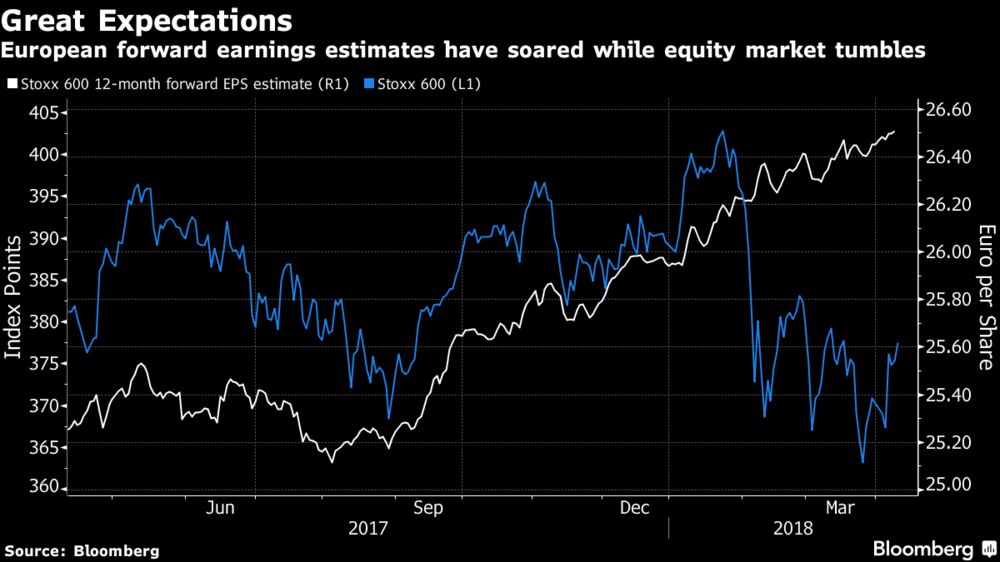 The outperformance of cyclical stocks — which benefit most from economic expansion — over their defensive counterparts has eased from February highs, underscoring the region's ebbing momentum.
"The negative impact of a data point that underwhelms on either the macro or micro fronts could be more acute given the elevated valuations of global risk assets," Katie Nixon, chief investment officer of wealth management at Northern Trust Corp., wrote in a note.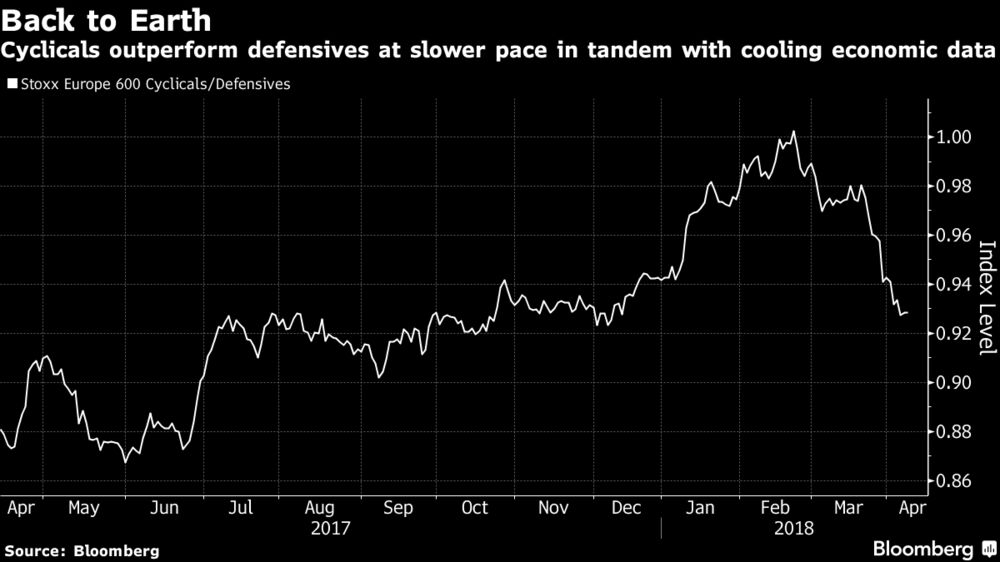 One-month risk reversals in the euro against the dollar — a measure of the appetite for bullish options relative to bearish ones — fell for most of March. The measure briefly dipped below zero, suggesting some investors are hedging downside risks for the currency, though it has since bounced back.
Euro-dollar investors continue to buy the bullish growth story, however. Hedge funds and other speculative investors keep amassing some of the heaviest long positions on the euro on record, according to CFTC data, effectively betting that the European Central Bank will eventually tighten policy.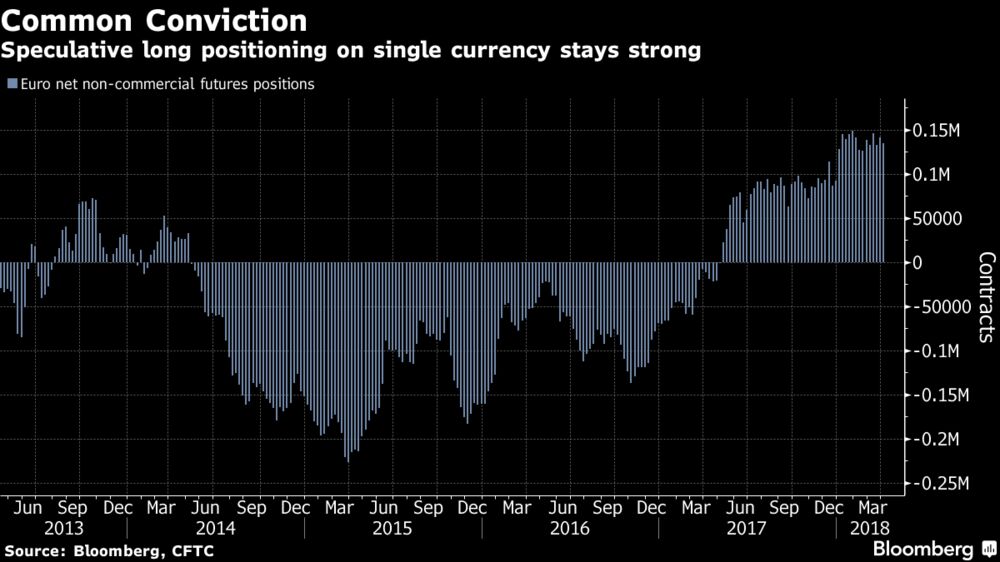 "I'm looking for European interest rates to go up and a stronger euro," said Adrian Helfert, deputy head of global aggregate at Amundi Smith Breeden LLC, which has about $88 billion in assets under management. "European PMIs aren't doing that great lately but they are still doing pretty well overall — being expansionary. European consumer confidence — like U.S. consumer confidence — is still strong."
What's more, the variability in economic surprise indexes — which tend to be mean-reverting — is principally driven by the volatility of analysts' expectations rather than sharp changes in the quality of data. The latest economic data suggest industrial output in Europe is in expansive territory. As such, the euro-zone recovery is intact, and the ECB remains on hand to smooth out the business cycle.
"The ECB has been very good at letting markets believe the liquidity could be there forever, so no rush in selling credit, I would say," said Jeroen Blokland, a portfolio manager at Robeco Nederland BV in Rotterdam.
Data Downer
Still, the weakening in the cyclical-growth story is underscored by Citigroup's economic data-change index for the Group of 10, which has fallen considerably in recent months propelled by weakness in Europe. The gauge, which compares releases with their one-year rolling history, has fallen in lockstep with declining sentiment in stocks and credit, though it remains in positive territory.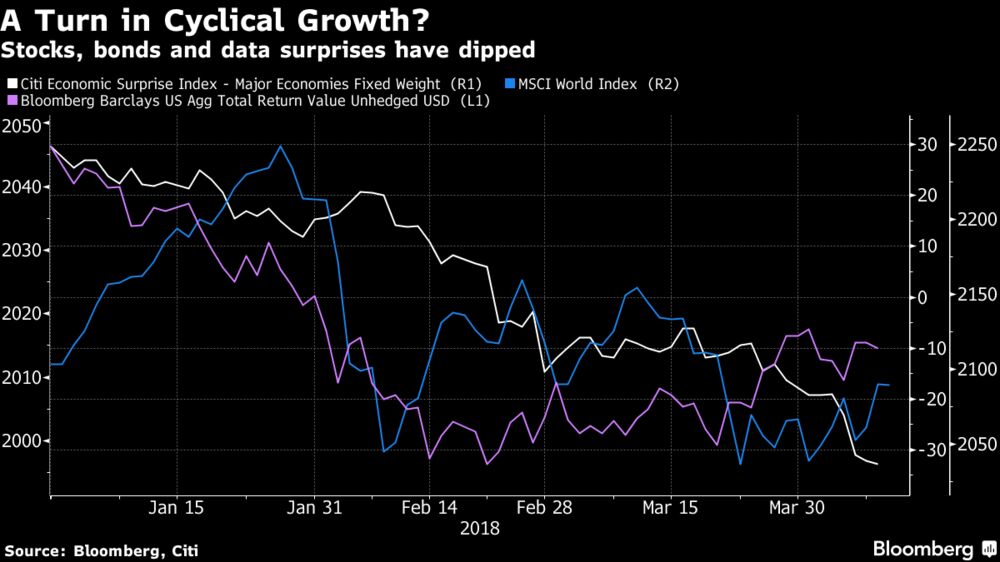 For those with a glass half-full disposition, that suggests risk markets have already weathered the clouds in the region's growth story, paving the way for a bounce back. The other takeaway: if the recent data weakness is sustained it may provide a "more fundamental catalyst" to the selloff in credit markets, according to Citigroup Inc. strategists Hans Lorenzen and Christopher Chapman.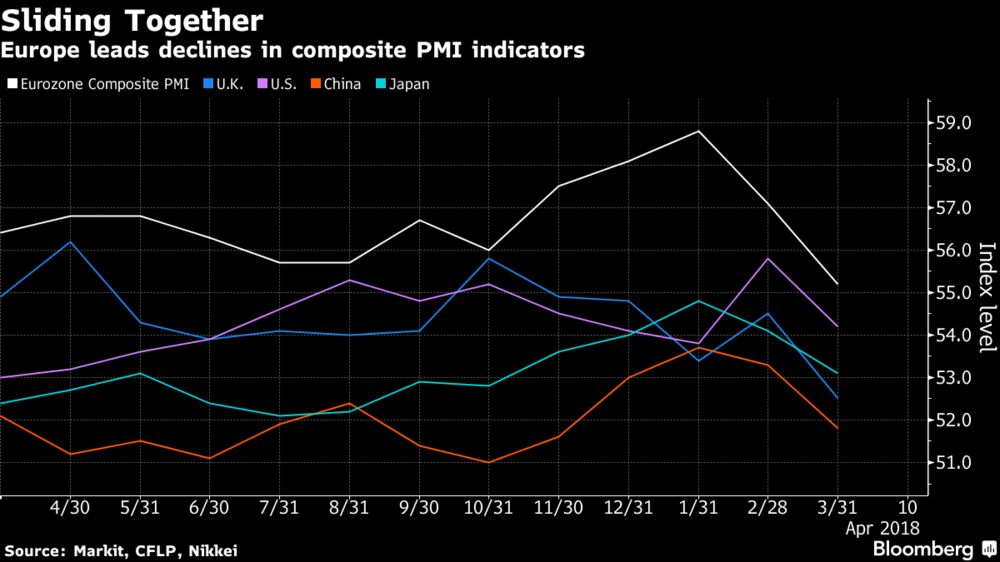 Bank of America Corp. is keeping calm and risk-on, ascribing the recent weak data to seasonal distortions and overly optimistic expectations. A stronger dollar could also support the region's equities given 40 percent of the listed companies' earnings are denominated in the U.S. currency, strategist Marc Pouey wrote in a note.
The flip side, of course, may be a weaker European currency. With interest rates at rock bottom and stimulus still underway, the ECB is among central banks poorly placed to respond to the next downturn, according to strategists from HSBC Securities. That leaves the euro as a potential shock absorber during a slowdown.
"We're not forecasting recession," said Daragh Maher, head of U.S. foreign-exchange strategy. "We think synchronized growth continues into next year — but that need to normalize is there and it's part of the rationale for why the Fed has been tightening and the appetite expressed by the ECB to normalize next year."
And then you have the Russian 5Y CDS spiking.
And the Russian 10Y rate has risen quite a bit.
Wall Street Examiner Disclosure:Lee Adler, The Wall Street Examiner reposts third party content with the permission of the publisher. I am a contractor for Money Map Press, publisher of Money Morning, Sure Money, and other information products. I curate posts here on the basis of whether they represent an interesting and logical point of view, that may or may not agree with my own views. Some of the content includes the original publisher's promotional messages. In some cases I receive promotional consideration on a contingent basis, when paid subscriptions result. The opinions expressed in these reposts are not those of the Wall Street Examiner or Lee Adler, unless authored by me, under my byline. No endorsement of third party content is either expressed or implied by posting the content. Do your own due diligence when considering the offerings of information providers.