This is a syndicated repost courtesy of True Economics. To view original, click here. Reposted with permission.
An interesting chart from the VUCA family, courtesy of @Business:
'Markets Message Indicator', created by Jim Paulsen, chief investment strategist at Leuthold Weeden Capital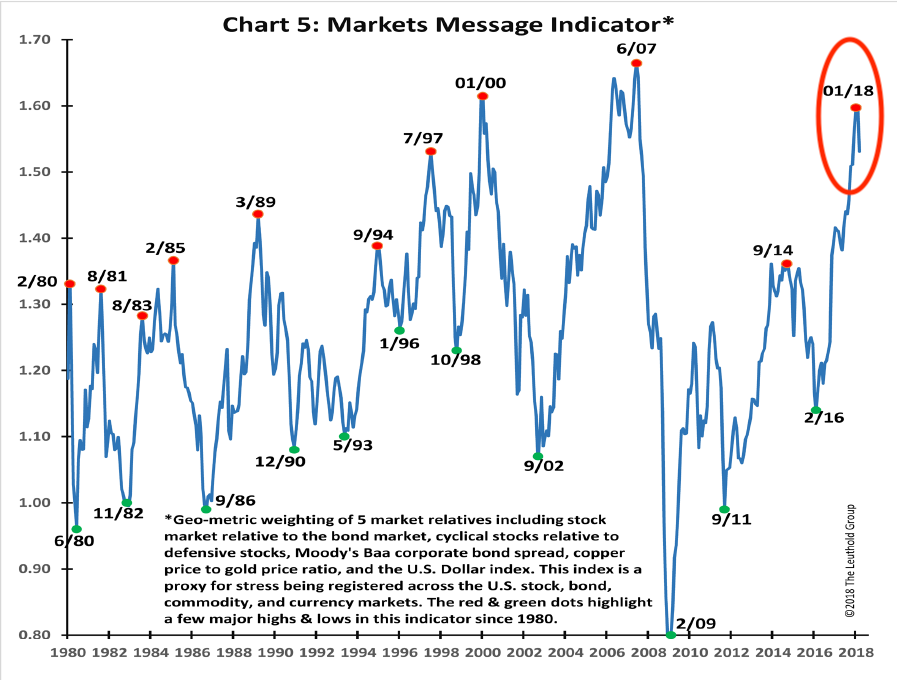 Management, takes 5 different data ratios: stock market relative performance compared to the bond market, cyclical stocks performance relative to defensive stocks, corporate bond spreads, the copper-to-gold price ratio, and a U.S. dollar index. The idea is to capture broad stress build up across a range of markets and asset classes, or, in VUCA terms – tallying up stress on all financial roads that investors my use to escape pressure in one of the asset markets.
Bloomberg runs some analysis of these five components here: https://www.bloomberg.com/news/articles/2018-04-03/paulsen-says-proceed-with-caution-across-many-asset-classes. And it is a scary read through the charts. But…
… the real kicker comes from looking back at the chart above. The red oval puts emphasis on the most recent market correction, the downturn and increased volatility that shattered the myth of the Goldilocks Markets. And it barely makes a splash in drawing down the excess stress built across the 'Markets Message Indicator'.
Now, that is a scary thought.
Wall Street Examiner Disclosure:Lee Adler, The Wall Street Examiner reposts third party content with the permission of the publisher. I am a contractor for Money Map Press, publisher of Money Morning, Sure Money, and other information products. I curate posts here on the basis of whether they represent an interesting and logical point of view, that may or may not agree with my own views. Some of the content includes the original publisher's promotional messages. In some cases I receive promotional consideration on a contingent basis, when paid subscriptions result. The opinions expressed in these reposts are not those of the Wall Street Examiner or Lee Adler, unless authored by me, under my byline. No endorsement of third party content is either expressed or implied by posting the content. Do your own due diligence when considering the offerings of information providers.