This is a syndicated repost courtesy of Confounded Interest. To view original, click here. Reposted with permission.
(Bloomberg) — Some jobs might be threatened by automation. But when it comes to government bond trading in Japan, the biggest threat might be the country's central bank.
The Bank of Japan has vacuumed up so much of the government bond market — in excess of 40 percent — that it's left fewer securities for others to buy and sell. Some other buyers, such as pension funds and life insurers, also tend to follow buy-and-hold strategies.
That's the backdrop to Tuesday's session, when not a single benchmark 10-year note was traded on exchange, according to Japan Trading Co. data. Barclays Securities Japan rates strategist Naoya Oshikubo, summed it up, with perhaps an understatement: "the JGB market was generally thin."
Governor Haruhiko Kuroda noted to lawmakers Wednesday that the central bank has bought 75 percent of the government bonds issued in the fiscal year ending this month.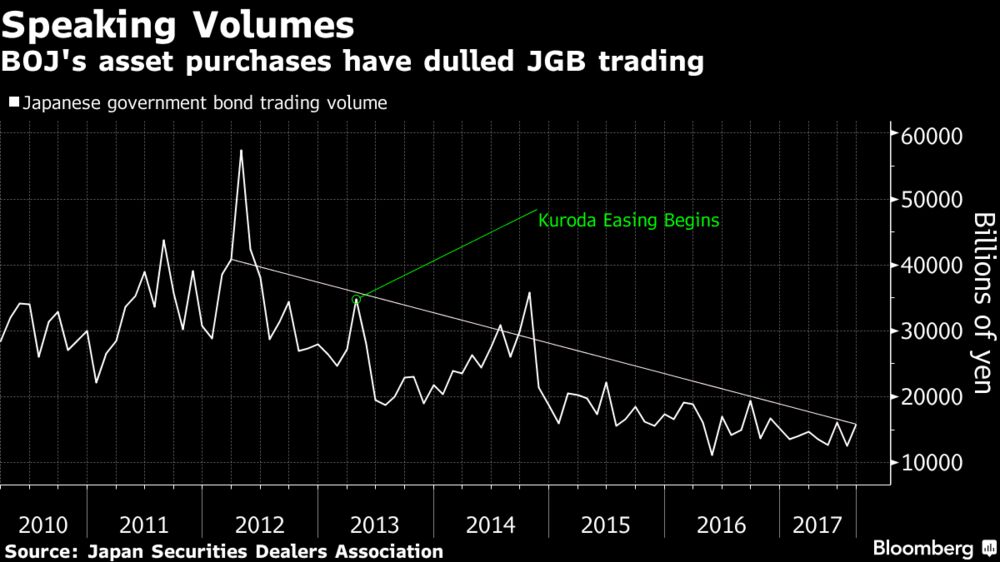 The Japanese sovereign curve remains negative for tenors under 10 years. And the Yen swaps curve is negative for tenors less than 6 months.
You can see how well BOJ's low interest rate policies have helped housing prices.  … NOT!
This is clearly a time to roll-out the song by The Knacks entitled "My Kuroda!"
Wall Street Examiner Disclosure:Lee Adler, The Wall Street Examiner reposts third party content with the permission of the publisher. I am a contractor for Money Map Press, publisher of Money Morning, Sure Money, and other information products. I curate posts here on the basis of whether they represent an interesting and logical point of view, that may or may not agree with my own views. Some of the content includes the original publisher's promotional messages. In some cases I receive promotional consideration on a contingent basis, when paid subscriptions result. The opinions expressed in these reposts are not those of the Wall Street Examiner or Lee Adler, unless authored by me, under my byline. No endorsement of third party content is either expressed or implied by posting the content. Do your own due diligence when considering the offerings of information providers.