This is a syndicated repost courtesy of Alhambra Investments. To view original, click here. Reposted with permission.
I can't help but wonder what the CNBC author was going to write. It's not a sentence I ever thought I would put down, but in this case the omission might have meant something. In reporting on auto sales yesterday, the article started out with the ultimate cliffhanger:
Major automakers reported lower U.S. new vehicle sales for February on Thursday as consumer
As consumer what? Obviously, a mistake in the editing process, an-all-too-familiar occurrence in the modern media landscape where the very idea of an editor is becoming outlandish. Still, given where we are in this inflation and boom hysteria, please, CNBC, finish the thought!
A more cynical reader might expect the original text would have done so by saying the usual, something like "Major automakers reported lower U.S. new vehicle sales for February on Thursday as consumer spending continued to be strong, robust, and downright booming otherwise." It would have been a hard case to make given these results, but since when has the media failed to live up to that challenge before? Alas, we will never know honesty or typicality.
The numbers weren't good for the vast majority of the auto sector, as sales in the aftermath of the hurricane aftermath continued to wind down. The rundown for February 2018 (all rates are year-over-year): GM -6.9%; Ford an identical -6.9%; FCA -1%; Nissan -4%; Honda -5.6%. On the plus side was +4% for Toyota on the strength of its redesigned Camry; and +6% for VW.
There were a few more ominous developments alongside these disappointing results. First, the trend toward heavy incentive spending by automakers is starting to look like it may have run its course. Manufacturers throughout last year went deep into their own pockets to subsidize what turned out to be flat sales at best, and for most slightly declining volume.
Mark LaNeve, Ford VP of US Marketing, Sales, and Service, said:
In February, overall Incentive spend for the industry was down $65 year over year, and was down $50 sequentially to January. This is really a change from what we saw most of last year and in fact what we saw most of the last three years when year over year changes in incentive spend were up on average $300 to $400 consistently during that entire time frame.
That may or may not be related to how sales of pickups and other light truck vehicles such as luxury SUV's have softened after the sales boost following Harvey and Irma. Light trucks are higher margin products, a factor that has helped to a certain extent cushion the industry over the past several years as the labor market has slowed – and auto sales with it.
Overall, it has been the car segment which has been eschewed by consumers, the lower end vehicles that would be in demand by those same workers and potential workers who have become more uneasy about the labor market. The shift in gasoline prices since the oil crash has also rebalanced demand, too, toward light trucks and against smaller more fuel-efficient vehicles.
Mark LaNeve again:
The optimistic view is that people are just waiting for their next generation of trucks. The negative view is that good truck sales are in the rearview mirror.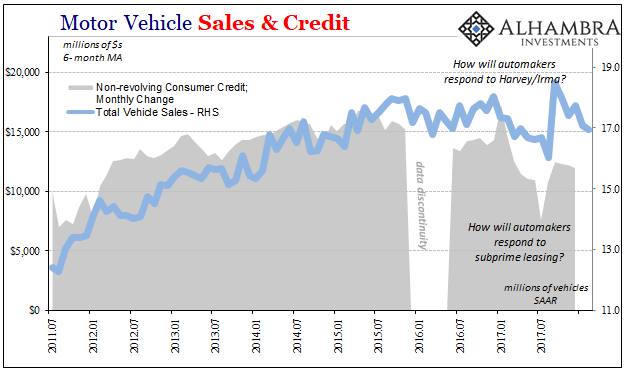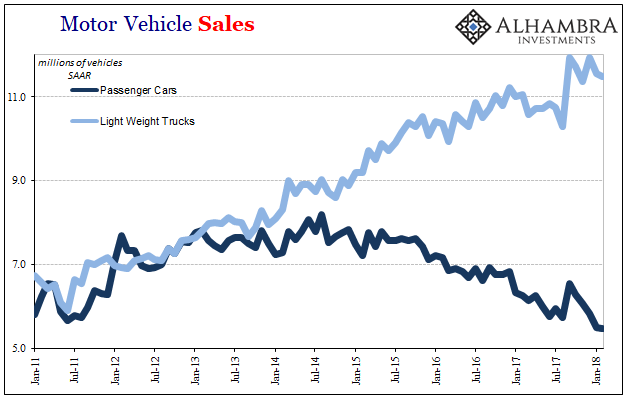 Truck sales are for most still higher than they were last summer when sales of everything verged on outright contraction. There is still, however, a clear artificiality to the most recent months following last summer's tropical eruption.
As for cars, this has to be a multi-faceted issue. The numbers are otherwise staggering; from August 2014 through and including the latest estimates for February 2018, the BEA figures car sales are down by almost one-third. Obviously, light trucks have picked up some of that slack, representing the rebalancing mix, but given that at the margins it hasn't been enough to keep sales growing suggests a deepening macro divide in addition to gasoline and whatever else.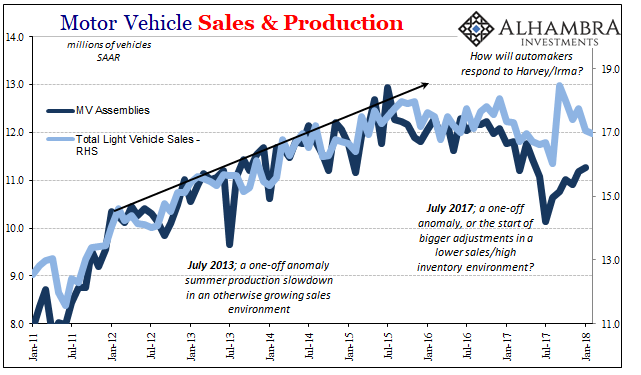 If truck sales falter here, and car sales continue to slip, then the profit squeeze becomes more and more of a primary rather than background consideration. Maybe manufacturers are content with production at these lower levels if incentives worked especially in the truck space, but profit growth can't be put off forever.
It's another major economic drag made out from the primary economic drag – the labor market.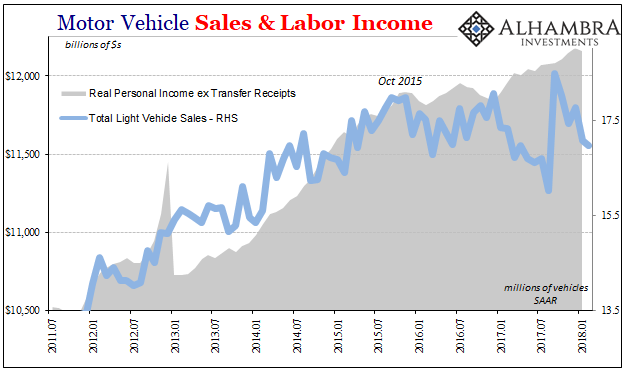 In other words, there isn't any reasonable expectation that auto sales are about to boom. If there was one, and some manufacturers last fall had expressed vague hopes they were, it was predicated on little more than broken windows. The predicted boost to sales in autos as well as other things as a consequence of storm-destroyed automobiles does not appear to have unleashed an economy-wide shift (the long sought "S" curve of Paul Krugman fame). It was quite often talked about in that way, of course, but it could only ever have been temporary.
Automakers in particular now have to face the prospects of a double downside; sales trends are moving back toward last summer's weak pre-hurricane baseline to start with, and then comes the negative drag of all those broken windows (and who will eventually pay for them, and it wasn't ever going to be insurance companies). Throw in questions about manufacturing profits, and downside (economic) risks in 2018 are even more than they ever were in 2017.
Wall Street Examiner Disclosure:Lee Adler, The Wall Street Examiner reposts third party content with the permission of the publisher. I am a contractor for Money Map Press, publisher of Money Morning, Sure Money, and other information products. I curate posts here on the basis of whether they represent an interesting and logical point of view, that may or may not agree with my own views. Some of the content includes the original publisher's promotional messages. In some cases I receive promotional consideration on a contingent basis, when paid subscriptions result. The opinions expressed in these reposts are not those of the Wall Street Examiner or Lee Adler, unless authored by me, under my byline. No endorsement of third party content is either expressed or implied by posting the content. Do your own due diligence when considering the offerings of information providers.