This is a syndicated repost courtesy of Alhambra Investments. To view original, click here. Reposted with permission.
Home construction rebounded in January 2018, though that may have been nothing more than statistical noise. Total permits filed to build new residential structures totaled 1.396 million (SAAR) last month, up from a revised 1.300 million in December. The entirety of that increase was due to a big jump in permits for the multi-family segment. This latter category consisting of apartment buildings is notoriously noisy especially on a month to month basis.
In it, permits were estimated to have been 479k (SAAR) in January 2018 compared to 382k in December. The latter number was more in line with the recent trend, which still appears to be lower overall. The multi-family segment has been a drag on the construction sector for several years now, despite the occasional spike up in either permits or starts, or both.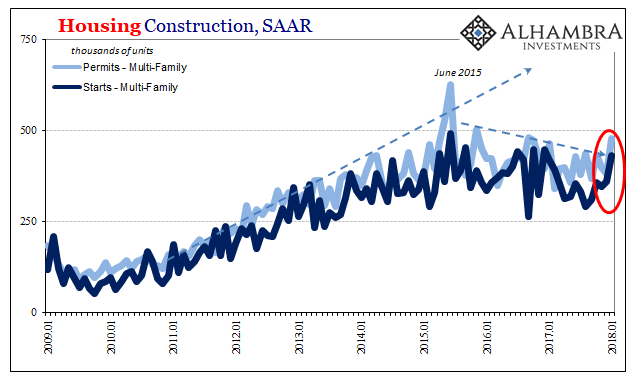 In single family construction, both permits were lower and starts were higher in January both by negligible amounts. The issue here is never really plus or minus, by why growth isn't far more strenuous and determined. The NAR's figures for resales continue to suggest a multi-year trend of declining inventory and therefore suspect volume. If economic conditions overall are robust, as they are always described, home builders should have long ago stepped in to supply what we are told is highly demanded.
It's not as if builders lack for confidence; far from it. According the National Association of Home Builders (NAHB), they have been over the past few months rarely ever more confident than now. You have to go back to the late nineties for similar expressed levels of optimism; the NAHB's index suggests that its members are more positive now than at any time during the housing mania.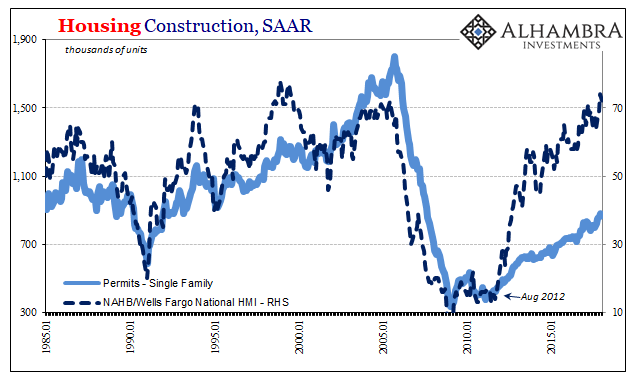 The problem with that result is obvious; they aren't building at a rate anywhere close to either the nineties or the height of the bubble. On a population-adjusted basis, the disparity is even greater.
Thus, we have to question what it is builders are confident about. Is it a cyclical, macro view of potential downside? That might make more sense given the peaks and valleys in the index. In other words, the longer expansions go the more builders are confident not about the volume of business but that whatever level of demand they are seeing won't disappear tomorrow.
Maybe that's why in the middle 2000's the HMI never gained as much altitude – even though the business cycle from 2003 to 2006 was favorable, some of those builders had to know it was a bubble and therefore were a little nervous as to how much longer it could last.
On the flipside, builders are very confident now even though business is, by permits anyway, still half what it was then even after twelve years of bust and tepid rebound. There is right now little sign that the housing market is in any danger of reversing in part because it hasn't gained all that much back, which is what builders may be most happy about. After what happened starting in 2006, I can't say as I blame them for being more concerned about the downside.
Confidence sure isn't about the current level of activity therefore demand, even though that's not how it's often, or ever, described.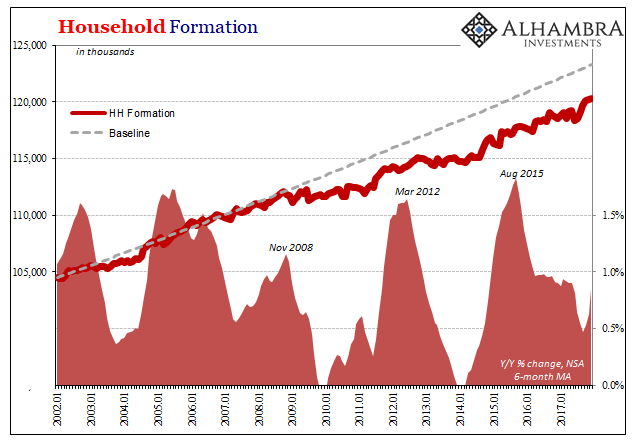 The reason for this clear constraint is that Americans still won't or can't leave cohabitation arrangements. Though the Census Bureau reported an uptick in the number of estimated American households in October (not so much November and December, raising the hurricane issue though it may seem backward and counterintuitive), we are still as of December more than 3 million behind the pre-crisis pace.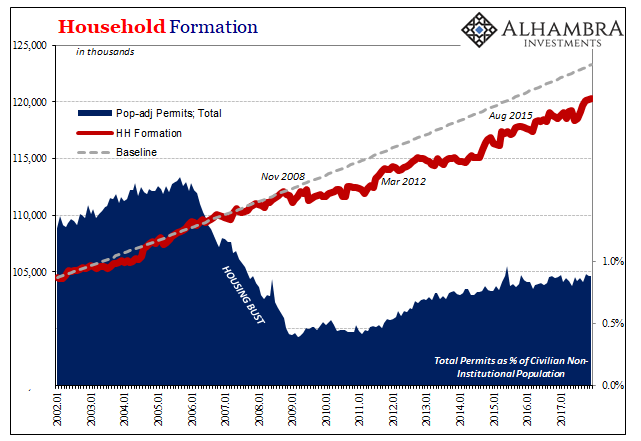 Growth in household formation may not threaten to reverse the low-growth in home construction, but it sure does explain why more homes aren't being built. There is no additional demand above what appears to be minimal growth in home stock (which also helps explain the pullback in apartment construction around the "rising dollar" downturn; that it confirmed there isn't likely to ever be more than minimal growth).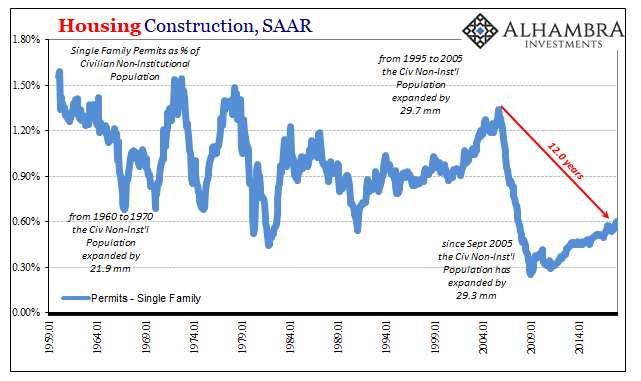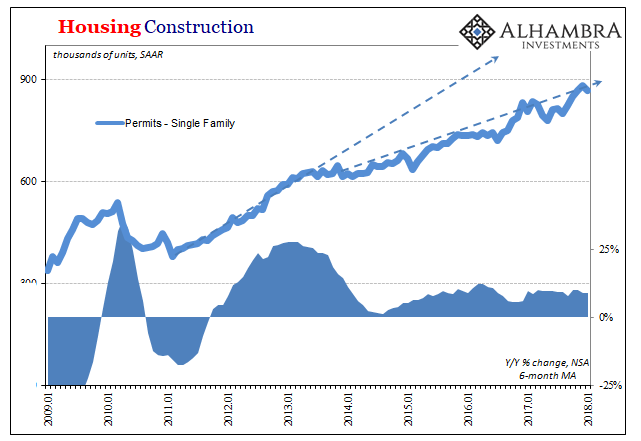 The continued drag of cohabitation stands in stark contrast to the unemployment rate. An economy operating near the boundary of full employment, let alone a legitimate 4.1%, would see a clear increase in household formation – especially from this lower trend that has persisted for almost a decade now.
There are any number of surveys particularly of young adults describing the restlessness of this situation, and therefore if those stuck in it had the means they would change their circumstances if possible. In droves. It can be construed as a social trend, but it's often done so because by and large in the mainstream there isn't an economic problem according to Economists.
Maybe that in the end is what builders are so happy about. They see only a very small probability of a substantial decrease in their business while at the same time noting that any day now young Americans in light of full employment will start to move out of their parents' basement all at once. Like other similar rationalizations, the longer it goes where that hasn't happened, the more certain they have become that it will – tomorrow for sure.
Wall Street Examiner Disclosure:Lee Adler, The Wall Street Examiner reposts third party content with the permission of the publisher. I am a contractor for Money Map Press, publisher of Money Morning, Sure Money, and other information products. I curate posts here on the basis of whether they represent an interesting and logical point of view, that may or may not agree with my own views. Some of the content includes the original publisher's promotional messages. In some cases I receive promotional consideration on a contingent basis, when paid subscriptions result. The opinions expressed in these reposts are not those of the Wall Street Examiner or Lee Adler, unless authored by me, under my byline. No endorsement of third party content is either expressed or implied by posting the content. Do your own due diligence when considering the offerings of information providers.