This is a syndicated repost courtesy of Confounded Interest. To view original, click here. Reposted with permission.
Money is flowing to European stocks as jitters struck the US stock markets and The Federal Reserve continues to slowly normalize its monetary policy.
(Bloomberg) — Billionaire Ray Dalio has $18.45 billion in bets against Europe's biggest stocks. Most of the rest of the investing world is headed in the other direction.
U.S. stocks lost $9.7 billion in investment so far this month while Eurozone shares have gained $3.2 billion, according to data compiled by Bloomberg. Peers of Dalio's firm, Bridgewater Associates, are mostly wagering that Eurozone equities will rise. 
"I'm surprised. That's a big bet. Dalio and his team are very confident," said Rick Herman, managing director of asset allocation who helps oversee about $30 billion at BB&T Institutional Investment Advisors Inc. "That's definitely out of consensus. European stocks are cheaper, and they also have stronger earnings growth." 
Dalio has always marched to the beat of his own drummer, so his big short position, especially when other hedge funds are betting in the opposite direction, could be seen in that context.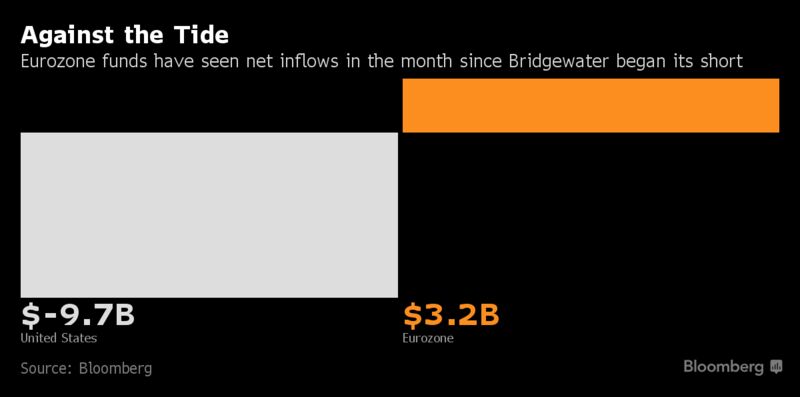 Even among those who are short, Bridgewater stands out, according to a Bloomberg survey of hedge funds. The combined value of their shorts stands at $23 billion. Dalio's position has decreased from $22 billion on Feb. 15 but is still a whopping 43 percent larger than the outstanding bets by Cliff Asness's AQR Capital Management.
One Eurozone stock is popular with big U.S. hedge funds. Paul Singer's Elliott Management Corp., San Francisco-based Farallon Capital Management and Dan Och's Och-Ziff Capital Management Group LLC are all investors in NXP Semiconductors NV, based in the Netherlands. Qualcomm Inc. is trying to buy the company. Shares are up more than 7 percent since the beginning of the year.
The European Central Bank (ECB) has kept its main refinancing rate at 0% since March 2016 as it has slowed its asset purchases. The Fed, on the other hand, has raised its target rate four times since Trump was elected President (as opposed to only once in Obama's eight years as President). And The Fed has been letting its T-Notes mature that it held on its $4.4 trillion balance sheet.
Both the S&P 500 and Germany's DAX have benefited from their respective Central Banks zero interest rate policies (ZIRP), but it appears that The Fed is diverging from the ECB and other Central Banks.
The Eurozone still has trouble generating inflation (Goldman is more negative about inflation prospects than the ECB forecasts).
But the US is having its own troubles generating inflation.
Germany, the strongman of the ECB, still has negative sovereign yields (in Euros) at less than 5 year tenor.
In summary, Ray Dalio (Bridgewater) and Cliff Asness (AQR) are taking big short bets on European stocks. Could it be that they are concerned that Draghi and the ECB will follow The Fed's lead and start actually reducing monetary stimulus from the markets? Or maybe bet that Brexit will actually be worse than expected (which would prevent normalization of ECB monetary policy)?
Wall Street Examiner Disclosure:Lee Adler, The Wall Street Examiner reposts third party content with the permission of the publisher. I am a contractor for Money Map Press, publisher of Money Morning, Sure Money, and other information products. I curate posts here on the basis of whether they represent an interesting and logical point of view, that may or may not agree with my own views. Some of the content includes the original publisher's promotional messages. In some cases I receive promotional consideration on a contingent basis, when paid subscriptions result. The opinions expressed in these reposts are not those of the Wall Street Examiner or Lee Adler, unless authored by me, under my byline. No endorsement of third party content is either expressed or implied by posting the content. Do your own due diligence when considering the offerings of information providers.