This is a syndicated repost courtesy of Alhambra Investments. To view original, click here. Reposted with permission.
When the Federal Reserve last month updated its estimates for consumer credit, we thought it was concerning if consistent with the labor market that revolving credit jumped by $11.2 billion in November 2017. The increase continued a pattern of greater regular usage of largely credit cards in lieu of growing incomes which have pretty much stagnated for several years. Undo infatuation with wage rates notwithstanding, there is every reason instead to suspect consumers are keeping low level spending from slowing further with debt as a last resort rather than embrace of a brighter future.
The Fed just updated its estimates for December, revising several months in 2017 including November. Now the central bank figures revolving consumer credit didn't just rise three months ago, it exploded just in time for Christmas. What was a high end $11.2 billion gain is now thought to have been +$24.8 billion. It was to that point the second largest increase on record (and the increase for January 2006 was a statistical discontinuity), a data series that goes back to 1943.
You just don't see this kind of increase in debt at any time, recovery or exhaustion. It was an extreme result by any standard.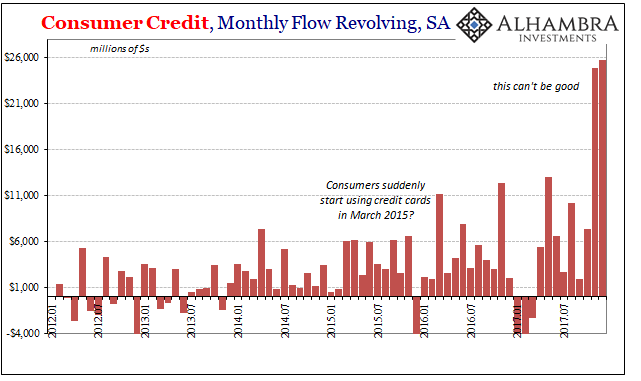 But that wasn't all the Fed's just-released numbers showed. In December, apparently, consumers did it again. Beating out November's rise, the figures total up to an increase of +$25.8 billion. That's a two-month increase of insanity (+$50.6 billion). It just doesn't happen, or at least it never has before.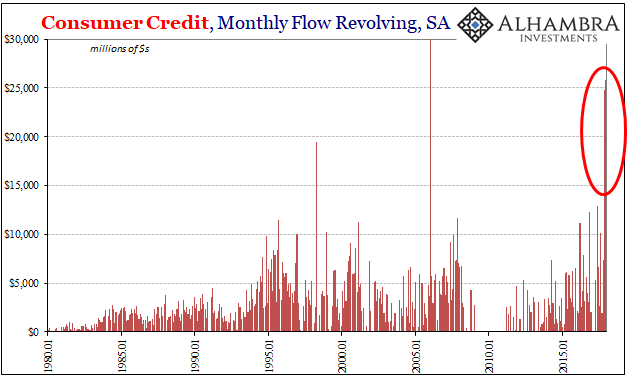 Was that Americans spending their tax cuts in advance? For anyone optimistic on the economy, we better hope not. If it was, then the "stimulus" effects of that tax cut will fizzle quickly when the credit card statements show up.
Furthermore, it's not as if consumer spending was truly robust in Q4. It wasn't. So, if it took more than $50 billion in additional consumer credit just to keep up with lackluster growth, what happens to consumers in Q1?
Despite all the hoopla and rhetoric, the payroll reports for January were more concerning than confirming (of inflation). There is as yet no indication of an uptick in pay or labor utilization, the same unusually weak income trajectory that I believe was behind the credit charges.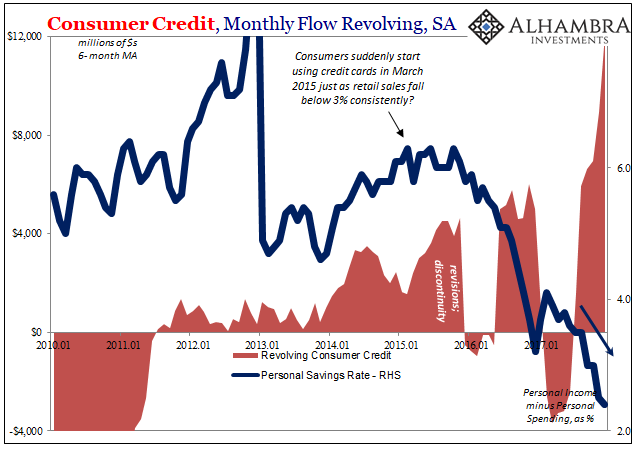 Whenever you encounter outlier estimates like these, you should always at least consider them as possible statistical anomalies. That could certainly be what happened given that the Fed's consumer credit stats tend to be quite noisy and subject often to deep revisions.
However, since it was two months rather than just one, and those two together are consistent with the further drop in the personal savings rate, it seems more likely than not Americans went deep into the red for last Christmas; deeper than ever before, which is saying something. I just don't see any way to spin that as a positive. Given the size of the outliers here, it appears to be not just negative but a huge negative for future growth.
Unless, of course, Jay Powell's hawkishness is proven correct not next month as always, but last month.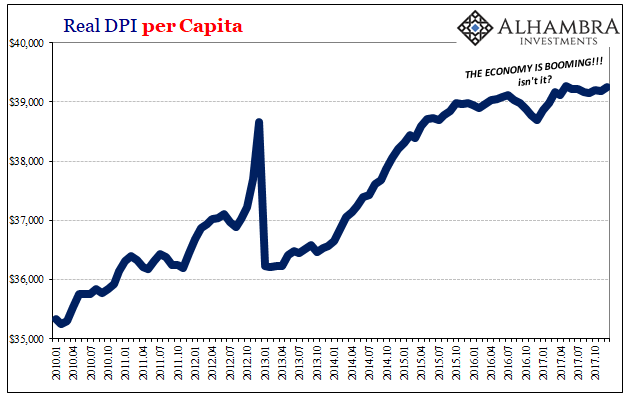 Wall Street Examiner Disclosure:Lee Adler, The Wall Street Examiner reposts third party content with the permission of the publisher. I am a contractor for Money Map Press, publisher of Money Morning, Sure Money, and other information products. I curate posts here on the basis of whether they represent an interesting and logical point of view, that may or may not agree with my own views. Some of the content includes the original publisher's promotional messages. In some cases I receive promotional consideration on a contingent basis, when paid subscriptions result. The opinions expressed in these reposts are not those of the Wall Street Examiner or Lee Adler, unless authored by me, under my byline. No endorsement of third party content is either expressed or implied by posting the content. Do your own due diligence when considering the offerings of information providers.