This is a syndicated repost courtesy of True Economics. To view original, click here. Reposted with permission.
Back in 2014, Russia entered a period of recessionary economic dynamics, coupled with the diminishing access to foreign debt markets. Ever since, I occasionally wrote about the positive impact of the economy's deleveraging from debt. Here is the latest evidence from the BIS on the subject, positing Russia in comparative to the rest of the BRICS economies: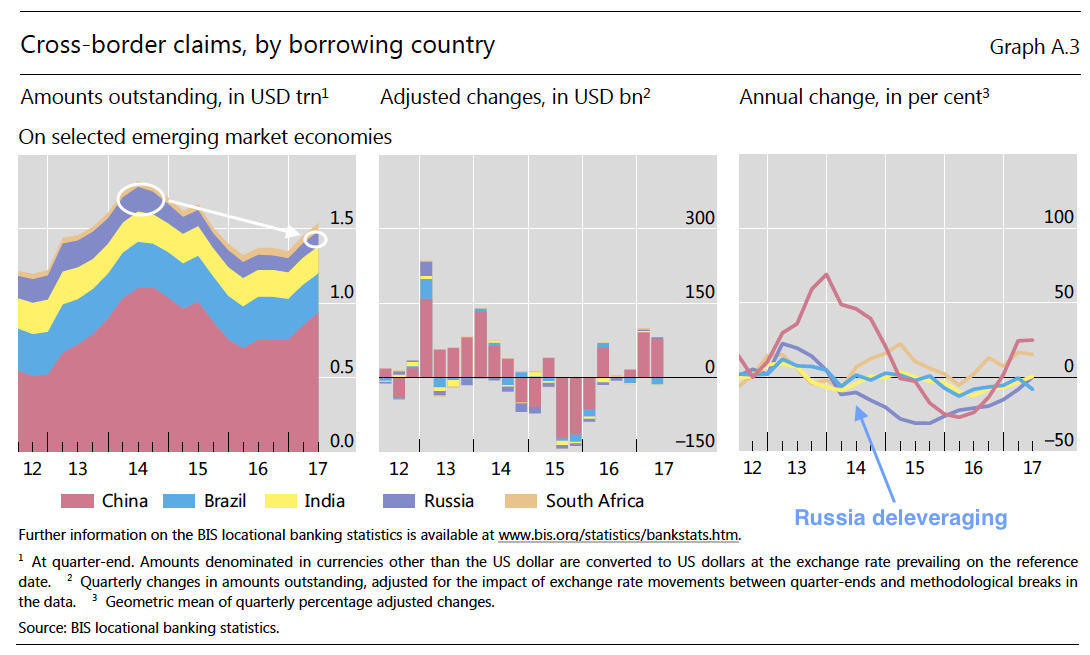 In absolute terms, Russian deleveraging has been absolutely dramatic. Since 2014, the total amounts of debt outstanding against Russia have shrunk more than 50 percent. The deleveraging stage in the Russian economy actually started in 1Q 2014 (before Western sanctions) and the deleveraging dynamics have been the sharpest during 2014 (before the bulk of Western sanctions). This suggests that the two major drivers for deleveraging have been: economic growth slowdown (2013-1Q 2014) and economic recession (H2 2014-2016), plus devaluation of the ruble in late 2014 – early 2015.
The last chart on the right shows that deleveraging has impacted all BRICS (with exception of South Africa) starting in 2H 2013 – 1H 2014 (except for China, where deleveraging only lasted between 2H 2015 and through the end of 2016, although deleveraging was very sharp during that brief period).
In other words, there is very little evidence that any aspect of Russian debt dynamics had anything to do with the Western sanctions, and all the evidence to support the proposition that the deleveraging is organic to an economy going through the structural growth slowdown period.
Wall Street Examiner Disclosure:Lee Adler, The Wall Street Examiner reposts third party content with the permission of the publisher. I am a contractor for Money Map Press, publisher of Money Morning, Sure Money, and other information products. I curate posts here on the basis of whether they represent an interesting and logical point of view, that may or may not agree with my own views. Some of the content includes the original publisher's promotional messages. In some cases I receive promotional consideration on a contingent basis, when paid subscriptions result. The opinions expressed in these reposts are not those of the Wall Street Examiner or Lee Adler, unless authored by me, under my byline. No endorsement of third party content is either expressed or implied by posting the content. Do your own due diligence when considering the offerings of information providers.