This is a syndicated repost courtesy of True Economics. To view original, click here. Reposted with permission.
An interesting chart from Bloomberg on intra-EU productivity divisions:
https://www.bloomberg.com/news/articles/2017-11-29/eu-s-productivity-split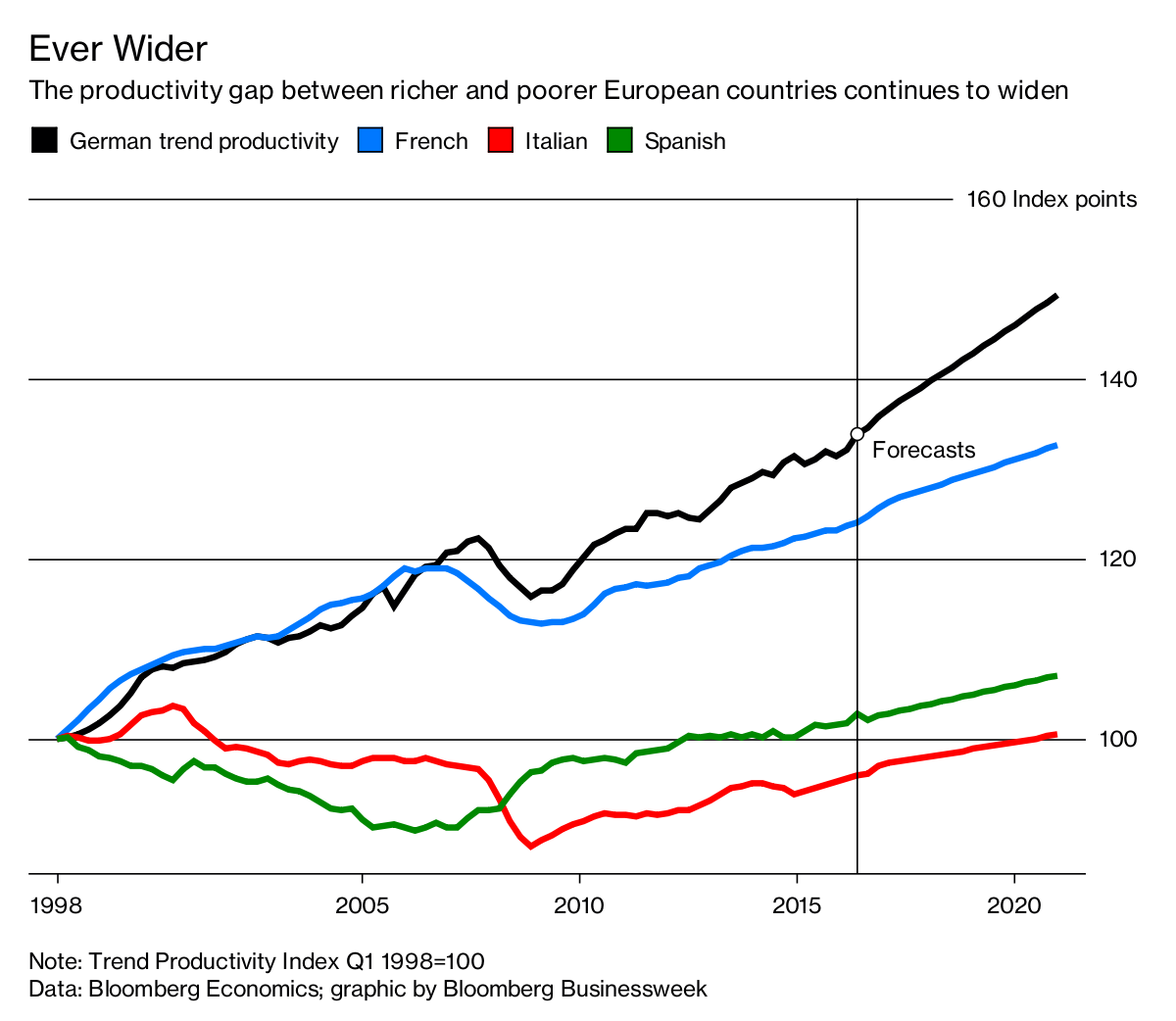 The key here is not the current spot observation or the trend forecast forward, but the dynamics from 2008 on. Since the GFC, productivity divergence within the EU has been literally dramatic. And the two interesting markers here are:
Divergence in productivity between the 'North' and the 'South' – highlighted in the Bloomberg note, but also
Divergence in productivity between Germany and France
In simple terms, until about 2010, the Euro monetary union was not quite working for the 'South' while it did work for the 'North'. However, since 2010-2012, the divergence between the 'North' and the 'South' has spread to France vs Germany divide as well. The Euro, it appears, is not quite working for France either.
A more involved view of the continued divergence in the Euro area is here: https://media.arbeiterkammer.at/wien/PDF/varueckblicke/R.Fulterer_I.Lungu_Yec_2017.pdf.
Wall Street Examiner Disclosure:Lee Adler, The Wall Street Examiner reposts third party content with the permission of the publisher. I am a contractor for Money Map Press, publisher of Money Morning, Sure Money, and other information products. I curate posts here on the basis of whether they represent an interesting and logical point of view, that may or may not agree with my own views. Some of the content includes the original publisher's promotional messages. In some cases I receive promotional consideration on a contingent basis, when paid subscriptions result. The opinions expressed in these reposts are not those of the Wall Street Examiner or Lee Adler, unless authored by me, under my byline. No endorsement of third party content is either expressed or implied by posting the content. Do your own due diligence when considering the offerings of information providers.