This is a syndicated repost courtesy of Alhambra Investments. To view original, click here. Reposted with permission.
New home sales rose sharply again for the second consecutive month. After rising more than 18% in the month of September 2017 over August (subsequently revised down to 14%), sales rose another 6% month-over-month in October. At a seasonally-adjusted annual rate of 685k, that's the highest pace for any month going back exactly ten years to October 2007, a highly misleading comparison.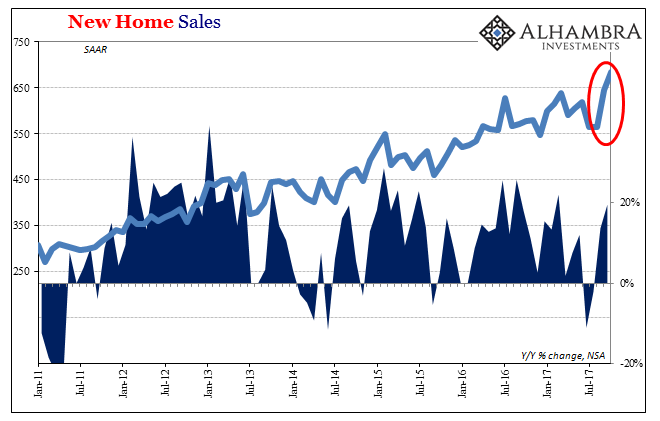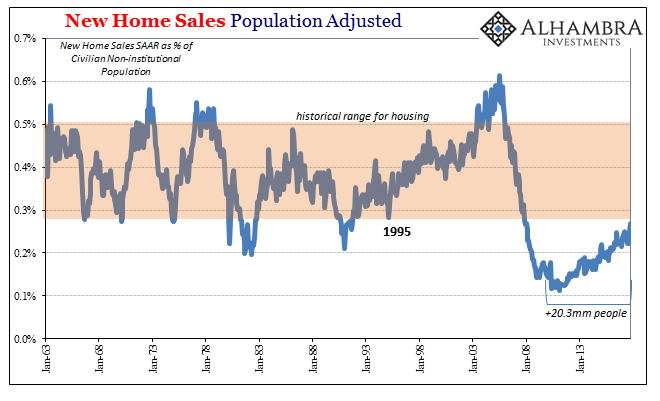 Questions remain, however, as to whether that two-month gain is anything more than the catch up from disruptions in Texas and Florida due to hurricanes Harvey and Irma. The typical seasonal pattern for new home sales in October is to be slightly above the unadjusted level in September. This month, the same as last month, suggests a much larger increase.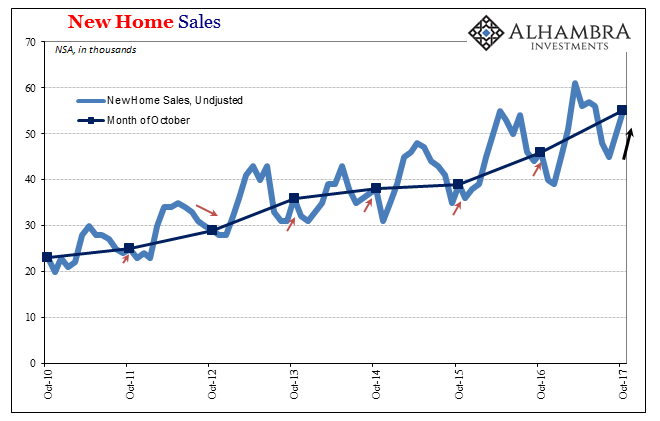 The same unusual pattern was figured for new home construction, specifically the number of permits filed to build single-family residences. Normally, permits in October are less (unadjusted) than those in September, but last month they rose rather sharply particularly in comparison to October 2016. Construction permits are one of the main inputs for calculating new home sales (since those sales include structures not yet finished as well as some not yet started).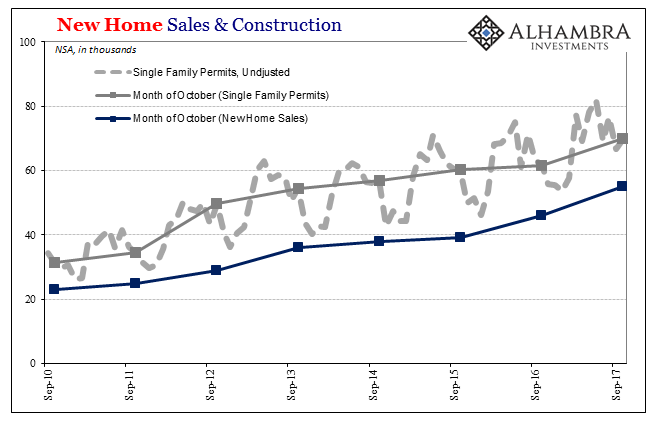 It seems likely that if these are storm-related effects that they shouldn't last much past October, though there is some chance of residuals sneaking onto November's sales estimates (those perhaps delayed in completion belatedly obtaining buyers).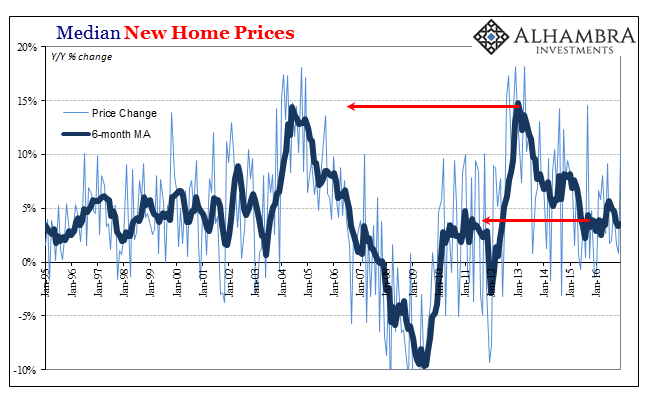 The median sales price continues to rise at a relatively steady rate despite a historically low volume. The fact that prices aren't actually surging like they were four years ago again suggests that what's missing in terms of the number of new structures is the lower tiers of the market (quite like the data for resales). Despite the likely positive short run boosts for the past two months, there were fewer new houses sold in the US in October 2017 than in October 1996.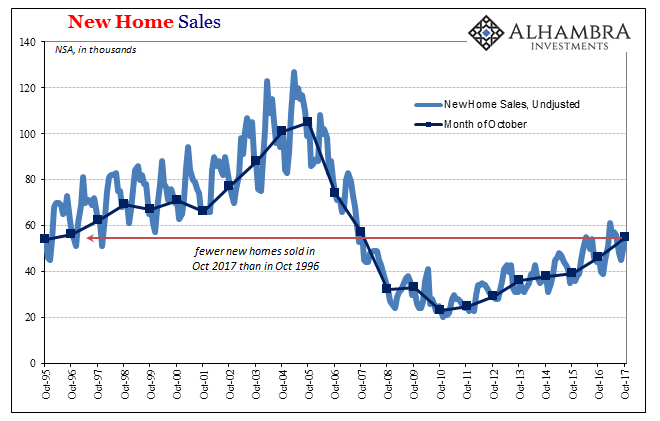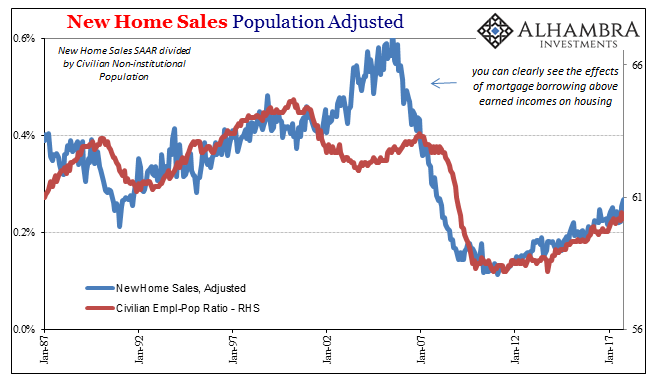 The only way that happens without an absurd spike in prices is if supply and demand at the bottom are fairly matched, without much imbalance even though the insanely low historical pace of construction and selling. If the economy was anywhere near robust as the unemployment rate suggests, either the pace of construction (and sales) would be surging steadily (not just a few months in the aftermath of storm disturbances) or the median price would. Neither is occurring.
It is all perfectly consistent with data from the rest of the economy up to and including GDP. The real estate market is growing but still short of growth. Indications instead point to an economy that largely due to the imbalances which presented us the last housing bubble has subsequently shrunk and "somehow" remains that way. Given such a persistently low starting point, if the economy was about to accelerate we would see it in housing data (among other places) where steady but low growth would quickly yield to more historical levels of gain.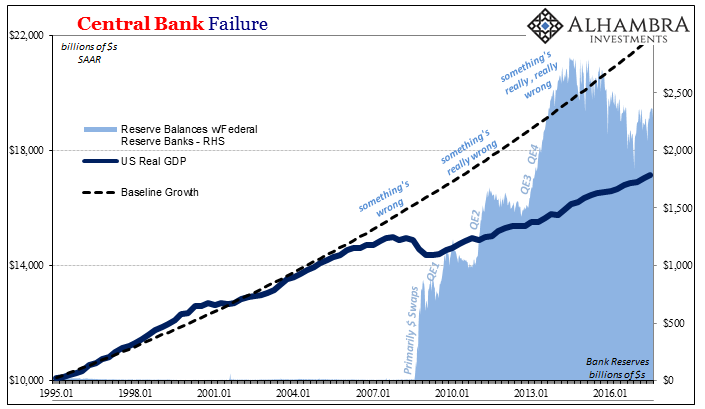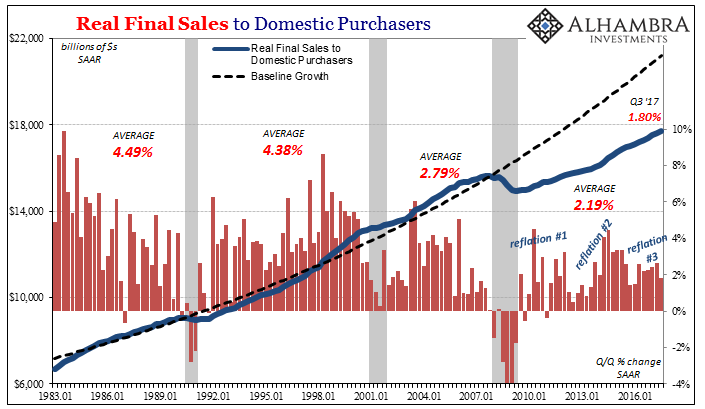 Wall Street Examiner Disclosure:Lee Adler, The Wall Street Examiner reposts third party content with the permission of the publisher. I am a contractor for Money Map Press, publisher of Money Morning, Sure Money, and other information products. I curate posts here on the basis of whether they represent an interesting and logical point of view, that may or may not agree with my own views. Some of the content includes the original publisher's promotional messages. In some cases I receive promotional consideration on a contingent basis, when paid subscriptions result. The opinions expressed in these reposts are not those of the Wall Street Examiner or Lee Adler, unless authored by me, under my byline. No endorsement of third party content is either expressed or implied by posting the content. Do your own due diligence when considering the offerings of information providers.