This is a syndicated repost courtesy of True Economics. To view original, click here. Reposted with permission.
Per latest reports, there is a renewed spat between the U.S. and China in the WTO. As reported in the FT (
https://www.ft.com/content/f7941646-d571-11e7-8c9a-d9c0a5c8d5c9
):
"The Trump administration has lambasted China's bid for recognition as a market economy in the World Trade Organization, citing decades of legal precedent and what it sees as signs that China is moving in the opposite direction under Xi Jinping. The US move to oppose China's longstanding efforts to be recognised as a market economy in the WTO came in a legal submission filed last week and due to be released publicly on Thursday in a case brought by Beijing against the EU."
Here are background slides to the dispute from my recent lecture @MIIS :
First, what's behind the WTO dispute: the fight between the U.S. and the EU against China and other emerging economies in core Bretton Woods institutions – the IMF and the World Bank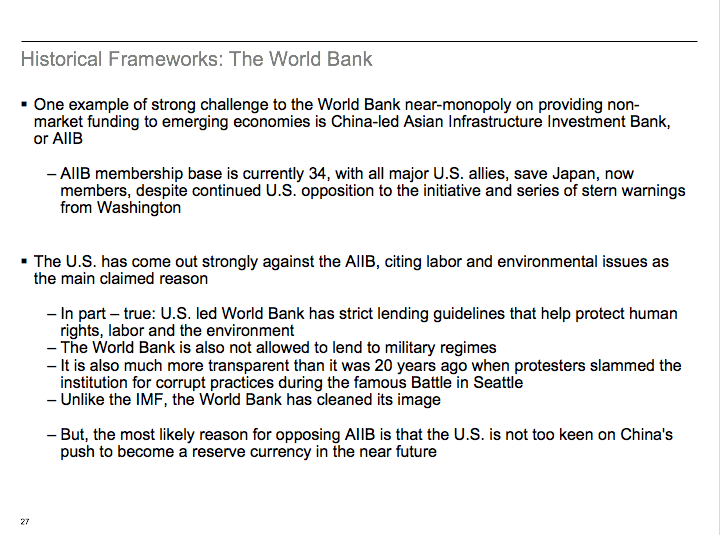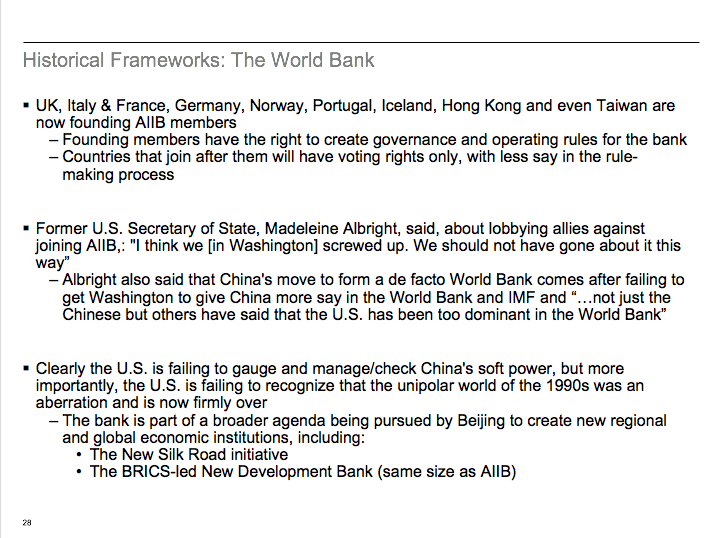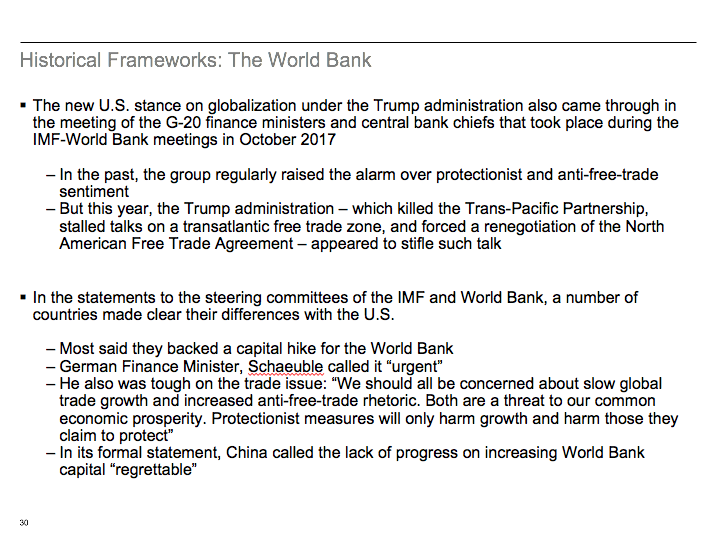 Plus the geopolitics of trade: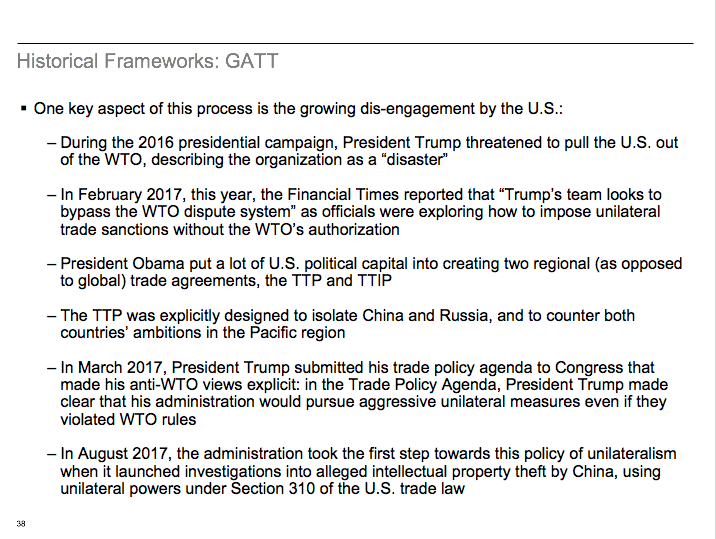 All of which informs the current fight in the nearly-comatose WTO: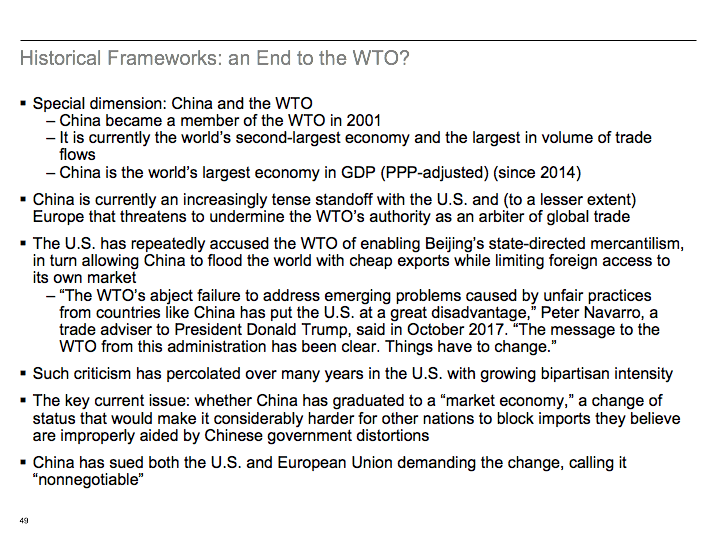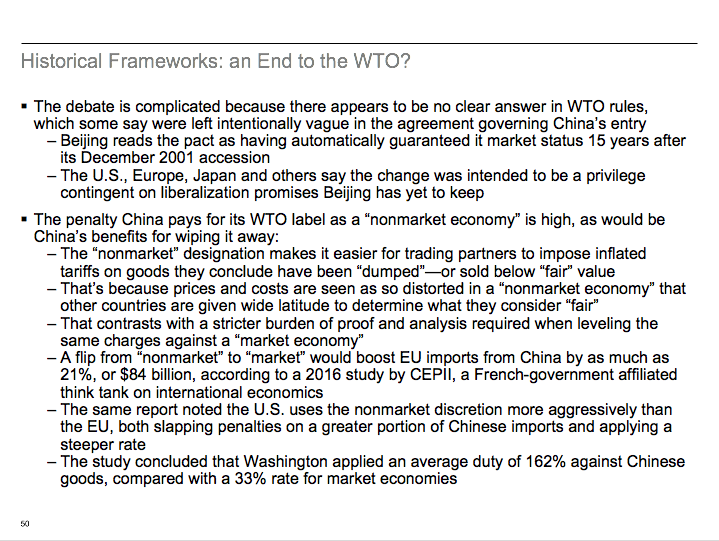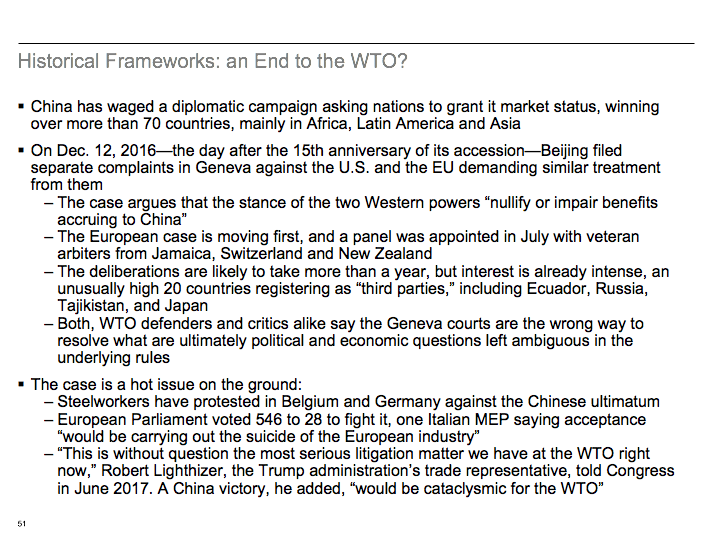 So the case is not new, but the case is highly important. Not because China is or is not a market economy. But because China is directly challenging U.S. (and European) dominance over the post-WW2 international institutions.
Make no mistake here: trade status is just the current, momentary, battle field in what is a long, and quite outright nasty, geopolitical war.
Wall Street Examiner Disclosure:Lee Adler, The Wall Street Examiner reposts third party content with the permission of the publisher. I am a contractor for Money Map Press, publisher of Money Morning, Sure Money, and other information products. I curate posts here on the basis of whether they represent an interesting and logical point of view, that may or may not agree with my own views. Some of the content includes the original publisher's promotional messages. In some cases I receive promotional consideration on a contingent basis, when paid subscriptions result. The opinions expressed in these reposts are not those of the Wall Street Examiner or Lee Adler, unless authored by me, under my byline. No endorsement of third party content is either expressed or implied by posting the content. Do your own due diligence when considering the offerings of information providers.