This is a syndicated repost courtesy of Alhambra Investments. To view original, click here. Reposted with permission.
Leveraged loan prices and WTI tracked each other pretty well during the "rising dollar", unsurprising given that the oil sector was over-represented in most new deals as the one truly booming part of the domestic US economy.  That was the case on the rebound, too, where leveraged loan prices rose at the same time oil prices did.  And then both started falling again earlier this year in March.
Only leveraged loan prices continued to fall, diverging noticeable from WTI in June/July.  With prices still almost two years after the bottom significantly less than before the "rising dollar", it's an unmistakable note of caution amplified in the diverging trend recently from oil (indicating broader risk concerns than just US shale producers). 
It's a gentle downturn in prices at this point, but a persistent one (eight month so far).  The last time this leveraged loan price index diverged so much from WTI?  Summer 2013.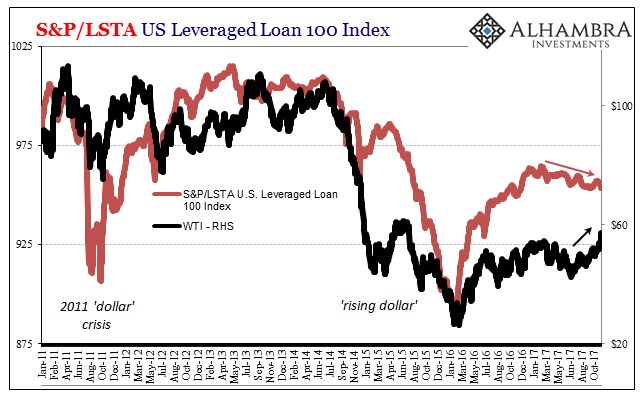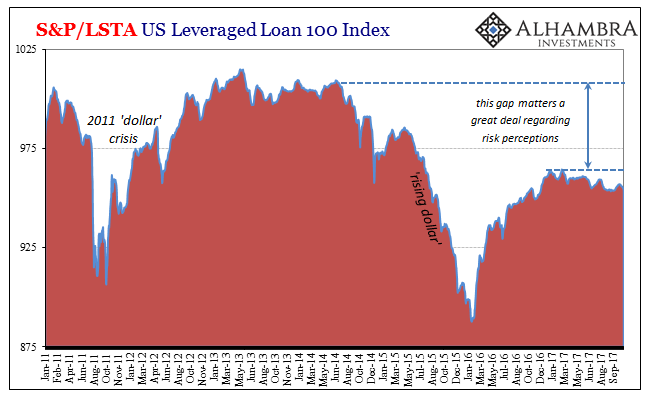 Wall Street Examiner Disclosure:Lee Adler, The Wall Street Examiner reposts third party content with the permission of the publisher. I am a contractor for Money Map Press, publisher of Money Morning, Sure Money, and other information products. I curate posts here on the basis of whether they represent an interesting and logical point of view, that may or may not agree with my own views. Some of the content includes the original publisher's promotional messages. In some cases I receive promotional consideration on a contingent basis, when paid subscriptions result. The opinions expressed in these reposts are not those of the Wall Street Examiner or Lee Adler, unless authored by me, under my byline. No endorsement of third party content is either expressed or implied by posting the content. Do your own due diligence when considering the offerings of information providers.