This is a syndicated repost courtesy of Money Morning. To view original, click here. Reposted with permission.
A lofty long-term Bitcoin price prediction may mean profits tomorrow, but there's a short-term technical forecasting chart that can deliver profits today.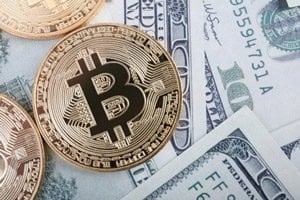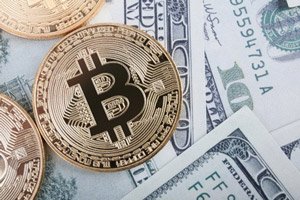 Given the notorious volatility of the price of Bitcoin, such a tool is invaluable to Bitcoin traders.
The chart for 2017 has nailed each new major high. And it predicted the next peak at just over $7,400, which was nearly reached today on the CoinDesk Bitcoin Price Index ($7,355.35). The Bitcoin price has since slipped back below $7,000, to about $6,900.
As the run continues – the price of Bitcoin is up 60% over the past month – it raises the question of how long this rally can hold before the next pullback.
Forecasting these turning points is where this piece of technical analysis can help us – and it couldn't be any more straightforward…
A Bitcoin Price Prediction Based On an Ancient Idea
I'm talking about Fibonacci sequences.
First discovered by Indian mathematicians in 200 BC and articulated by Italian mathematician Leonardo Fibonacci in 1202, these patterns have proven useful to investing analysts.
In particular, technical analysts use Fibonacci charts to predict upside targets as well as downside targets where an investment will find support.
Editor's Note: Money Morning knows cryptocurrencies. We've been writing about them since 2011, far longer than most other news sites. To get 100% free, real-time alerts sent to your inbox, sign up here.
Last year, technical analyst JC Parets, founder and president of All Star Charts, started making Fibonacci charts of Bitcoin. But it was Bitcoin's uncanny adherence to its Fibonacci levels this year that really got his attention.
"Talk about Fibonacci – I mean, dude, does it get any cleaner than this?" Parets said during an Oct. 13 presentation at Stocktwits' annual Stocktoberfest West conference. "I mean, guys, this is like to the penny."
Here's the chart Parets was talking about: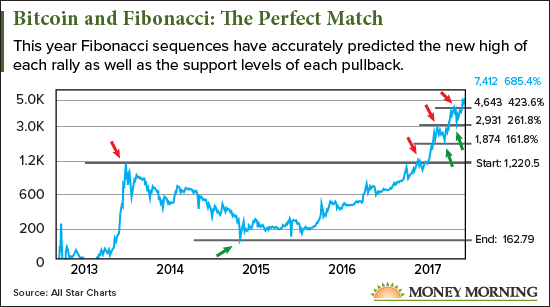 Ever since the Bitcoin price regained the 2013 high of $1,220.50, the Fibonacci sequence has provided a clear guide to where it's going next and where support would reverse downturns.
To understand what's happening here, you need a little background on how Fibonacci sequences work. It's a pretty simple concept.
Basically, a Fibonacci sequence is a series of numbers in which the next number in the series is found by adding the two previous numbers. Here's the most basic Fibonacci sequence:
1, 1, 2, 3, 5, 8, 13, 21, 34, 55, 89, 144, 233, 377…
This might seem a mundane exercise but for one thing – the ratio between any number to the one preceding it is always the same: 1.618 to 1. This is known as the golden ratio.
Technical analysts create charts to look for patterns suggested by the golden ratio.
Let's see how this works in Parets' Bitcoin chart…
How the Golden Ratio Gets Us to a Bitcoin Price of $7,400
In technical analysis, an investment's tops and bottoms determine the starting numbers in the Fibonacci sequence.
In Parets' Bitcoin chart, he uses the $1,057 difference between the 2013 peak of $1,220 and the 2015 trough of $162.70. After the Bitcoin price regained the previous peak of $1,220, Parets applied the golden ratio to $1,057.71.
Energy Breakthrough: One gallon of this new "crystal fuel" could get you from New York to L.A. and back… seven times! Read more…
So, the first level of $1,874.165 is a 161.8% "extension" of $1,057.71 ($1,711.374) beyond the $162.79 trough. The next Fibonacci extension is 261.8% of $1,057.1 ($2,760.08) beyond the trough, which puts you at $2,931.875. The Fibonacci sequence is represented by the percentage increases.
So the next Fibonacci increase is 261.8% plus 161.8%, which is 423.6%. That math gives you $4,643.250.
The last step in the chart is $7,412.334, an extension of 685.4% beyond the trough. That's the peak we've nearly reached now.
But having these Bitcoin price predictions and knowing what to do with them are two different things.
Here's how a Fibonacci chart can make Bitcoin trading more profitable…
How to Use a Fibonacci Chart to Trade Bitcoin
One of the odd things about Bitcoin as an investment is that it has no fundamentals to value. There's no company, no profits, no cash flow, no management. You can't even value it like a currency – there's no country, and so no national economy, behind it.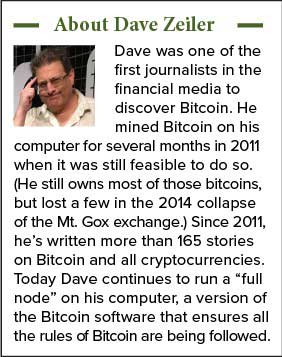 Technical analysis is just about the only tool Bitcoin investors have to map their trading strategy.
Fibonacci charts work particularly well when an investment is in "uncharted territory," Parets said.
"We use them for stocks, commodities, currencies, you name it," Parets said. "When it comes to looking for 'never-been-here,' Fibonacci charts can help you find the next step up."
What Fibonacci charts can't do is predict the timing of when the next step up will happen. An investment could hit the next target within days, or it could take years.
This year, Bitcoin has attained each step in the Fibonacci sequence in about three months. Now it's knocking on the $7,400 level just two months after it hit the last level ($4,643).
"Sometimes an investment can rip through levels," Parets said.
But the timing isn't nearly as important as knowing where an investment is likely to peak. That information is vital for traders, who can use it as a trigger point for taking profits.
When an investment goes into a downturn, the Fibonacci levels show the most likely areas of support, Parets explained. Bitcoin has rebounded from several Fibonacci levels this year.
These are the times when savvy traders want to buy.
What's Next for the Bitcoin Price
With Bitcoin approaching the predicted $7,412 level, a downturn is likely to follow. The Fibonacci chart suggests the Bitcoin price could fall as low as $4,643 before resuming its upward trajectory.
That would be painful for many Bitcoin holders, but it would present a prime buying opportunity – a 33% discount from the current price.
Parets' Fibonacci chart doesn't include any more steps, but let's do the math just to see where we end up. One more Fibonacci level would be a 1,109% extension from the trough, putting the next Bitcoin price step at $11,892.79.
Given other Bitcoin price predictions of $50,000 or even $100,000 over the next five years, that's a target we're likely to hit some time in the next year or so.
Be ready.
To get full access to all Money Morning content, click here
About Money Morning: Money Morning gives you access to a team of ten market experts with more than 250 years of combined investing experience – for free. Our experts – who have appeared on FOXBusiness, CNBC, NPR, and BloombergTV – deliver daily investing tips and stock picks, provide analysis with actions to take, and answer your biggest market questions. Our goal is to help our millions of e-newsletter subscribers and Moneymorning.com visitors become smarter, more confident investors.
Disclaimer: © 2017 Money Morning and Money Map Press. All Rights Reserved. Protected by copyright of the United States and international treaties. Any reproduction, copying, or redistribution (electronic or otherwise, including the world wide web), of content from this webpage, in whole or in part, is strictly prohibited without the express written permission of Money Morning. 16 W. Madison St. Baltimore, MD, 21201.
The post This Bitcoin Price Prediction Chart Is a Trader's Dream appeared first on Money Morning – We Make Investing Profitable.
Wall Street Examiner Disclosure:Lee Adler, The Wall Street Examiner reposts third party content with the permission of the publisher. I am a contractor for Money Map Press, publisher of Money Morning, Sure Money, and other information products. I curate posts here on the basis of whether they represent an interesting and logical point of view, that may or may not agree with my own views. Some of the content includes the original publisher's promotional messages. In some cases I receive promotional consideration on a contingent basis, when paid subscriptions result. The opinions expressed in these reposts are not those of the Wall Street Examiner or Lee Adler, unless authored by me, under my byline. No endorsement of third party content is either expressed or implied by posting the content. Do your own due diligence when considering the offerings of information providers.