This is a syndicated repost courtesy of Alhambra Investments. To view original, click here. Reposted with permission.
The National Association of Realtors (NAR) estimates sales of existing homes rose 2% in October 2017 from a downwardly revised September estimate. The trade group tries its best to put recent results in the best possible terms, claiming in its press release that at 5.48 million (SAAR) the number of resales is "their strongest pace since June."
That's technically true and also meaningless. Year-over-year, home sales fell for the second straight month. At a level of 5.48 million in October 2017, it's not meaningfully different than the 5.45 million registered in July 2015 more than two years ago. The housing market has not fallen in danger of another historic bust, but importantly it's not growing, either.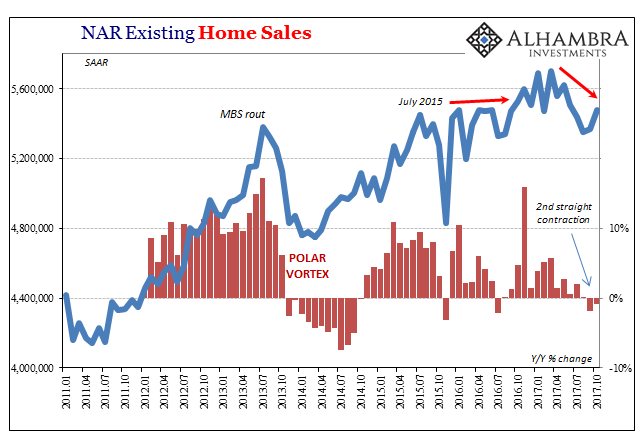 The reason appears to be inventory. Even the NAR cannot deny the lack of sellers and the impact on what might/would otherwise be a robust market. And it can't make sense of it, either.
NAR Chief Economist Larry Yun:
Job growth in most of the country continues to carry on at a robust level and is starting to slowly push up wages, which is in turn giving households added assurance that now is a good time to buy a home. While the housing market gained a little more momentum last month, sales are still below year ago levels because low inventory is limiting choices for prospective buyers and keeping price growth elevated.
If the economy is as robust as he claims, especially wages rising in a healthy labor market, then why is it not registering as "added assurance that now is a good time to" sell a home, too? What counts for buyers also counts for sellers. The latter just aren't showing up, serious reluctance despite rising prices and several years of being this way already.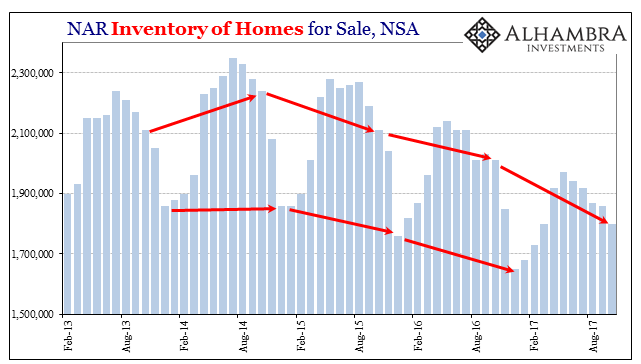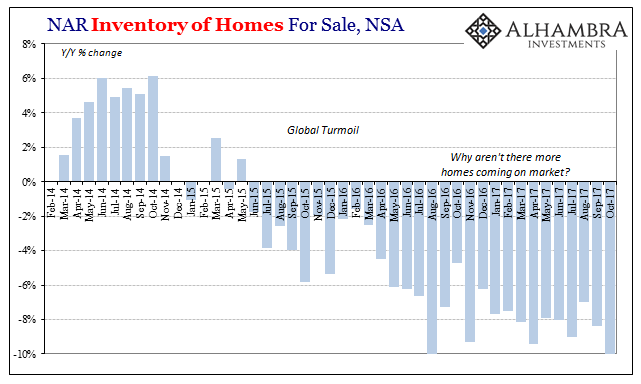 Reported inventory levels were down another 10% year-over-year in October, which were down last year almost 5% from October 2015, already down nearly 6% compared to October 2014. Inventory is off by 20% over three years with prices rising and all throughout what was uniformly described as "robust" "job growth" pushing up wages. Yet, the housing market isn't buying it, or at least selling off of it.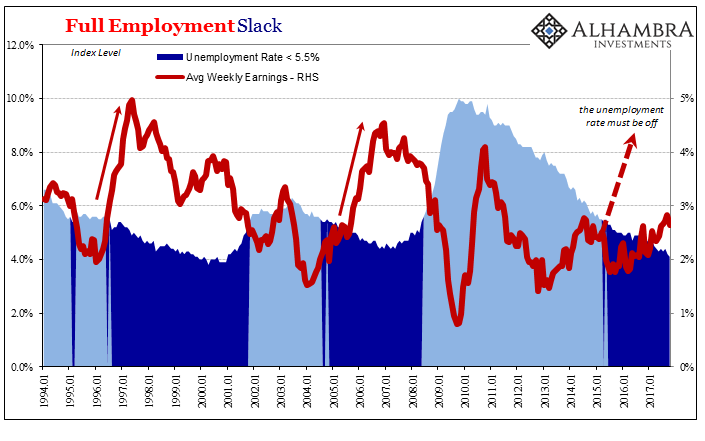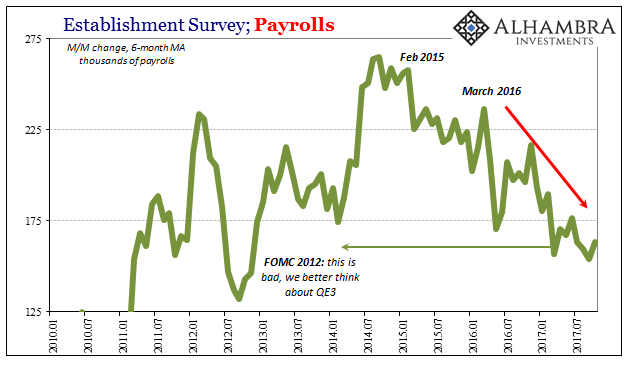 It is instead palpable apprehension that has persistently infected more than just real estate transactions. There is a far different view of the labor market being expressed from the bottom ends of the housing market.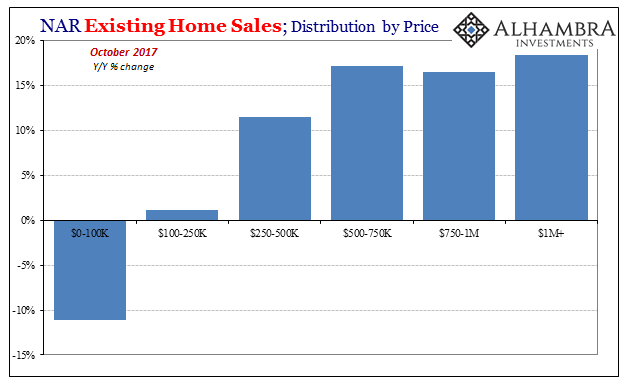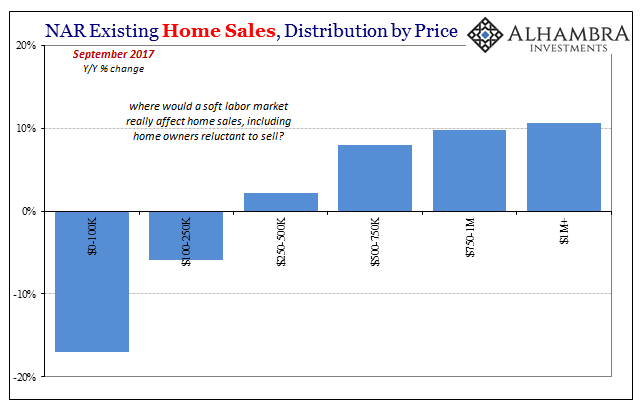 A little more than half of all home resales take place in those lowest two price tiers. Only 13% of transactions (in October) were for homes sold at $500k and above. The economy cannot be doing all that well for those at the bottom. That's true of any economic time period, of course, even in the best of times, but what's different, and what the housing data here helps quantify and signal, is that the proportion of Americans counted at the "bottom" is so much more now than would otherwise be typical – especially at a legitimate 4.1% unemployment rate.
Wall Street Examiner Disclosure:Lee Adler, The Wall Street Examiner reposts third party content with the permission of the publisher. I am a contractor for Money Map Press, publisher of Money Morning, Sure Money, and other information products. I curate posts here on the basis of whether they represent an interesting and logical point of view, that may or may not agree with my own views. Some of the content includes the original publisher's promotional messages. In some cases I receive promotional consideration on a contingent basis, when paid subscriptions result. The opinions expressed in these reposts are not those of the Wall Street Examiner or Lee Adler, unless authored by me, under my byline. No endorsement of third party content is either expressed or implied by posting the content. Do your own due diligence when considering the offerings of information providers.