This is a syndicated repost courtesy of Alhambra Investments. To view original, click here. Reposted with permission.
Home construction activity bounced back in October from several months of appreciable weakness. It may have been hurricane related where plans and projects delayed by the path of Harvey and Irma were finally cleared to resume. More likely, in my view, it was just the normal variation that the construction figures always have exhibited.
Total permits filed were a seasonally adjusted 1.297 million (annual rate), the highest since January. While that was up from 1.225 million in September, it isn't statistically different from the 1.272 million in August, the 1.275 million in June, or 1.260 million in March. Just from that quick review of the high points in monthly variation you might get the sense construction is more flat than growing.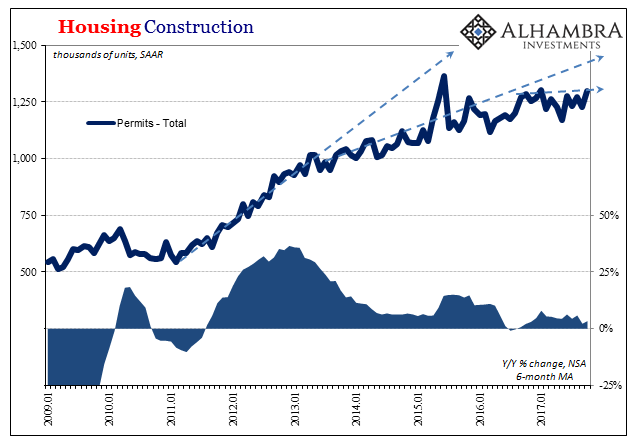 That does seem to be the case, as in both permits as well as starts there has been appreciable sluggishness in the sector as a whole. Like everything else, there was a clear downturn in construction at the start of 2016, lasting through much of the year before giving up to a rebound in the second half. And like everything else, that rebound doesn't appear to have lasted very far into 2017, yielding instead another slowdown if not quite yet full downturn.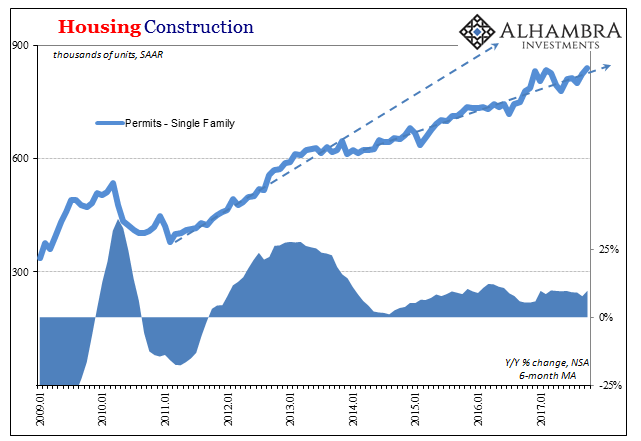 The number of single-family houses planned and under construction is still growing but not nearly robust enough to offset other more concerning weakness. We know from resale and new home sale data that the single-family home market is heavily skewed toward the upper price tiers. What are missing in volume terms are new units being built for the lower-end segments.
Without that volume the single family sector as a whole cannot make up for persisting contraction in new multi-family units. Relatedly, apartment activity continues to be down indicating the same imbalance we find in single-family – stratification due to vastly different economic conditions inside the singular US economy.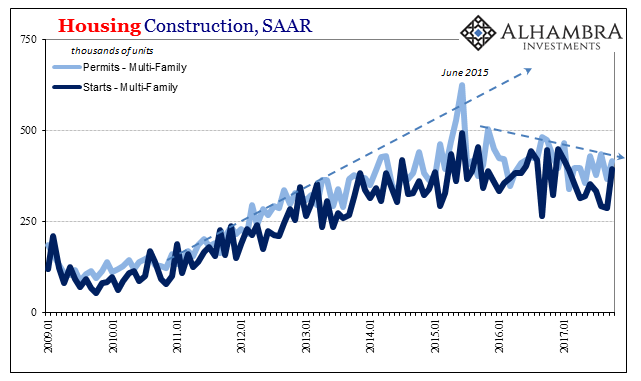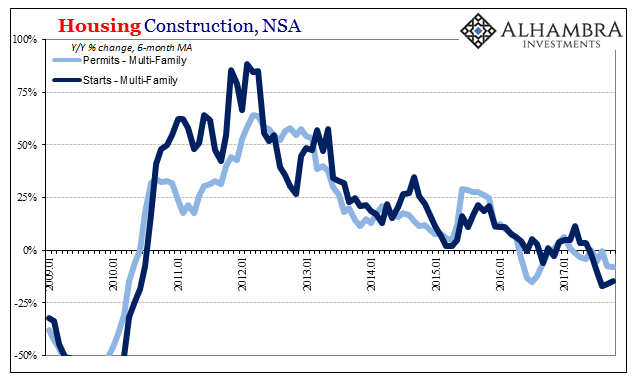 New multi-family projects started in October jumped to 393k (SAAR) from just 286k in September. But that was still down 11% from October 2016. That's how weak the multi-family segment has been for most of this year, not just during the two hurricane-affected months, where a good month is down double digits from the year before.
Overall, including the single-family portion, the US economy is just not building new housing stock at a rate consistent with past growth periods. We are seriously underbuilding for even (slightly) slower population growth in the aftermath of a historic housing bust. It's been twelve years since the top of the last bubble, more than enough time for whatever leftover imbalance (the absorption of past overbuilding which in population terms wasn't as huge as you might have imagined) to have fully dissipated.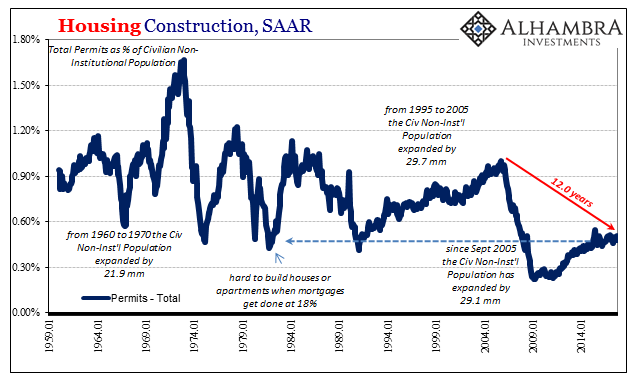 Instead, total home construction remains all these years later at the extreme lower edge of a historical range dating back to the 1960's. Home builders are adding new units, houses and apartments, at a population-adjusted rate about equal to the housing bust of 1980-81 when mortgage rates averaged near 20%. The reason for such a low level of construction back then is easy to figure, with very little demand due to financing constraints adding to increasingly economic ones (a recession in 80', then another more severe contraction later in '81).
The last official recession ended nearing eight and a half years ago, closing in on a record for expansion (so we are told). The economy may not be consistently contracting anymore, but that doesn't mean it is consistently growing, either. It actually doesn't amount much toward expansion at all.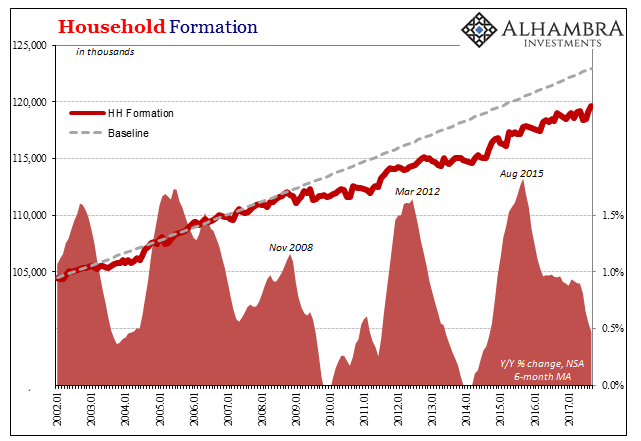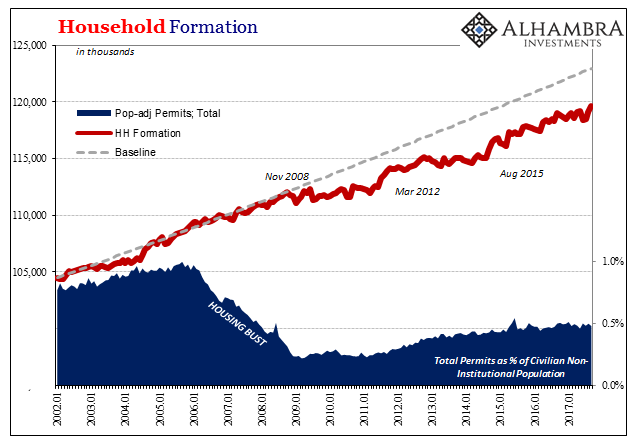 Like the early eighties, this housing stuff is pretty simple. It wasn't the mid-2000's housing bust that has kept the lid on construction and keeping it from adding to the nation's housing stock at a reasonably rate consistent with demographics. It's not financing constraints, either, as mortgage rates are closer to record lows than what might pass for normal levels of interest. Demand is absent because of the clear and lingering strain on national income.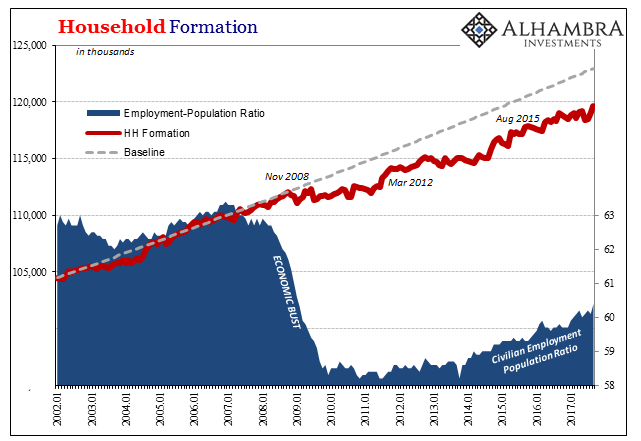 The disappearance of so many jobs meant the disappearance of paychecks, which meant the disappearance of mortgage and rent payments. The lack of recovery in the number and type of jobs meant a lack of recovery in paychecks, which meant sustained lower levels of demand for new housing of either kind. In the short run, housing factors have been balanced very closely by the variations (2012, 2015-16) in those trends consistent, of course, with the monetary events imposed in between.
The Census Bureau's latest estimates for Household Formation (through September 2017) are about 3.7 million below where the US economy "would" have been (baseline) had the Great "Recession" been a recession. Assuming around 2.5 people per household, that's 9.2 million total Americans short. Factoring government assistance in everything from mortgage payments to rent that would boost the number of households above the numbers working, it's likely pretty consistent with the 16.3 million "missing" from the BLS employment numbers.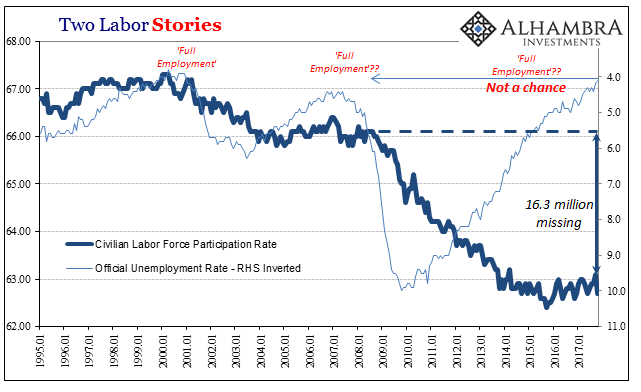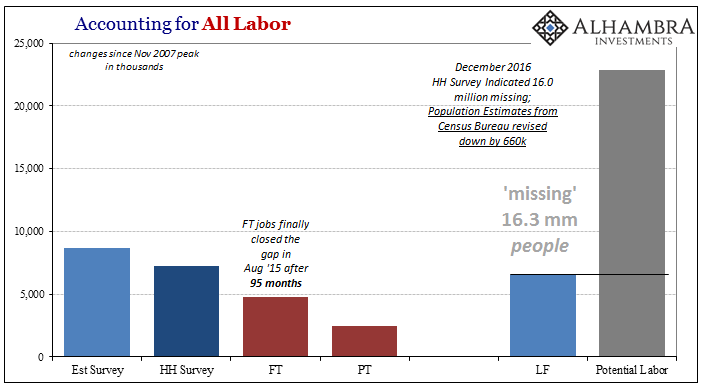 The economy shrunk in 2008-09 and having shrunk there is less proportional economic demand for new housing. It's just that simple. This is very different, however, from claiming less social demand for housing, which likely hasn't changed, an entirely different story that adds up with other factors to rising political dissatisfaction. It's the economy which explains the jobs, the housing, and therefore the politics.
As I have written so many times before, we still need to talk about 2008 because, sadly, we aren't yet done with 2008 even though it's been nearly ten years since 2008. It gives a whole new very perverse meaning to the idea of record expansion.
Wall Street Examiner Disclosure:Lee Adler, The Wall Street Examiner reposts third party content with the permission of the publisher. I am a contractor for Money Map Press, publisher of Money Morning, Sure Money, and other information products. I curate posts here on the basis of whether they represent an interesting and logical point of view, that may or may not agree with my own views. Some of the content includes the original publisher's promotional messages. In some cases I receive promotional consideration on a contingent basis, when paid subscriptions result. The opinions expressed in these reposts are not those of the Wall Street Examiner or Lee Adler, unless authored by me, under my byline. No endorsement of third party content is either expressed or implied by posting the content. Do your own due diligence when considering the offerings of information providers.