This is a syndicated repost courtesy of Snake Hole Lounge. To view original, click here. Reposted with permission.
As the late Robert Palmer crooned, housing is simply unaffordable in many cities. And most of those cities are outside the USA.
(Bloomberg) — As people around the world move into cities and look for housing, one thing is clear: Most will have a hard time paying for it.
Average monthly take-home pay won't cover the cost of buying a 1,000-square-foot residence or renting a three-bedroom home in any of the 105 metropolitan areas ranked by the Bloomberg Global City Housing Affordability Index – based on a general rule of thumb among U.S. lenders that people should spend no more than 28 percent of net income on housing costs. Only 12 cities would be considered affordable if they spend 50 percent.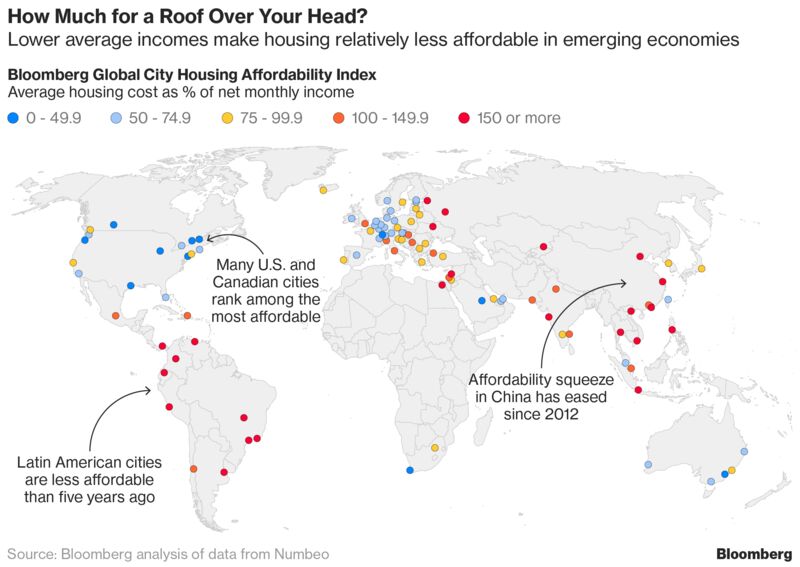 Residents face many obstacles, including urban land-use regulations, underdeveloped rental markets and difficulty getting financing, according to Enrique Martínez-García, a senior research economist at the Federal Reserve Bank of Dallas who studies housing prices. Policy solutions to these problems aren't clear, he adds.
 "Not having access to credit is a challenge to develop a healthy housing market," he said. "But opening it up too fast might be a problem as well; it might actually lead to a boom-bust episode."
The Bloomberg index calculates the affordability of renting or buying in city centers and suburbs. Rankings are based on self-reported data, including net salary and mortgage interest rates, compiled by Numbeo.com, an online database of city and country statistics.
Since 2012, 48 cities in the Bloomberg index have become less affordable, while affordability improved in 51. (Historical data aren't available for all 105.) In nine of the bottom 10, average net income fell, while income in eight of the top 10 cities rose as rental and mortgage costs declined.
Emerging economies currently have the least-affordable housing, led by Caracas and Kiev in Ukraine. The remaining cities among the bottom 20 include seven in Asia and six in Latin America. London is the least-affordable major city in Western Europe, with average monthly rent and mortgage payments equaling 135 percent of monthly net income.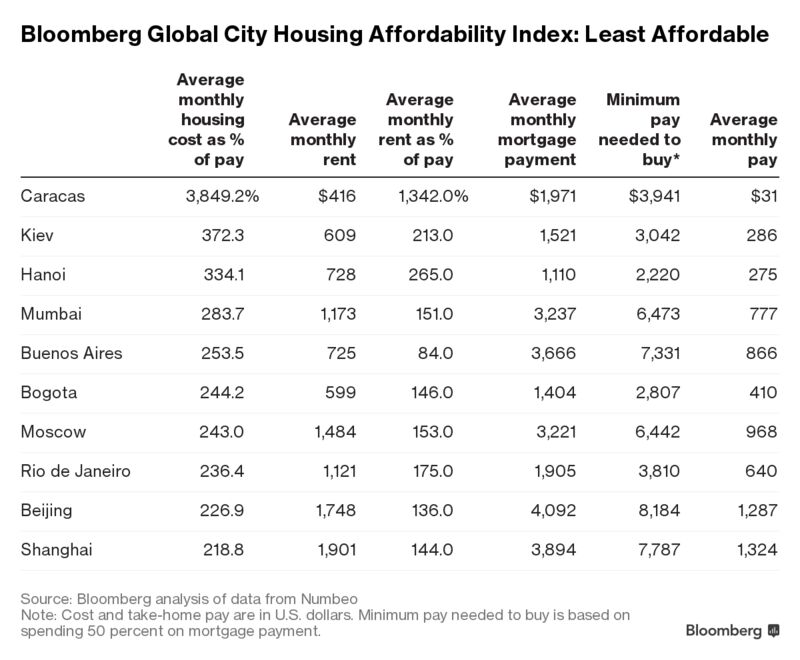 In Rio de Janeiro, Brazil's second-largest city, average monthly take-home pay of $640 won't unlock a rental even on the outskirts of town, let alone provide the means to buy a house or apartment in the city center, where monthly mortgage payments approach $2,000. This contributes to multiple-income households and also may explain why more than one in five Rio residents lived in informal shantytowns called favelas in 2010, the most recent data available. Six of the 10 cities with the greatest deterioration in the past five years are in Latin America.
Seven of the top 10 most-affordable cities are in North America: four in the U.S. and three in Canada.  The least-affordable metro area in the two countries is Vancouver, where an influx of foreign cash has caused a surge in home prices. New York ranked near the middle of the index.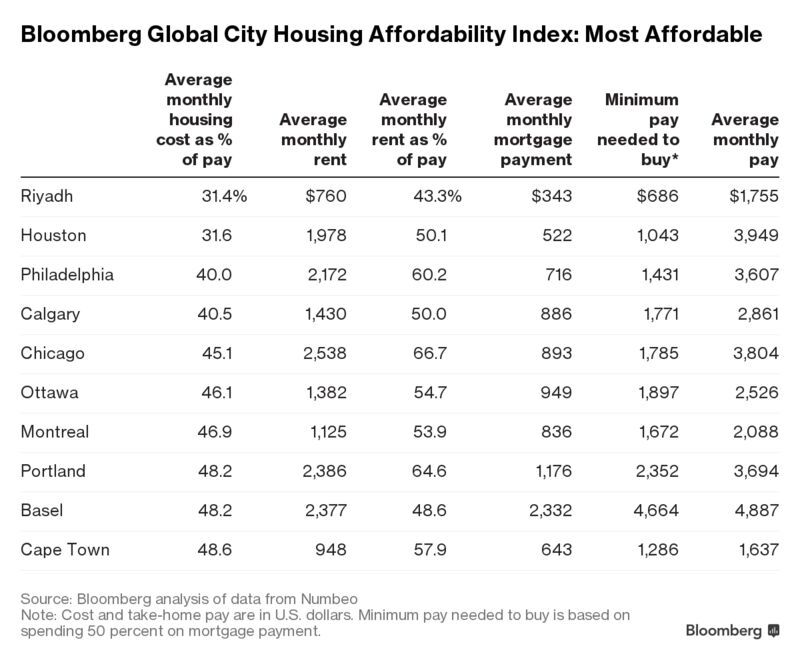 Two of the cities with the greatest improvement are in China: Shenzhen and Guangzhou. Even so, housing demand across the country continues to outweigh supply, "despite rapid construction and the large-scale delivery of new homes" in cities including Shenzhen, according to Kate Everett-Allen, head of international residential research at real-estate consultant Knight Frank in London. That's because of "mass urbanization" and relatively low wages, she said, adding that home prices in several cities grew at an annual rate of as much as 40 percent last year.
Four Chinese metro areas, including Hong Kong, were among the 20 least-affordable in the index. 
Yes, the USA, while more affordable that the rest of the world, is suffering from low wage growth while home price growth is more rapid. In fact, the FHFA home price index is growing YoY at over 2X average hourly wage growth YoY. 6.63% versus 2.54%.
Note that home price growth started to exceed hourly wage growth in 1998, the beginning of the dreaded housing bubble that blew sky high.
I guess Americans have been addicted to gov since the 1987 stock market crash.
Wall Street Examiner Disclosure:Lee Adler, The Wall Street Examiner reposts third party content with the permission of the publisher. I am a contractor for Money Map Press, publisher of Money Morning, Sure Money, and other information products. I curate posts here on the basis of whether they represent an interesting and logical point of view, that may or may not agree with my own views. Some of the content includes the original publisher's promotional messages. In some cases I receive promotional consideration on a contingent basis, when paid subscriptions result. The opinions expressed in these reposts are not those of the Wall Street Examiner or Lee Adler, unless authored by me, under my byline. No endorsement of third party content is either expressed or implied by posting the content. Do your own due diligence when considering the offerings of information providers.