This is a syndicated repost courtesy of Money Morning – We Make Investing Profitable. To view original, click here. Reposted with permission.
If you aren't a subscriber to my Zenith Trading Circle service, you might have missed some lucrative good news: Retail think tank Fung Global Retail & Technology reported U.S. retailers plan to shutter 6,700 retail locations this year. Credit Suisse says that figure handily beats the old record of 6,163 closings set in – big surprise – 2008.
"But wait," I can hear you ask, "2008 I get, but the economy's humming along now, so why the closings? And why are these closings good news?"
Well, I'll tell you.
As to the first question, these overleveraged, maladapted-for-the-21st-century retailers could screw up a free lunch; the U.S. economy could grow 'til the cows come home and they just couldn't handle their debts.
The retail sector as we once knew it is now teetering on the edge of absolute destruction, and there's nothing – and I mean nothing – anyone can do to save retail stocks. Diagnosis: TERMINAL.
Which brings me to your next question, of course. This is great news for well-positioned investors because Wall Street smells money – big piles of it – on the table… and it smells as irresistible and tasty as scratch-made chocolate chip cookies baking on a snowy afternoon.
Mmm… Hungry? Good. We're going to sneak into the kitchen while Wall Street's not looking and take a bunch of those rich, delicious cookies for ourselves.
We're going to make a lot of money.
And we won't have to own a single one of these clunkers to do it.
So let's go get some…
The "Death of Retail" Is Your Opportunity to Make an Absolute Killing
Now is your chance to make more money than you've ever seen, and I'm probably the only person on Earth who can help you extract cash from these companies as they spiral toward bankruptcy.
You see, over the last three years, I've developed a moneymaking ritual…
Check It Out: Shah's readers have had the opportunity to make 44% average gains per day (including partial closeouts). Just look at this track record…
One that I practice every day.
It allows me to see which retail stocks have about a 100% chance of dropping in price and when they'll hit the self-destruct button.
It's become a way of life for me… because it's helped me make a ton of money…
Remember A.C. Moore or Jones Apparel?
What about Alco? Coldwater Creek? Borders Books?
Every one of these once-thriving retailers is now a distant memory or barely clinging onto life, but, like I said, it's a glorious sight to me.
Now, I recommend specific get-in/get-out plays on each of these stocks for my paid-up Zenith Trading Circle readers, so I can't give those away. It wouldn't be fair.
But the thing is, when the index I'm about to show you moves lower, you stand about a 100% chance of making money playing the companies in it.
That's right: A single index – if you follow the instructions I'll provide – will allow you to tap into the money pipe and profit from 10… 20… even 40 of these dying dinosaurs.
Here it is…
This Gives You Great "Death of Retail" Plays Every Time
The Dow Jones U.S. Apparel Retailers Index (INDEX: DJUSRA) that tracks, like the name suggests, apparel companies.
Some familiar names among its components include Guess, New York & Co., Urban Outfitters, Express, DSW, Finish Line, and Abercrombie & Fitch…
These stocks are all going down in flames…
…which is probably why the Dow Jones U.S. Apparel Retailer Index is coming down faster than the Berlin Wall. Just compare it to the S&P over the past six months, and you'll see just what I mean…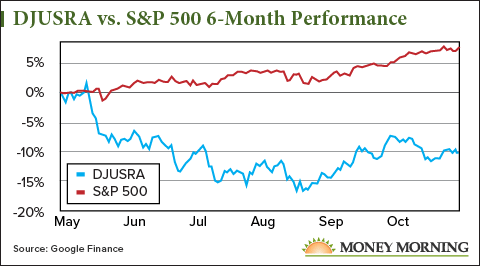 None of these companies – not a single one – are worth your attention when it comes to a long position, even a purely speculative one, but that just makes the profit potential from their failure that much greater.
Take a look at some of the worst…
New York & Co. Inc. (NYSE: NWY) stock, among the Dow Jones U.S. Apparel Retailers Index's top 20 holdings, has nosedived more than 76% from its all-time highs of just four years ago. A mere glance at its reporting explains why…
"The apparel retail sector remains challenging…"
No kidding!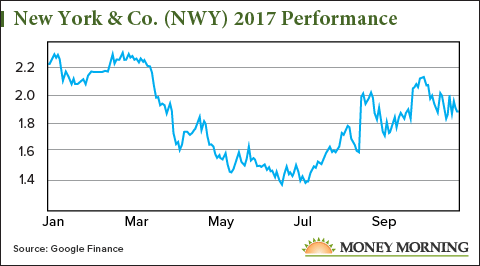 New York & Co. saw net sales down nearly 3% for the year, paralleled by more than 25 store closings nationwide. Sales were down across the board among the stores that managed to avoid the chopping block, and overall inventory sunk nearly 7% for the year.
The situation doesn't look any brighter in the future, either. Take a look at this:
"The company continues to be very aggressive in its rationalization of its real estate portfolio in an effort to reduce occupancy costs and maximize profitability per selling square foot."
Translation: "We've got too many stores and not enough sales. We're in trouble, but we'll keep channeling an ostrich with its head in the sand. "
And as if the Dow Jones U.S. Apparel Retailers Index wasn't already on its last leg, next in the lineup is none other than Ascena Retail Group Inc. (Nasdaq: ASNA) – the parent company for brands like Ann Taylor, Lane Bryant, Dressbarn, Lou & Grey, and other iconic brands in women's fashion.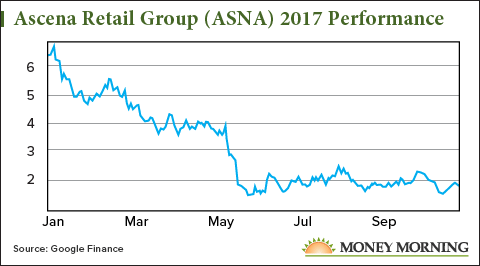 The company even goes so far as to cite the "Amazon Effect" in its most recent investors' presentation – a direct factor in suffering sales performance, more than 55 store closures, and a balance sheet that… well… speaks for itself.
As of Q2 2017, the company reports only $300 million in cash and cash equivalents…
…meanwhile, it carries $1.6 BILLION in debt.
It doesn't take a market expert to point out the unsustainability here. The stock is down more than 67% year to date. Calling it a dog is an insult to dogs everywhere.
The DJUSRA Index is the perfect bellwether for the stocks it tracks. If the index is down, it's a good bet that its holdings aren't doing well.
That's exactly what we're seeing right now…
Here's How You Make Money on These Basket Cases
The stocks I've already mentioned are downright terrible, but the truth is most of the index's stocks are in the same sinking boat. You could practically throw a dart at a list of them and make money while they tank.
So here's what to do: Watch DJUSRA like a hawk, just like I do, every single day. Chances are, it's going to move lower, and if it's not moving lower, you won't have long to wait.
Pick one or two of the worst companies it tracks (you can find them all here). Don't get greedy and try and play them all. There will be plenty of chances to cash in over the next few months. One or two will do, depending on your risk tolerance.
Then you sell these dinosaurs short, "borrowing" them at one price from your broker and keeping the profits you've made on their decline when you sell them back, or – even better, and my personal favorite – trade put options on them.
Those are contracts that give you the right, but not the obligation, to sell the underlying stocks at a specified price. Now, this is one rare instance where you will want to own the stocks you're selling puts on. It'd be theoretically dangerous to do otherwise, but since it's fairly certain these stinkers will drop below the exercise price before the expiration date, it makes good sense to do it; you shouldn't have to own them for long, and it's unlikely you'll get stuck with stocks that are going up.
Make sure you set a mental stop for yourself of 10% to 25% or whatever you're comfortable with in the unlikely event the trade moves against you. Don't try and chase a trade: Retail and retail stocks are finito, and you'll get another opportunity soon. You can go here to learn everything – stress free – that you need to know about trading these puts, too.
To get full access to all Money Morning content, click here
About Money Morning: Money Morning gives you access to a team of ten market experts with more than 250 years of combined investing experience – for free. Our experts – who have appeared on FOXBusiness, CNBC, NPR, and BloombergTV – deliver daily investing tips and stock picks, provide analysis with actions to take, and answer your biggest market questions. Our goal is to help our millions of e-newsletter subscribers and Moneymorning.com visitors become smarter, more confident investors.
Disclaimer: © 2017 Money Morning and Money Map Press. All Rights Reserved. Protected by copyright of the United States and international treaties. Any reproduction, copying, or redistribution (electronic or otherwise, including the world wide web), of content from this webpage, in whole or in part, is strictly prohibited without the express written permission of Money Morning. 16 W. Madison St. Baltimore, MD, 21201.
The post It's Official: 2017 Is the Worst Year Ever for Store Closings… Here's How to Profit appeared first on Money Morning – We Make Investing Profitable.
Wall Street Examiner Disclosure:Lee Adler, The Wall Street Examiner reposts third party content with the permission of the publisher. I am a contractor for Money Map Press, publisher of Money Morning, Sure Money, and other information products. I curate posts here on the basis of whether they represent an interesting and logical point of view, that may or may not agree with my own views. Some of the content includes the original publisher's promotional messages. In some cases I receive promotional consideration on a contingent basis, when paid subscriptions result. The opinions expressed in these reposts are not those of the Wall Street Examiner or Lee Adler, unless authored by me, under my byline. No endorsement of third party content is either expressed or implied by posting the content. Do your own due diligence when considering the offerings of information providers.