This is a syndicated repost courtesy of oftwominds-Charles Hugh Smith. To view original, click here. Reposted with permission.
There's not much to encourage Bulls in the daily chart of the USD.
The U.S. dollar's relentless decline this year poses a question: is the USD setting up for a monster rally, or is it in a slow-motion crash? Opinions vary, of course, as to the possible reasons for the massive decline: European growth is better than expected, Trump's presidency is going nowhere, the Federal Reserve won't be raising rates, and so on.
The nice thing about charts is they summarize all these inputs into a snapshot. So let's take a look at the daily and weekly charts of the USD.
Daily:
Weekly: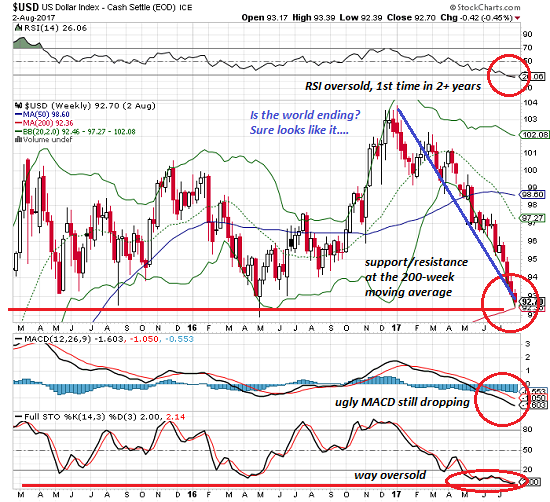 RSI and stochastics are oversold, but as this chart illustrates, oversold conditions can continue for quite some time. MACD may be setting up the beginnings of a divergence/reversal, but maybe not. At this point, betting on a reversal might be a case of catching the falling knife.There's nothing fancy here, just the basics of moving averages, RSI, stochastics and MACD. There's not much to encourage Bulls in the daily chart: every attempt to regain the support of the 20-day moving average has failed, and triggered another leg down.
The weekly chart is even more dramatic. Judging by the steep decline this year, the world is ending–at least for the USD. RSI is oversold for the first time in 2+ years, stochastics have been deeply oversold for months, and MACD is in a cliff-dive that could end in a belly-flop.
The only shred of bullish hope is the decline has finally reached key support/resistance at the 200-week moving average (MA) around 92, a level that also happens to be support going back 2+ years.
A definitive plunge below this support would suggest the freefall has more to go, while a defense of this level would offer some initial stirrings of support for an eventual reversal.
A quick glance at the open options a couple months out on the USD ETF, UUP, finds significant volumes clustered around strike 24 puts–bets UUP will drop below its current level around 24– and strike 25 calls–bets that the USD will recover in a sharp rally.
Punters seem well-positioned to hedge a big move up or down–just what we'd expect after months of steep decline to a key support zone.
Is the Eurozone economy and banking sector fixed, and all the EU political tensions resolved? Is the Eurozone doing much better than the U.S. on all fronts? The sharp gains in the euro seem to suggest so. Skeptics might want to keep an eye on the USD charts for a market-sentiment read of these political-social-financial trends.
Note to readers: Life has put a full-court press on me the past week, and the pressure will remain intense for the rest of August. I am unable to respond to any email or messages, and the blog will be put in maintenance mode. Thank you for your understanding.
If you found value in this content, please join me in seeking solutions by becoming a $1/month patron of my work via patreon.com.
Wall Street Examiner Disclosure:Lee Adler, The Wall Street Examiner reposts third party content with the permission of the publisher. I am a contractor for Money Map Press, publisher of Money Morning, Sure Money, and other information products. I curate posts here on the basis of whether they represent an interesting and logical point of view, that may or may not agree with my own views. Some of the content includes the original publisher's promotional messages. In some cases I receive promotional consideration on a contingent basis, when paid subscriptions result. The opinions expressed in these reposts are not those of the Wall Street Examiner or Lee Adler, unless authored by me, under my byline. No endorsement of third party content is either expressed or implied by posting the content. Do your own due diligence when considering the offerings of information providers.