This is a syndicated repost courtesy of True Economics. To view original, click here. Reposted with permission.
U.S. GDP growth estimate for 2Q 2017 came in at 2.6%, matching the post-1948 trend for expansionary periods almost to the notch. The problem, however, is that the trend is … declining over time.
Here's the kickers to today's cheerful media reports on U.S. growth:
Current expansion period average growth remains the shallowest amongst all post-recession recoveries since the end of WW2. That's right: the miracle of this Great Recovery is how weak it has been, despite all the Fed efforts.
Current 4 quarters average for growth is 2.4%, which is only 0.2 percentage points above the overall recovery period average. Or, put differently, even before the revisions to 2Q 2017 numbers, last four quarters of growth have been un-inspiring.
The trend for historical growth during expansion periods has been sloping down since around the end of the 1980s. And we are, currently, still on that trend. In other words, recoveries are continuing to trend more anaemic over time.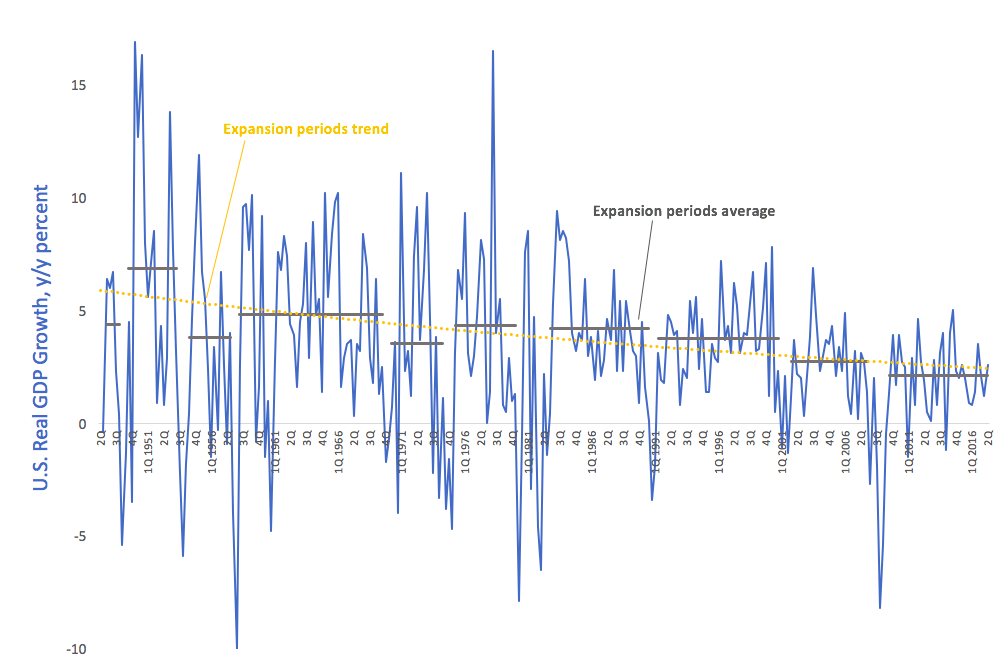 So keep telling yourself that everything is coming out 'on expectations'. Just don't think about the pesky fact that expectations are trending lower.
Wall Street Examiner Disclosure:Lee Adler, The Wall Street Examiner reposts third party content with the permission of the publisher. I am a contractor for Money Map Press, publisher of Money Morning, Sure Money, and other information products. I curate posts here on the basis of whether they represent an interesting and logical point of view, that may or may not agree with my own views. Some of the content includes the original publisher's promotional messages. In some cases I receive promotional consideration on a contingent basis, when paid subscriptions result. The opinions expressed in these reposts are not those of the Wall Street Examiner or Lee Adler, unless authored by me, under my byline. No endorsement of third party content is either expressed or implied by posting the content. Do your own due diligence when considering the offerings of information providers.