This is a syndicated repost courtesy of Money Morning. To view original, click here. Reposted with permission.
The Dow has rocketed 153% higher over the last eight years, making this bull market the second longest in history. But all bull markets end, and with this one nearing record length it's time to consider whether it will end in a stock market crash.
While this current bull market has brought triple-digit growth over the last eight years, the Trump rally kicked it into overdrive. The Dow has surged 17% since Election Day, pushing the Dow to a record-breaking run of all-time highs. The Dow's jump from a record 20,000 points to a new record of 21,000 points was its fastest 1,000-point gain in history.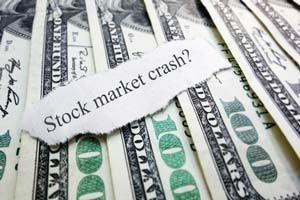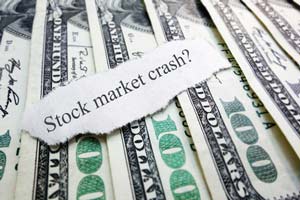 This record run might have pushed stock prices to unsustainably high levels. We aren't suggesting there is a stock market bubble right now, but there is evidence stock prices are higher than the underlying fundamentals show they should be.
Because we want Money Morning readers to be totally prepared for any event, we'll show you why artificially high share prices could lead to a market crash in 2017, and how you can protect your money if the worst-case scenario happens…
Why Inflated Share Prices Can End in a Stock Market Crash
Stock market crashes are likelier when stock prices are artificially inflated, especially by risky speculation.
Consider the stock market crash of 1929. In the seven years prior to Black Friday, the stock market skyrocketed over 300%. While these gains sound great, investors were pushing stock prices higher on risky bets under the false belief the market would only go up. Amateur investors borrowed more than $120 billion to buy stocks during the 1920s.
This cash and mentality helped push stock prices higher, but when the market dipped investors panicked. Since they had borrowed money to buy stocks, they couldn't sustain any losses and were forced to sell as quickly as possible. The stock market crash of 1929 led to the Dow losing 86% of its value by its end in 1932.
Must See: This Great Depression-Era "Secret" Helped Transform Two Teachers into Millionaires. Read more…
Similarly, another bout of risky speculation helped boost stocks ahead of the 2008 stock market crash. This time, there was rampant speculation in the real estate market, with consumers buying homes that they didn't need or couldn't afford through subprime mortgages.
Housing prices doubled between 1996 and 2006, the height of the boom. At the same time, those subprime mortgages were packaged into securities and traded on Wall Street where ratings agencies labeled them as grade-A debt.
When this bubble popped, both the stock market and the housing market crashed. The Dow fell 42% between September 2008 and March 2009.
Risky speculation pushing stocks to unsustainable heights is a warning sign of an oncoming stock market crash, and we are seeing some of those signs right now…
Why a 2017 Stock Market Crash Is Possible
One measure of the stock market's value is the Shiller P/E ratio, which was created by Yale's Robert Shiller to provide an accurate measure of market valuation. Today, that ratio sits at 30, which is 78.6% above the historical average.
Not only is it 78.6% higher than average right now, but it's nearly three points higher than before the 2008 stock market crash when it reached a level of 27.4.
One of the reasons for the high valuations is that low interest rates stemming from the 2008 financial crisis have made borrowing money cheap and easy. Interest rates were slashed from over 5% in 2007 to 0.25% in 2008 to help boost the economy.
Trending: The Four Best Silver Investments This Year (and Why You Need Them in Your Portfolio Today)
But businesses took advantage of the cheap borrowing to repurchase shares of their own stock and push their share prices back up.
Between 2008 and 2016, publicly traded companies repurchased over $2 trillion of their own stock. They were able to do this by borrowing $1.9 trillion during the same time period. That's helped share price growth easily outpace corporate profits.
Corporate profits have risen just 66% since March 2009, while the Dow is up more than double that in the same period.
Now that interest rates are beginning to climb – the U.S. Federal Reserve just raised rates for the third time since December – those stock buybacks are going to slow down. It's possible a market correction could result, but it's also possible traders overreact and cause the next stock market crash.
While that's the worst-case scenario, smart investors are always prepared. To help you be prepared, we're bringing our readers expert insight on how to protect your money during a market crash…
How to Protect Your Money During a Stock Market Crash
Investors may try to time the market when they think it's going to go down, but that's a bad move. It's unlikely you'll ever time the market just right. Instead it's more likely for investors to exit while the market continues to rise or to buy back in too late during a recovery.
That's why Money Morning Chief Investment Strategist Keith Fitz-Gerald thinks investors should hold on to stocks in the "Unstoppable Trends." The trick to making huge profits is to find "must-have" companies that fall into what Fitz-Gerald calls the six "Unstoppable Trends": medicine, technology, demographics, scarcity and allocation, energy, and war, terrorism and ugliness (also known as defense). The Unstoppable Trends are backed by trillions of dollars that Washington cannot derail, the Fed cannot meddle with, and Wall Street cannot hijack.
By owning well-run companies in these "Unstoppable Trends," you can secure resilient stocks that will charge out of any market downturn, leaving behind anyone who sold off stocks for other assets.
That's why we're bringing you three of our favorite stocks from the "Unstoppable Trends."
Microsoft Corp. (Nasdaq: MSFT) is a leading company in the Unstoppable Trend of technology.
The reality is that technology is here to stay; individuals and businesses across the world rely on it to function. Microsoft is a well-managed company and is a leader in the tech industry. That means MSFT will bounce back after a downturn.
Microsoft is also constantly innovating to stay on top of the tech world. Businesses and individual consumers are increasingly relying on cloud storage to manage their daily lives. And Microsoft's new Azure cloud platform is poised to fend off its rivals by integrating Microsoft software, something CEO Satya Nadella calls "software as a service." So even if the market dives, Microsoft services are still going to be in demand. Its Azure cloud computing service is now the second-largest cloud service in the world.
MSFT trades at $70.97 a share and pays a 2.2% dividend yield.
Becton, Dickinson and Co. (NYSE: BDX) is an example of a play in the Unstoppable Trend of demographics.
BDX is a healthcare company specializing in one-time use medical products used in hospitals and long-term care facilities. That means as populations age, more people will need this type of medical care, and BDX will be in even more demand. People will need healthcare whether the market falls or not.
But BDX is also an exceptionally well-managed company. It has a 10.54% profit margin and maintains a 1.58% dividend yield, even after a $12.2 billion takeover of CareFusion two years ago. That means the company's capital management is sustainable and will easily survive a market downturn. And that's good news for its shareholders during a stock market crash.
BDX trades at $195.18 and pays a 1.5% dividend yield.
Raytheon Co. (NYSE: RTN) is our play for the trend of war, terrorism, and ugliness.
Raytheon is a leader in the defense industry with billions in contracts with the U.S. government and other countries across the world. That means if the market falls, Raytheon is going to continue to excel over the long term.
Raytheon has billion-dollar contracts with the U.S. government, but it also has a diverse customer base. International customers make up just under half of its business. That means even if a few countries cut defense spending during an economic downturn, RTN still has plenty of other customers to help it weather the storm.
But RTN's real allure as an Unstoppable Trend pick is the fact that war is a reality of the world. For instance, the United States just made a $110 billion deal to allow Saudi Arabia to purchase weapons from U.S. companies, and Raytheon is a benefactor.
RTN currently trades at $162.42 a share and pays a 1.96% dividend yield.
Even though stock market crashes can lead to losses in the short term, investing in strong companies in "Unstoppable Trends" will protect your money in the end.
To get full access to all Money Morning content, click here
About Money Morning: Money Morning gives you access to a team of ten market experts with more than 250 years of combined investing experience – for free. Our experts – who have appeared on FOXBusiness, CNBC, NPR, and BloombergTV – deliver daily investing tips and stock picks, provide analysis with actions to take, and answer your biggest market questions. Our goal is to help our millions of e-newsletter subscribers and Moneymorning.com visitors become smarter, more confident investors.
Disclaimer: © 2017 Money Morning and Money Map Press. All Rights Reserved. Protected by copyright of the United States and international treaties. Any reproduction, copying, or redistribution (electronic or otherwise, including the world wide web), of content from this webpage, in whole or in part, is strictly prohibited without the express written permission of Money Morning. 16 W. Madison St. Baltimore, MD, 21201.
The post When Will the Stock Market Crash Again? appeared first on Money Morning – We Make Investing Profitable.
Wall Street Examiner Disclosure:Lee Adler, The Wall Street Examiner reposts third party content with the permission of the publisher. I am a contractor for Money Map Press, publisher of Money Morning, Sure Money, and other information products. I curate posts here on the basis of whether they represent an interesting and logical point of view, that may or may not agree with my own views. Some of the content includes the original publisher's promotional messages. In some cases I receive promotional consideration on a contingent basis, when paid subscriptions result. The opinions expressed in these reposts are not those of the Wall Street Examiner or Lee Adler, unless authored by me, under my byline. No endorsement of third party content is either expressed or implied by posting the content. Do your own due diligence when considering the offerings of information providers.