This is a syndicated repost courtesy of Money Morning. To view original, click here. Reposted with permission.
Initial coin offerings (ICOs) have become shockingly popular in a very short time.
In fact, the pace of ICOs grew last year from a few per month to 13 per month by December.
ICOs are built on the same blockchain technology that powers Bitcoin. But these tokens, or "coins," are custom cryptocurrencies offered by startups to raise capital for their business.
On April 25, the Gnosis ICO raised $7 million in the first 30 seconds and $12.5 million within 10 minutes.
Within a week the Gnosis token had tripled in value, from $30 to $90, giving the company a $1 billion valuation. Gnosis is a startup that wants to use blockchain technology to build a prediction market business.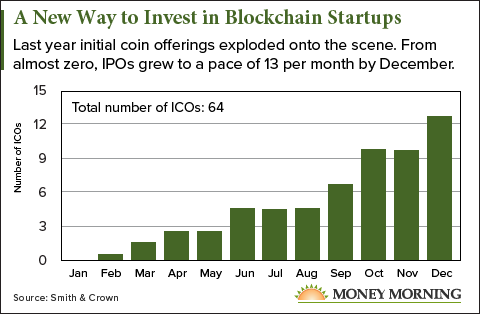 ICOs have begun to rival venture capital in the realm of blockchain-based startups. According to CB Insights, ICOs raised $69 million in the first quarter of 2017. In the same period, blockchain startups drew $118 million in venture capital.
So far in 2017, ICOs have raised more than $200 million, about double what ICOs raised in all of 2016. And the 45 ICOs this year aren't far behind the 62 IPOs (an initial public offering of a stock) we've had.
More importantly, investor appetite for ICOs is beyond ravenous. On May 31, the web browser Brave conducted an ICO of its "Basic Attention Tokens." In less than 30 seconds, it raised $35 million, selling out.
"We're in a very frothy phase of ICOs," Naval Ravikant, a venture partner at digital currency firm MetaStable Capital, told CNBC. "People are getting caught up in the vision and it's going to take 10 to 20 years to build out. In the meantime, people are throwing money at anything that looks like it has a shot."
But while ICOs are an intriguing innovation that shows promise, the utter lack of regulation of this new investment tool means it's fraught with risk.
Let's take a closer look at this phenomenon…
What Is an ICO?
ICOs are a form of crowdfunding that uses digital currencies as the investing mechanism. Ideally the coin, referred to as a "token," is an integral part of the startup's business.
In the case of the Brave browser ICO, advertisers pay in BAT tokens. The website publishers receive most of the BAT tokens. But Brave users that opt in to the system also receive BAT tokens based on how many ads they view and for how long.
The idea is to improve the user experience with fewer annoying, bandwidth-wasting ads by offering them with a reward. Advertisers get what they want most – user attention – and publishers should earn more than they do now. Publishers might also let people pay in tokens to access premium content.
Related: How to Buy Bitcoins – Your Guide to Digital Profits
So the Brave tokens have value based on their utility within this system. They're also linked to Ethereum, the No. 2 cryptocurrency behind Bitcoin. Investors had to use Ethereum to buy the BAT tokens in the ICO.
That's also typical of ICOs. Most require investors to use either Bitcoin or Ethereum (one reason both cryptocurrencies have skyrocketed this year).
A cap is also common among ICOs. The Brave ICO was capped at 1 billion tokens. The startup usually has a target sum it's trying to reach and uses a cap to prevent the ICO from getting out of control.
Once the ICO is over, the new tokens trade on one of the many cryptocurrency exchanges, both for fiat currencies and other cryptocurrencies like Bitcoin and Ethereum. If the startup thrives and use of the token increases, its value will increase.
Investors have embraced ICOs because many see them as a way to get in early on a promising startup. As more startups wait longer to have an initial public offering, much of the value is already priced in at the IPO launch, leaving retail investors with much less upside than they had 15 years ago.
Plus, the huge gains for Bitcoin (up 81,667% since the fall of 2011) and Ethereum (up 2,737% in 2017 alone) have created something of a gold rush into cryptocurrencies, with ICOs presenting the most potential upside.
It sounds great. Invest in an ICO today, become a millionaire tomorrow.
But despite the potential, investing in ICOs has a lot of pitfalls. Here's why you need to be extremely wary of this trend…
What If ICOs Are Illegal?
ICOs have rapidly become popular because it's relatively easy to launch one, and they're not restricted to venture capitalists or accredited investors.
But that's also why ICOs are dangerous. Although one of the purposes of an ICO is to raise capital, the Securities and Exchange Commission so far has made no effort to oversee them.
Frankly, it's not clear whether ICOs are even legal under current law. While crowdfunding for startups was made legal by the JOBS Act, a number of restrictions apply. And ICOs appear to violate several of them.
For instance, under the JOBS Act a startup may raise only $1 million in a one-year period through crowdfunding. In addition to the Brave ICO, 23 initial coin offerings this year have raised $1 million or more.
Startups using crowdfunding are also required make some disclosures to the SEC (although not to the extent of a company filing for an IPO).
In addition, the JOBS Act requires that investors not resell their shares for at least a year (with a few exceptions). With an ICO, investors can sell their tokens as soon as they show up on an exchange.
Finally, ICOs may violate the "Howey Test." This was created by the Supreme Court in 1946 to determine if an investment fit the definition of a security.
Using the Howey Test, something is a security if:
Money is invested.
The investor has an expectation of profits from the investment.
The money is pooled in a common enterprise.
Any profit derives from efforts and operations outside of the investor's control.
Any instrument that matches these criteria is considered a security subject to the jurisdiction of the SEC. Engaging in such activity without the SEC's permission is illegal.
Some ICOs have tried to work around this risk. Ethereum was presented as the sale of a digital fuel – ether – required to run apps on the network. In addition, the Ethereum Foundation is based in Switzerland, not the United States.
An ICO for Digix Global was done from Singapore, which does not classify digital tokens as securities.
Still, if the SEC decides otherwise, it would slam the brakes on the ICO craze and cause the prices of many cryptocurrencies to plummet.
More ICO Red Flags to Watch For
As a new and unregulated mechanism, ICOs present far more risks than investing in publicly traded stocks.
The worst example so far is the DAO fiasco. The DAO (decentralized autonomous organization) was intended to be an investor-directed venture capital fund built on the Ethereum network. Investors would use the network to vote on which companies would receive funding.
The ICO was conducted in May of last year and raised $168 million from 10,000 investors. But a computer whiz noticed a programming flaw that allowed him or her to siphon out $50 million before the project ever got off the ground.
The DAO forced Ethereum into a crisis. The solution was to create a new version of the cryptocurrency that "turned back the clock" to prevent the exploit and return the money to investors.
The lack of oversight means it's easy to create an ICO that would be an outright scam.
And then there are ICOs that offer tokens that aren't integrated into the business, but are selling equity in return for dividends in the form of some type of revenue sharing. Another concept, used by Steemit, treats the tokens as a form of debt. Those who hold Steem tokens get paid 10% interest – in Steem dollars, of course.
But when an ICO token isn't integrated into the business, it loses a primary reason to exist – and thus a key source of value.
Investors tempted by ICOs need to stick with those that have solid business plans and crypto-tokens that perform a function within that plan.
Startup Civic, which has scheduled its ICO for June 21, has done just that. Civic plans to use blockchain technology to create secure digital identities.
"With our tokens, we're selling access to our network," Civic CEO and co-founder Vinny Lingham told Money Morning. "And it's not just about funding. People become part of a community."
To get full access to all Money Morning content, click here
About Money Morning: Money Morning gives you access to a team of ten market experts with more than 250 years of combined investing experience – for free. Our experts – who have appeared on FOXBusiness, CNBC, NPR, and BloombergTV – deliver daily investing tips and stock picks, provide analysis with actions to take, and answer your biggest market questions. Our goal is to help our millions of e-newsletter subscribers and Moneymorning.com visitors become smarter, more confident investors.
Disclaimer: © 2017 Money Morning and Money Map Press. All Rights Reserved. Protected by copyright of the United States and international treaties. Any reproduction, copying, or redistribution (electronic or otherwise, including the world wide web), of content from this webpage, in whole or in part, is strictly prohibited without the express written permission of Money Morning. 16 W. Madison St. Baltimore, MD, 21201.
The post Why Initial Coin Offerings (ICOs) Raise Millions of Dollars in Seconds appeared first on Money Morning – We Make Investing Profitable.
Wall Street Examiner Disclosure:Lee Adler, The Wall Street Examiner reposts third party content with the permission of the publisher. I am a contractor for Money Map Press, publisher of Money Morning, Sure Money, and other information products. I curate posts here on the basis of whether they represent an interesting and logical point of view, that may or may not agree with my own views. Some of the content includes the original publisher's promotional messages. In some cases I receive promotional consideration on a contingent basis, when paid subscriptions result. The opinions expressed in these reposts are not those of the Wall Street Examiner or Lee Adler, unless authored by me, under my byline. No endorsement of third party content is either expressed or implied by posting the content. Do your own due diligence when considering the offerings of information providers.