We're pulling the plug on the retail sector… again.
It's no secret that brick and mortar retail is collapsing. This is a trend we've explored many times before.
The situation is getting worse every day. Shopping malls and their "anchor stores" are dying much faster than anyone anticipated. As the collapse accelerates, it's shaking the entire retail sector to its core.
But every time we go to toss another corpse on the cart, it plays out like a Monty Python bit.
"Don't count us out, we're not dead," Macy's CFO said yesterday as the company's stock cratered more than 17% after another dismal earnings report.
"Macy's says he's not dead."
"Yes he is!"
"I'm not."
"Well, he will be soon. He's very ill."
Not to worry. Macy's has already laid out some initiatives that will surely save its business.
"The company is rolling out several initiatives that it expects to lift sales, including reconfigured shoe and fine-jewelry departments," the Wall Street Journal reports.
As you can see, there's no cause for alarm. Macy's will get its act together and truly compete with Amazon once it rearranges its shoe department…
Or maybe not if the numbers have any say in the matter.
"Macy's delivered its quarterly numbers… and they deposited many feces on the bed," our own Dave Gonigam noted over at the 5Min. Forecast. "Earnings were 24 cents a share… way off the 'expert consensus' calling for 35 cents a share. Revenue also missed. And same-store sales are down 4.6%, compared with the typical Wall Street analyst's guess of 2.7%."
Just when you thought the situation couldn't get any worse, we move from one gruesome scene to another as earnings take another retail victim.
After searching for lower prices along with its pal Macy's, Nordstrom shares continued to fall last night in extended trading after the company announced it whiffed on same-store sales.
Even the discount chains are feeling the heat. Kohl's reported a rare earnings beat last night. But first quarter sales missed the mark. Even with a tiny after hours bump, the stock still dropped more than 7% in Thursday trade.
The entire retail sector teeters on the brink…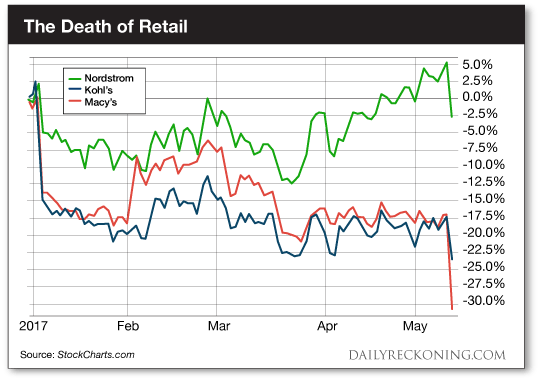 Of the three retail earnings disasters we've discussed today, only Nordstrom is managing to keep its shares above water with a respectable 3% year-to-date loss. Kohl's stock is down 24%, while Macy's has cratered more than 31% so far this year.
The worst part is that we don't see these stocks bottoming out anytime soon. Check out these grim stats from CNBC:
Out of more than 100 major public retailers, over 20% are expected to lose money this quarter, according to CNBC. That's the most since the Great Recession. Of these, almost half are expecting year-over-year revenue declines.
If you had any doubts that Amazon was winning the war, you can lay them to rest this week. Consumer attitudes have changed. Why would I want to go to a store, stand in lines, deal with horrible service, and overpay for an item when I can press a button on my phone and magically command my purchase show up on my doorstep 24 hours later?
Not only is Amazon an obvious choice for most of your shopping needs — the company just plain smarter than the competition. That's why its shares are up more than 25% this year while the entire retail sector crumbles.
The traditional retailer death march continues. To Amazon go the spoils…
The post "Bring Out Your Dead!" Retail Stocks Crater appeared first on Daily Reckoning.