This is a syndicated repost courtesy of Money Morning - We Make Investing Profitable. To view original, click here. Reposted with permission.
On Thursday (March 16), the government's ability to borrow more money will be frozen. And the consequences could be catastrophic…
That's why investors need to pay close attention to the debt ceiling 2017 fight in Congress.
The debt ceiling is a limit on how much debt the government can have. Because the government runs a budget deficit, it needs to borrow money to pay its bills. The government can't borrow any more money, and can't pay its bills, when it hits the debt ceiling. And on Thursday, the $20.1 trillion debt ceiling will be reinstated.
That's why Treasury Secretary Steve Mnuchin just asked Congress last week (March 9) to raise the government's debt limit.
Here's where the situation could have a major impact on your money. If Congress refuses to raise the debt limit, we could be in danger of the U.S. defaulting on its debt.
When a similar situation arose in 2011, Money Morning Chief Investment Strategist Keith Fitz-Gerald said failing to raise the debt ceiling could have created a "plunge into financial hell."
A U.S. debt default could result in government bonds losing their value or even a stock market crash.
A U.S. debt default could result in government bonds losing their value or even a stock market crash.
But would Congress really let that happen?
It's more likely than you think…
That's why Fitz-Gerald says investors need to "hope for the best but prepare for the worst" in these situations.
Fortunately, we're here to help you do just that. We'll show you how to protect your money during a default – which right now is more likely than ever, thanks to the shifting power struggle in Washington…
Analysts Are Too Optimistic the Debt Ceiling 2017 Plan Will Work
If Congress fails to raise the debt ceiling, the possibility of the U.S. defaulting on its debt is higher than analysts, like Moody's, are admitting.
Trending Now: How to Prepare for a Stock Market Crash
On Monday (March 13), Moody's announced the United States will keep its top "Aaa" rating as long as the government continues paying its interest payments. Moody's predicts this won't be a problem because Congress will raise the debt ceiling soon enough.
But simply raising the debt ceiling should not be viewed as a given…
While Congress has never failed to raise the debt ceiling, it has recently become a bargaining chip in Congress. During the Obama administration, Republicans refused to raise the debt ceiling unless President Obama agreed to their demands to cut spending.
This led to high-stakes showdowns in 2011 and 2013. To show how serious the debt ceiling is considered, Standard and Poor's downgraded U.S. debt from its "AAA" rating to its "AA+" rating after the 2011 standoff. And in 2013, the Treasury Department was forced to use "extraordinary measures" to pay the government's bills, pushing the government to the brink of default before Congress relented.
Then, in 2015, Congress agreed to suspend the debt ceiling long enough for the next election.
That agreement ends Thursday…
Now a perfect storm is brewing that might stop Congress from giving Mnuchin what he wants.
Republicans will have to agree to lift the debt ceiling, which they have opposed in the past. And Democrats are now talking about holding it hostage unless Republicans agree to investigate President Trump's relationship with Russia. Democratic Sen. Chris Coons told MSNBC last month that obstructing the debt ceiling is on the table.
And if Congress fails to lift the limit now, the Bipartisan Policy Center projects the government will only stay solvent until August 2017. That's only 140 days away and will leave some very hard decisions for Secretary Mnuchin.
In fact, if the government runs out of money, its revenue won't be nearly enough to pay for all of its expenses, including interest payments…
What Happens If the Debt Ceiling Isn't Raised?
If the debt ceiling isn't raised, the government will only have the slow trickle of tax revenue to pay for all of its expenses. That threatens its ability to make interest payments and possibly default for three reasons.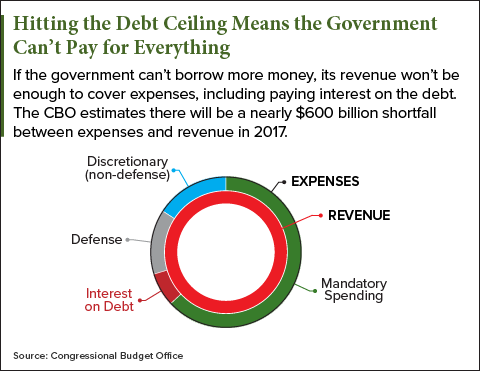 First, mandatory spending programs, defense spending, and interest on the debt cost roughly 18% of GDP. The government's yearly revenue is also about 18% of GDP.
That means the government can't pay for anything else – from air traffic controllers to veterans' benefits.
And there's zero wiggle room.
Mandatory spending programs, like Medicare, make up 62% of the government's spending. These programs must be paid for by law.
And while defense spending is considered "discretionary," it is politically unfeasible – even potentially dangerous – for the government to stop paying for its security.
That means Mnuchin must choose between paying for interest on the debt, violating the law by not funding mandatory spending programs, or not funding the military. There likely won't be enough money to pay for all three at the same time.
Second, these spending programs don't have predictable expenses.
Because mandatory spending programs like Medicare and Medicaid are based on need, some months can be costlier than others.
That means a very expensive month could eat up all the government's revenue.
And revenue is even more unpredictable.
Don't Miss: A Gold Price Prediction for the Coming Bull Run of $5,236 an Ounce
Third, revenue is extremely inconsistent.
For the 2016 fiscal year, Treasury revenue could vary as much as $233 billion between different months. And because revenue comes mostly from taxes, the government gets its biggest chunk in April. That leaves even less money for Mnuchin to pay expenses as the year goes on.
On top of that, an economic slowdown could lead to less revenue flowing into the government. When the government has to choose between important bills, a month of underwhelming revenue will make making necessary payments even more difficult.
This all means that if the debt ceiling isn't lifted, the government won't be able to pay for everything, including interest payments. And if the government fails to pay interest on its debt, a financial crisis could follow.
If the U.S. defaults on its debt, its bonds will lose their credibility as safe investments. This could collapse the bond market and create chaos in the stock market.
But don't panic. We have you covered. Here's how to prepare for the worst-case scenario and protect your money…
How to Protect Your Money If the U.S. Defaults
We have three steps you can use to protect yourself in this environment.
First, avoid owning bonds until the crisis is resolved. If the U.S. defaults, the government will be forced to raise interest rates to make their bonds more attractive. This will sink the value of existing bonds as investors can get better interest rates elsewhere and buyers will find U.S. debt less trustworthy.
Second, the chaos and uncertainty could lead to a stock market crash. Investors with higher risk-tolerance can place a small chunk of their portfolio in an inverse ETF in the short term if the market starts falling.
An inverse ETF allows you to profit from a market collapse. Money Morning recommends ProShares Short S&P 500 (NYSE Arca: SH). SH will rise as the S&P 500 falls. This will help you hedge against the risk of a stock market crash. But it's not an investment for everyone because it carries more risk. If the market goes up, SH drops in value.
Third, owning the right kind of stocks can provide stability to your portfolio in times of uncertainty.
Fitz-Gerald recommends owning well-run companies in the "Unstoppable Trends" industries. These Unstoppable Trends are the industries that will be in demand no matter what chaos is going on in the economy.
The Unstoppable Trends are defense, energy, technology, demographics, health, and scarcity. These six industries are vital for the global economy. And that means even in a downturn, the right companies will still be relatively safe investments.
For example, the defense industry is an Unstoppable Trend because countries like the United States will always need security. In fact, we've pointed out above how the American government will prioritize defense spending even as it runs out of cash.
That means a well-managed company like Raytheon Co. (NYSE: RTN) will add stability and growth potential to your portfolio, even if there's an economic collapse.
Raytheon has billions in contracts with the U.S. government for cybersecurity and new weapons systems.
RTN stock is trading at $154.40 and pays a healthy 1.9% dividend yield, which gives you some extra income.
To get full access to all Money Morning content, click here
About Money Morning: Money Morning gives you access to a team of ten market experts with more than 250 years of combined investing experience – for free. Our experts – who have appeared on FOXBusiness, CNBC, NPR, and BloombergTV – deliver daily investing tips and stock picks, provide analysis with actions to take, and answer your biggest market questions. Our goal is to help our millions of e-newsletter subscribers and Moneymorning.com visitors become smarter, more confident investors.
Disclaimer: © 2017 Money Morning and Money Map Press. All Rights Reserved. Protected by copyright of the United States and international treaties. Any reproduction, copying, or redistribution (electronic or otherwise, including the world wide web), of content from this webpage, in whole or in part, is strictly prohibited without the express written permission of Money Morning. 16 W. Madison St. Baltimore, MD, 21201.
The post Debt Ceiling 2017 Is More Dangerous Than Ratings Agencies Let On appeared first on Money Morning – We Make Investing Profitable.
Wall Street Examiner Disclosure:Lee Adler, The Wall Street Examiner reposts third party content with the permission of the publisher. I am a contractor for Money Map Press, publisher of Money Morning, Sure Money, and other information products. I curate posts here on the basis of whether they represent an interesting and logical point of view, that may or may not agree with my own views. Some of the content includes the original publisher's promotional messages. In some cases I receive promotional consideration on a contingent basis, when paid subscriptions result. The opinions expressed in these reposts are not those of the Wall Street Examiner or Lee Adler, unless authored by me, under my byline. No endorsement of third party content is either expressed or implied by posting the content. Do your own due diligence when considering the offerings of information providers.