This is a syndicated repost courtesy of The Felder Report. To view original, click here. Reposted with permission.
"Bull markets are born on pessimism, grown on scepticism, mature on optimism and die on euphoria." -John Templeton
Last week I focused on fundamentals, sharing 3 charts that show stock market valuations are totally unprecedented. This week I'll focus on sentiment.
When looking at sentiment many people like to look at surveys. I prefer to look at what people are actually doing with their money. It's a fact that we are now seeing record inflows into the equity markets but how do we put this into context?
View image on Twitter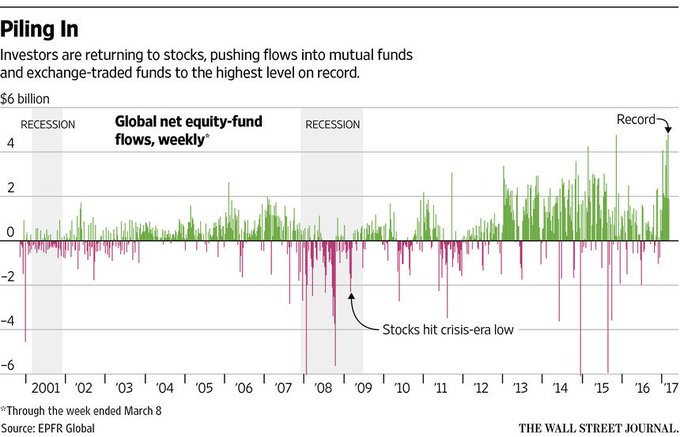 First, I would just note that Rydex traders have been a good contrarian indicator for a long time. They recently positioned themselves more bullishly than any time in the history of this fund family, even surpassing the peak seen during the height of the dotcom mania.
I also like to look at margin debt, or total borrowing in brokerage accounts, as way of assessing speculative fervor. Nominal margin debt recently hit a new record high but I prefer to normalize this measure by comparing it to the size of the economy. This adjusted measure also recently hit a new, all-time high greater than that set in 2000.
Finally, we can look at household financial assets invested in the stock market compared to those in money market funds. Here is where we see the direct result of 7 years of zero percent interest rate policy. Households now have more than 15 times as much money invested in stocks than they do in money market funds, well beyond anything we have seen since the invention of these cash vehicles.
With as much money as they are now pouring into the equity markets, investors might do well to remember that bull markets aren't born on euphoria.
Wall Street Examiner Disclosure:Lee Adler, The Wall Street Examiner reposts third party content with the permission of the publisher. I am a contractor for Money Map Press, publisher of Money Morning, Sure Money, and other information products. I curate posts here on the basis of whether they represent an interesting and logical point of view, that may or may not agree with my own views. Some of the content includes the original publisher's promotional messages. In some cases I receive promotional consideration on a contingent basis, when paid subscriptions result. The opinions expressed in these reposts are not those of the Wall Street Examiner or Lee Adler, unless authored by me, under my byline. No endorsement of third party content is either expressed or implied by posting the content. Do your own due diligence when considering the offerings of information providers.