This is a syndicated repost courtesy of The Daily Reckoning. To view original, click here. Reposted with permission.
In just a few short days, Obama will hit the road. There's a new sheriff in town—and he's looking to make some yuuuuge changes.
In the meantime, he's minting market-moving headlines.
Donald J. Trump is preparing to take the oath of office on Friday by churning out more business news than you can shake a comb over at…
He's put Big Pharma on notice over price increases. He shook down Boeing for going over budget building the new Air Force One. And he took almost every single car company to the woodshed for moving jobs overseas.
All told, Trump has targeted 61 separate companies on Twitter over the years, according to Yahoo Finance. And he's giving no indication that he'll let up on the gas.
Why?
Because his tactics are getting results.
General Motors will announce $1 billion in new U.S. investments today including creating or retaining 1,000 jobs at existing facilities, Bloomberg reports. Meanwhile, Walmart claims it's adding 10,000 new U.S. jobs this year.
Big business is already offering plenty of lip service to the new administration. But it's difficult to say whether this political posturing will show up as real economic growth. Trump is already taking credit for the post-election market rally and fact that U.S. small business confidence recently rose to a 12-year high.
That's swell. But as inauguration day approaches, Trump must deal with some uncomfortable facts surrounding an incoming president's first 30 days in office.
Zor Capital's Joseph Fahmy sees this week's inauguration as a potential sell the news event. And he has some interesting statistics to back up his claim…
"The first 30 days of an incoming White House administration tends to be difficult for stocks," Fahmy explains. "It's possible the market could see profit taking while it waits for a clearer agenda from the new administration. In addition, most earnings will be done by February and the market will have fewer catalysts."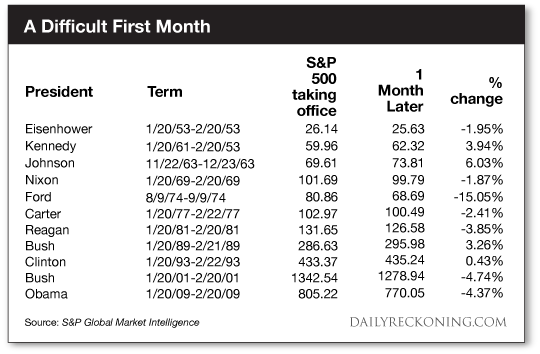 From Eisenhower to Obama, the first month for most new presidents has produced some sharp market moves—and most of them aren't positive. We have to go back to Bill Clinton's inauguration to find the most recent S&P first-month gain.
We've stayed on top of this story since early December. That's when we told you that the Trump Bump might finally fizzle on Jan. 20. DoubleLine Capital's Jeff Gundlach says the euphoria will probably disappear until just after the inauguration. When a political party reclaims the presidency, Gundlach notes that the post-election rally historically lasts until just after the inauguration in late January.
That's when reality starts to creep back into the picture…
Remember, history doesn't repeat—but it does rhyme. Using past election cycles are our guide, we can expect the stock market to chill out and drift sideways a bit (or even drop) once Trump takes the oath of office.
Does this mean we're headed for a spectacular crash on Friday?
It's doubtful. But a short-term pullback could definitely be in the works. Futures are already taking a hit early this morning. Meanwhile, gold is launching to 8-week highs. A small dose of reality is beginning to creep into the picture. We'll have to see where it takes us…
The post Here's What Happens to Stocks After the Inauguration… appeared first on Daily Reckoning.
Wall Street Examiner Disclosure:Lee Adler, The Wall Street Examiner reposts third party content with the permission of the publisher. I am a contractor for Money Map Press, publisher of Money Morning, Sure Money, and other information products. I curate posts here on the basis of whether they represent an interesting and logical point of view, that may or may not agree with my own views. Some of the content includes the original publisher's promotional messages. In some cases I receive promotional consideration on a contingent basis, when paid subscriptions result. The opinions expressed in these reposts are not those of the Wall Street Examiner or Lee Adler, unless authored by me, under my byline. No endorsement of third party content is either expressed or implied by posting the content. Do your own due diligence when considering the offerings of information providers.