This is a syndicated repost courtesy of The Daily Reckoning. To view original, click here. Reposted with permission.
Blame Trump's weekend travel ban shenanigans.
Blame the market gods.
Or those damn algos…
But we know the real culprit behind yesterday's market slide:
*Sigh* here we go again…
We would accuse President Obama of having a hand in this mess. But he left for vacation more than a week ago. So we're going to have to instead chastise the financial press for this epic market jinx…
Thanks a lot, Barrons.
Just weeks removed from the financial mag's Dow 20,000 cover and we're graced with this doozy.
Granted, if you were to read the smaller text, you'd notice that Barron's isn't calling for Dow 30,000 by the end of the year—or even the end of the decade. No, the prognosticators at Barron's see the Big Board topping 30K by… 2025.
Of course, we aren't a nation that bothers with the fine print. I seriously doubt anyone even read the article. A gaudy number in bold font is all we need to make it through the day…
Trump's not sweating the details, either. He doesn't seem to mind that investors are nervously selling stocks to start the week on the heels of his grab-bag of executive orders hitting the wire.
The Dow Jones Industrial Average gave back the 20,000 level after losing more than 100 points yesterday. The tech-heavy Nasdaq led the way lower with drop of more than 0.8%. We're seeing more selling in the futures market early this morning as an endless parade of Trump news and analysis flickers across our screen.
Every market watcher on the planet believes the Trump rally is finished. Now's the time to watch for the Trump Dump, they say.
But there's one asset that's enjoying this week's chaos: Gold.
Gold is about to post its strongest month since the Brexit vote in June. After last week's brief pullback, the Midas metal is off to the races again this morning, gaining $11 in early trade to overtake $1,200 once again.
"The gold market is in thrall to the Donald Trump show," David Govett, head of precious metals trading at Marex Spectron, tells Bloomberg. "If Trump sticks to his immigration policy of the last few days, then gold should remain supported."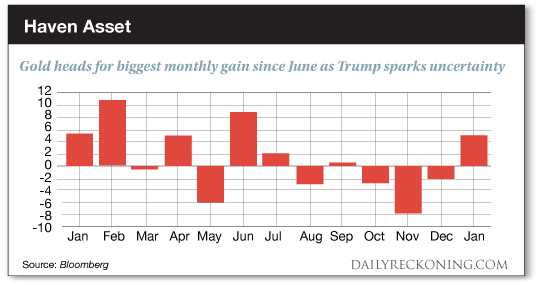 We've closely tracked gold's attempt to carve out a bottom since December. Last month, gold wandered lower, eventually cracking below $1,130 just before the Christmas break.
That's when things got interesting…
After briefly visiting 11-month lows, gold has started to quietly bottom out. Its spot price has risen back in the neighborhood of its 2-month highs. Now we have a situation where gold is firming and the dollar is losing steam…
Of course, it's important to remember that the precious metal plays we're tracking right now have endured some serious pain over the past six months. I can't promise you that the lows are in. But Trump is doing everything he can to spook investors right now.
Gold loves investor anxiety. So it's entirely possible that the constructive action we've noticed in gold and other precious metals is the beginning of another leg higher.
The post Gold Braces for the Trump Dump appeared first on Daily Reckoning.
Wall Street Examiner Disclosure:Lee Adler, The Wall Street Examiner reposts third party content with the permission of the publisher. I am a contractor for Money Map Press, publisher of Money Morning, Sure Money, and other information products. I curate posts here on the basis of whether they represent an interesting and logical point of view, that may or may not agree with my own views. Some of the content includes the original publisher's promotional messages. In some cases I receive promotional consideration on a contingent basis, when paid subscriptions result. The opinions expressed in these reposts are not those of the Wall Street Examiner or Lee Adler, unless authored by me, under my byline. No endorsement of third party content is either expressed or implied by posting the content. Do your own due diligence when considering the offerings of information providers.