This is a syndicated repost courtesy of Money Morning. To view original, click here. Reposted with permission.
With nuclear power bouncing back worldwide, and the number of global uranium mines declining, the signs are building that uranium prices are poised to head higher.
After stabilizing under $30 per pound, prices have begun to rebound, posting their largest gain in more than 30 months. Since Aug. 4, the cost of uranium has climbed by 13.91%.
And given the current labor unrest in Canada, that could be just the beginning of the move…
At the end of August, Cameco Corp. (NYSE: CCJ), the main Canadian supplier, locked workers out at the McArthur River mine and Key Lake mill in the Athabasca basin after a strike notice from the union.
As of today, talks to end the first strike in the company's history have still not been scheduled.
And while both management and analysts have stated the disturbance will have little impact in Cameco's ability to fill orders, the strike/lockout has had an immediate impact on prices nonetheless.
Due in part to the strike, uranium prices have jumped from $28 a pound this summer to more than $32 on Sept. 10.
Prices are higher even though the supply remains ample, even if the calculations go no further than the uranium Cameco has in its own stockpiles. The company can get by on its existing inventory and other sources to meet its sales obligations.
Uranium Prices: The Atomic Beat Goes On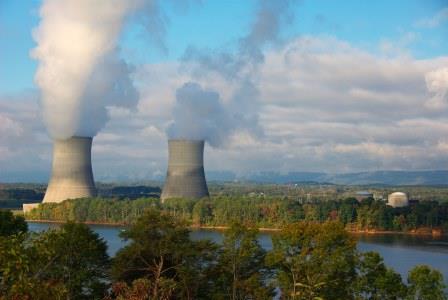 Nonetheless, the market reaction does point to a simple ongoing fact when it comes to uranium prices: A crunch in supplies is certainly coming – as more nuclear power plants are planned and added internationally.
That means any interruption of production anywhere in the world will have an effect on prices.
You see, while the supply side of the equation has buttressed prices, a demand side push is expected as well, especially given the faster than expected move by Japan to reenter the nuclear power market after Fukushima.
In short, the atomic beat goes on… even in places like Japan.
Here's why…
As desirable as it is to develop a safer alternative, nuclear power is still one of the bedrocks of the power generation that fuels the world economy.
All told, 442 nuclear power plants across the globe provide roughly 16% of its electricity generation.
That figure is going to be impossible to finesse or eliminate… even under the best-case scenarios for the development of wind, solar power, and other forms of alternative energy.
According to the International Energy Association, world electricity demand is likely to grow 2.7% a year from now until 2015, and then at 2.4% annually until 2030 – making nuclear power even more of a necessary evil.
The result: The nuclear industry is experiencing a major global power surge.
Worldwide, 70 reactors are already under construction, with 553 more reactors planned. Add it all up and that's more than double the number of nuclear plants in the world today.
What's more, New Delhi has just signed a major uranium (and coal) importing agreement with Australia, marking both a new departure for India and the first ever such trade agreement to South Asia for Canberra.
All of these will work to eventually create a constriction of supply.
Of course, there hasn't been a uranium supply issue for some time. However, the difference this time around involves the sources of new supply.
The truth is there are now far fewer uranium mines operating than there were a few decades ago. This certainly will have much to do with the anticipated rise in prices.
Unlike other energy sources, a price increase in uranium is less of an issue for end users. This is because the actual cost factor for the fuel in the production of power is lower than with any other generating system.
True, given the construction demands, time delays, and required regulatory oversight, a nuclear plant is an expensive asset to put on line. Yet once it's built, electricity can be produced more cheaply than any other alternative.
Environmental questions remain, as do concerns over the ability of plants to withstand earthquakes, tsunamis, and other fits of Mother Nature.
Nonetheless, nuclear is on its way back, leading to a concerted move on the supply side to increase the availability of uranium via new mining initiatives.
The Upside for Uranium Investors
All of this should be welcome news for energy investors.
Once again, while the industry giants like Cameco are grabbing the major headlines, smaller mining companies are quickly coming on the scene to help address the looming shortfall in supply.
In this case, investors would be wise to target companies similar to the ones we've been pursuing in oil and gas – that is, well-run, smaller companies that can outperform bigger competitors by bringing in extraction at lower cost. This results from several factors, the most important being lower overhead and regionally confined production, processing, and distribution.
There will undoubtedly be a number of these companies emerging over the next several years.
One example is a small Canadian "junior" mining outfit that made the news twice last week.
It's a company called Azincourt Uranium Inc. (TSXV: AAZ).
First, the company announced that it has come to an agreement with another Canadian-based junior – Macusani Yellowcake Inc. (TSXV: YEL) – to sell them their uranium operations on the Macusani Plateau in Peru. The move will allow Azincourt to concentrate on developing its Canadian property.
That set the stage for the second announcement…
The Athabasca junior also reported the completion of its drilling program at the Patterson Lake North (PLN) property in Saskatchewan. As part of the news, the company reported the discovery of what may be the first significant find (called an "anomalous radioactive mineralization" in the trade) at PLN.
As the uranium supply constriction takes shape, you can expect more small companies like Azincourt to make similar news, especially as uranium prices continue to climb.
More from Dr. Kent Moors: Natural gas prices, like any commodity, are affected by supply and demand – but weather plays a main role in this energy's cost. In fact, there are several critical factors that will drive natural gas prices higher in the coming months…
The post Uranium Prices Will Head Higher Due to This Supply Crunch appeared first on Money Morning – Only the News You Can Profit From.
Wall Street Examiner Disclosure:Lee Adler, The Wall Street Examiner reposts third party content with the permission of the publisher. I am a contractor for Money Map Press, publisher of Money Morning, Sure Money, and other information products. I curate posts here on the basis of whether they represent an interesting and logical point of view, that may or may not agree with my own views. Some of the content includes the original publisher's promotional messages. In some cases I receive promotional consideration on a contingent basis, when paid subscriptions result. The opinions expressed in these reposts are not those of the Wall Street Examiner or Lee Adler, unless authored by me, under my byline. No endorsement of third party content is either expressed or implied by posting the content. Do your own due diligence when considering the offerings of information providers.