The composite liquidity indicator dipped last week mostly due to transitory factors that should reverse in the weeks ahead. The uptrend in market liquidity is still firmly in place. The uptrend in liquidity is sufficiently strong to support bull markets in both stocks and bonds, not to mention money substitute commodities. However, investors may favor one market over another at any given time. When there is selling in one market, cash is freed up to flow toward other markets. When there's excess liquidity, if stocks are being sold, that makes it just that much more likely that bonds will rally, and vice versa. Lately investors have returned to a preference for Treasuries while liquidating stocks and targeting their cash for Treasury bond purchases, pushing yields lower.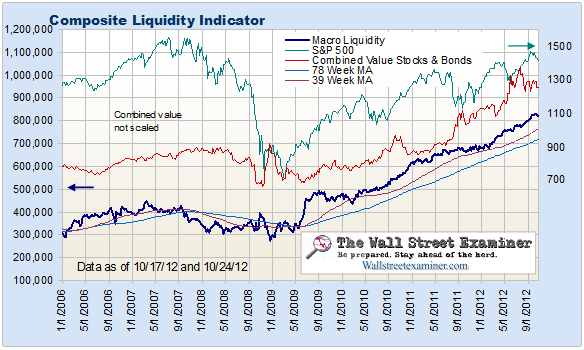 Click here to download complete report in pdf format (Professional Edition Subscribers) including 133 pages of charts and clear, cutting edge analysis that you can use to gain an edge in the market. Try the Professional Edition risk free for thirty days. If, within that time, you don't find the information useful, I will give you a full refund. It's that simple. 30 day risk free trial for new subscribers. Click here for more information.
By clicking this button, I agree to the Wall Street Examiner's Terms of Use.
Enter your email address in the form to receive email notification when Professional Edition reports are posted.