The composite liquidity indicator rose slightly last week. It continues to make new highs. However, two of its components weakened from bullish to neutral intermediate trends, leaving just two in bullish trends. One of those, bank inflows, could turn neutral if European depositors begin to feel that the Euro will not collapse. That could slow or reverse the recent tidal wave of flows into US banks. But with the Fed pumping, it will take more than that to turn the indicator bearish overall.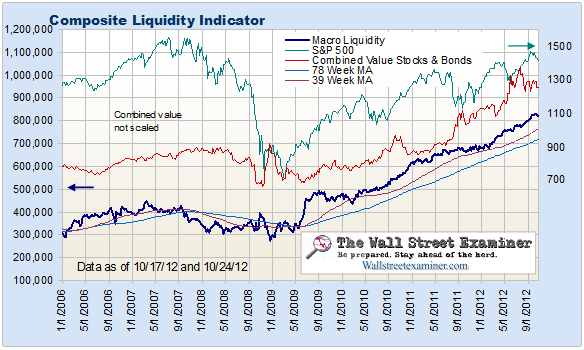 Click here to download complete report in pdf format (Professional Edition Subscribers) including 113 pages of charts and clear, cutting edge analysis that you can use to gain an edge in the market. Try the Professional Edition risk free for thirty days. If, within that time, you don't find the information useful, I will give you a full refund. It's that simple. 30 day risk free trial for new subscribers. Click here for more information.
By clicking this button, I agree to the Wall Street Examiner's Terms of Use.
Promo Stay up to date with the machinations of the Fed, Treasury, Primary Dealers and foreign central banks in the US market, along with regular updates of the US housing market, in the Fed Report in the Professional Edition, Money Liquidity, and Real Estate Package. Try it risk free for 30 days. Don't miss another day. Get the research and analysis you need to understand these critical forces. Be prepared. Stay ahead of the herd. Click this link and begin your risk free trial NOW!
Enter your email address in the form to receive email notification when Professional Edition reports are posted.