Here are a few bullet points from this week's report.
Withholding tax collections, which fell sharply in early August, have rebounded, and they are now running about 2-2.5% ahead of last year in real terms and about 4-4.5% in nominal terms.
 Treasury cash is back to normal levels, and outlays are running little changed from last year suggesting that no more Treasury supply surprises are likely for the time being.
 Bondfund inflows are increasing again but remain down 30% from the April peak.
 FCB buying of Treasury paper continued to increase last week, pumping some excess liquidity into the US, keeping that indicator slightly bullish. They are nearing a level where a downturn looks probable. If they go through that in the next few weeks it would add significant liquidity to US markets. If they turn down, that would remove a prop from the markets.
Primary Dealers bought Treasuries heavily in the week ended August 8. It was not enough to break a short term downtrend in their holdings from the buying panic high set in the week ended June 6, but kept them above an 18 month trendline. Breaking that line would be another bearish signal. They continue to hold a near record long position, which could be a sword hanging over the markets if yields continue to rise.
 Commercial banks overall continued to be moderately heavy buyers of Treasuries relative to their past norms in the August 8 week. They had frequently been net sellers prior to early June when their buying surged to a record level far above previous norms. That may have marked a blowoff and a significant turning point in the market.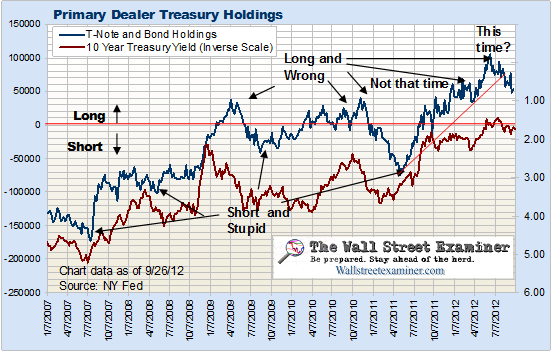 Click here to download complete report in pdf format (Professional Edition Subscribers) including 30 pages of charts and clear, cutting edge analysis that you can use to gain an edge in the market. Try the Professional Edition risk free for thirty days. If, within that time, you don't find the information useful, I will give you a full refund. It's that simple. 30 day risk free trial for new subscribers. Click here for more information.
By clicking this button, I agree to the Wall Street Examiner's Terms of Use.